Almost spanning New Zealand's North Island in its entirety from the city of Auckland in the north to Wellington in the south, the scenic Northern Explorer train service travels the 681- kilometre North Island Main Trunk Line which passes through five distinct geographical regions. En route, Great Rail Journeys' guests will be treated to spectacular landscapes ranging from rugged coastline to volcanoes and from dense bush to open farmland.
In its current incarnation, the Northern Explorer has only been in operation since 2012 when it replaced the slower Overlander train. Fully refurbished for passenger comfort and making fewer intermediate stops than its predecessor, the Northern Explorer completes its inter-city journey from north to south in a time of between eleven and twelve hours.
Places of interest
Our guests will enjoy outstanding scenery along the entirety of the Northern Explorer's route, but the train also calls at a number of interesting destinations along the way. Hamilton, through which the Waikato River runs, has acquired a reputation for its fashionable bars and restaurants; fifty hectares of individual themed gardens complete with ornamental structures and sculptures. The small town of Te Kuiti claims to be the 'sheep shearing capital of the world' and hosts the New Zealand Sheep Shearing Championships each year. It is also close to the limestone Waitomo Caves, one of the island's most popular tourist attractions for more than a century. A remarkable feat of railway engineering, the Raurimu Spiral near the town of Taumaranui was constructed at the end of the nineteenth century to overcome terrain that was too steep to be negotiated by a direct rail route. The problem was resolved by creating a spectacular ascending spiral of track which leads the train in an entire circle before regaining its course southwards to Wellington.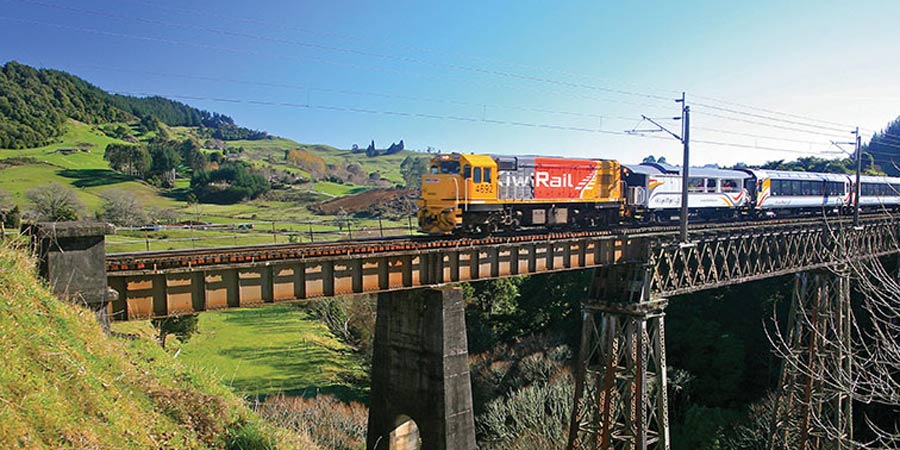 Facilities
The Northern Explorer operate a single class of travel but passengers benefit from a range of facilities to ensure that they enjoy a comfortable journey. The reclining seats are spacious and are arranged in forward-facing pairs or in fours around a table, and thanks to the large, anti-reflective panoramic windows which extend into the carriage ceiling, our guests are assured on magnificent views. Each seat features a headphone socket enabling passengers to benefit from the on-board journey commentary which is available in five languages. Every carriage on the Northern Explorer has its own washroom facilities and at the train's centre there is a café carriage which serves light meals, snacks and soft and alcoholic drinks. The train also has a dedicated observation carriage and an open-air viewing platform. The train features an innovative air-bag suspension system which provides a quieter and smoother journey. From the 1920s until 1987, when the service was withdrawn, it was possible to take an overnight sleeper train for the journey between Auckland and Wellington. The train runs every day of the year with the exception of December 25th.