Québec's aristocratic French heritage and North American fortitude have mingled over the generations to produce a culture that is entirely unique. In Québec, you'll get all the style and glamour of France with the down-to-earth pleasantness of Canada. Here are some suggestions to make the most of your next Québec rail adventure:
Québec City
Québec City is one of the oldest cities in North America. Walking the narrow, pedestrian-only streets of Old Québec, you might suddenly feel as though you've wandered into Europe. Thanks to the meticulous preservations of the city's walls and ramparts, this historic area is designated as a UNESCO World Heritage Site. Old Québec remains the only walled city in North America north of Mexico.
Old Québec is divided into the aptly named Upper and Lower Towns. Upper Town sits perched on a rock outcrop with Lower Town nestled beneath it. To get between the two, take advantage of the Old Québec Funicular (Funiculaire de Vieux-Québec). Visit the famous Citadelle de Québec and walk along the city's old defensive walls at the Fortifications de Québec. Just outside the walls lies the imposing Québec Parliament Building. This area is absolutely packed with photo opportunities; so allow a lot of time here to avoid the dreaded tourist whiplash.
Québec City is an excellent spot for boutique and specialty shopping. Le Blanc Mouton in Lower Town's Quartier Petit Champlain features locally designed clothing, jewelry and accessories. Also in Quartier Petit Champlain is Boutique Amimoc, the largest selection of handmade moccasins in Canada.
For gastronomy enthusiasts, the Marché du Vieux Port is the place to go for authentic Quebecois fare. This market is full of local vendors offering regional specialties and fresh seafood, as well as a flea market section that is bound to harbor some fascinating treasures.
If you're visiting Québec City in the winter, do not miss the opportunity to visit Hotel de Glace, an extravagant hotel made entirely of ice and snow. Grab a drink at the Ice Bar, and marvel at this frozen architectural wonder. Don't forget to bring a jacket!
Montréal
Montréal is a culturally rich and diverse city. This metropolis, the second largest French-speaking city after Paris, has a thriving underground art scene and the kind of revolutionary cuisine that can only come from the fusion of cultures in this trendsetting hotspot.
The architectural crown jewels of Montréal include the ornate Basilique de Notre Dame and the Hotel de Ville: the impressive city hall. Art lovers will not want to miss the Musée des Beaux Arts, whose vast, comprehensive collection is displayed between four pavilions.
Between the high-end Rue Sherbrooke and the department-store-packed Rue St-Catherine, Montréal is a shopper's paradise. Montréalers are known for their effortless sense of style, and in the city's endless boutiques, you can try your hand at dressing Québec-chic. Take the opportunity to seek out First Nations art and jewelry at places like the Images Boréales gallery, which features a remarkable collection of Inuit art.
For an active afternoon, take a walk up to the top of Mount Royal (Mont Royal), the immense hill that gave Montréal its name. The observation area atop the hill provides unparalleled views of the Saint Lawrence River winding through the Montréal skyline. The wooded walking paths around Mount Royal are a fresh and relaxing change of pace from the throbbing energy of urban Montréal. On the northern slope of Mount Royal, you can visit the Oratoire St-Joseph. This oratory, named for Montréal's patron saint, has lovely views and quiet, meticulously landscaped gardens. Explore inside or bring a book and lounge on the surrounding lawns for a leisurely hour or two.
When it comes to dining, Montréal is hard to beat, with a variety of casual dining (Le Gros Jambon in Old Montréal) to award-winning, market fresh Quebec gastronomy sourced from local farms (Toqué and its sister restaurant Brassiere T). Don't leave Montréal without grabbing poutine, the city's signature dish. You can find the French fry, gravy, and cheese curd concoction almost anywhere in the city.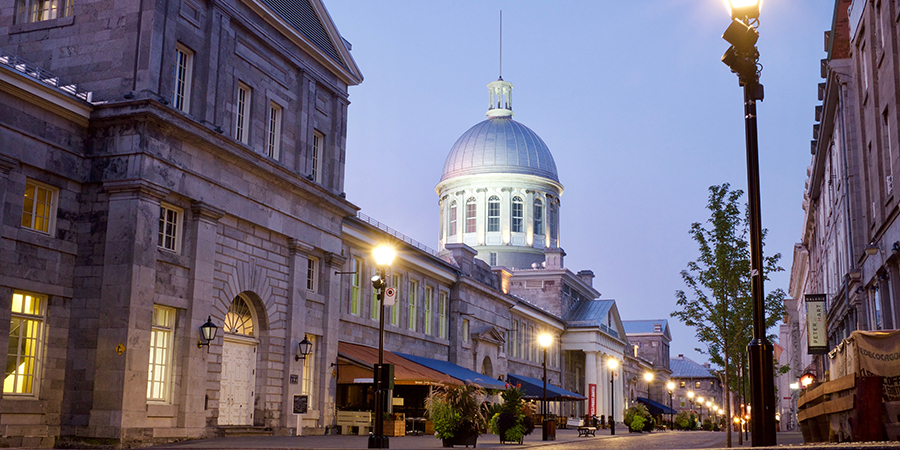 Best of all, these two impressive cities are conveniently connected by an efficient and enjoyable train ride aboard VIA Rail's Corridor Service. Speak with a rail specialist to start planning your next vacation to Montreal and Quebec City by rail.