"Where do I begin?" This is the question that so many travelers ask themselves as they prepare to pack their bags for a train trip - and it is also the paralyzing question that can lead to bad packing choices. Do not fall into this mental trap! Skip the confusion and the indecisiveness by following this practical guide to Amtrak luggage, and learn how properly packed bags can be your best friend as you travel through the United States by rail.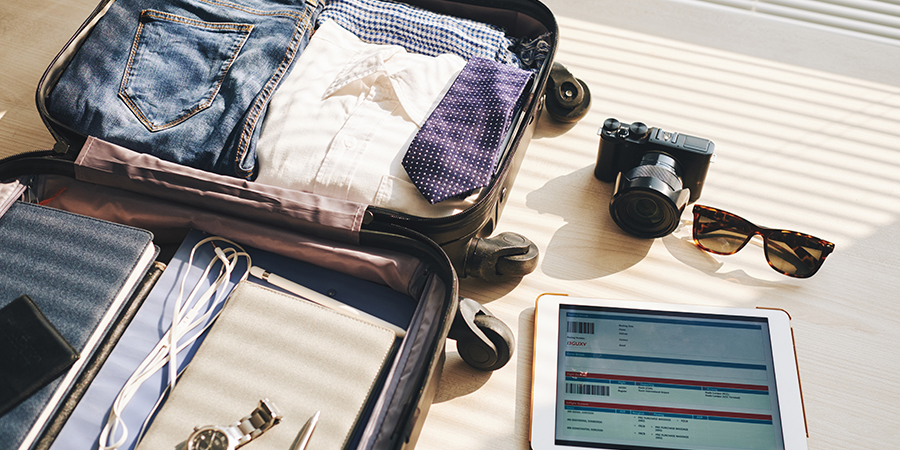 Checked Baggage
Before setting out on your Amtrak adventure, check with your rail specialist or your boarding and destination Amtrak stations to see if they accept checked luggage. Knowing this bit of information can completely change the way you pack, as you will now have ample space for items you do not need immediate access to. Each traveler using checked baggage services is allowed two bags that weigh up to 50 pounds each and measure 75 linear inches, which is the combination of length, width, and height. Two additional bags of the same size can be checked for $20 each, or if your bags are a little too big (between 76 and 100 linear inches), you can pay a fee of $20 each to bring them along.
What to Check
Clothing for Your Trip
Extra Shoes
Full-sized Toiletries
Non-urgent Medical Equipment
Specialty Items
Did you know you can check other items in place of luggage, or in addition to luggage for an additional charge? Each checked item must be under 50 pounds but can include options such as:
Bicycles
Golf Equipment
Surfboards
Sporting Equipment
Musical Instruments
Baby Gear (i.e. pack and play or car seat)
Tips for Checking Your Amtrak Luggage
Arrive at the station at least 45 minutes prior to your train's departure time to ensure the staff has enough time to check and load your bags.
Purchase inexpensive luggage tags and attach them to everything you plan to check. This will save valuable time in locating your items when you reach your destination.
Do not worry about rechecking your luggage at each station if you are traveling on a route with guaranteed connections. Much like airline travel, Amtrak takes care of all luggage transfers and ensures your checked items arrive at your final destination.
Carry-on Luggage
In addition to your two checked bags, Amtrak allows passengers to carry on up to two personal items of less than 25 pounds and two carry-on bags of less than 50 pounds. The Amtrak luggage policy states that those passengers that are traveling with small children can also bring diaper bags, strollers, baby carriers or other compact gear that does not count toward these four carry-on items. Keep in mind that all of these items need to be kept with you, in the overhead luggage racks or under your seat at all times, so only carry on what is essential for your train ride, as space can be limited.
Suggested Carry-on Luggage for Daytime Journeys
Jacket - The train's AC is typically high to keep all passengers comfortable.
Headphones - Listen to an audiobook or your favorite tunes, or just block out the noise around you.
Electronics - Bring along your Kindle, tablet, laptop or just your cellphone for the ride. Whether you plan to get some work done or to play games, these devices help pass the time when you have had your fill of gazing at the landscape.
Snacks - Depending on your departure time, some meals may be available on the train, and there are typically snacks available, as well. This being said, keeping a store of your favorite non-refrigerated snacks (beef jerky, nuts, trail mix, oranges, apples, bagels, granola bars, single-serve bags of chips, candy, etc.) with you ensures you can munch whenever you would like without leaving your seat. Passengers can also bring small coolers with cold snacks and drinks as a personal item, should they choose.
Camera - Amtrak's journeys are carefully planned to take passengers through some of the most beautiful landscapes their route has to offer; capture them all.
Alternate Power Sources - Outlets are not always available on trains, so if you plan to use your electronics heavily onboard, it is a good idea to bring a spare fully charged battery or a pre-charged power adapter as part of your Amtrak luggage.
Medication and Medical Supplies - If you need immediate access to medical supplies (mobility equipment, an oxygen tank or prescription medicines), keep these items within your reach as carry-on items.
Books - Get lost in a great book during your time on the train. If you want to connect your reading material and your route, try finding books related to your destinations or the train itself.
Suggested Carry-on Luggage for an Overnight Amtrak Journey in Coach
Small Blanket - A compact blanket, preferably one that can roll or fold easily, is the perfect comfort addition to your overnight bag for the train.
Travel Pillow - Small travel pillows are provided on overnight journeys; however, many travelers find themselves much more comfortable when they bring along their own. An inflatable pillow is a great way to get the comfort you need without taking up too much valuable bag space.
Environmental Blockers - Headphones or earplugs and a sleeping mask can give you the illusion of privacy and make sleeping on the go a little easier.
Toiletries - No need to deal with tiny 3-ounce containers when you pack your luggage for Amtrak - feel free to bring along your full-sized products if you have space. Toothbrushes, toothpaste, makeup, hair products, lotion, deodorant and whatever else you need to feel fresh in the morning can be taken aboard the train in your carry-on bag.
Change of Clothes - Whether you just bring fresh unders or you bring whole outfits in your carry-on bags, you will feel much better if you have the opportunity to freshen up daily.
Easy Shoes - Let's be honest, no one wants to lace up their Nikes if they have to get up to use the bathroom in the middle of the night. Do yourself a favor and pack some sandals that are easy to slide on and off.
Suggested Carry-on Luggage for an Overnight Amtrak Journey in a Cabin
If you choose to make your journey in a sleeper cabin instead, there is no need to pack any pillows, linens or basic toiletries, such as body soap and shampoo, as they are all provided in your room. Just bring along your entertainment, snacks, clothing, beauty products and whatever else you need to feel comfortable on your journey.
Specialty Items
Just like with checked luggage, you may bring specialty items on your train as long as they can be properly stored. Some popular items guests carry on include:
Small and mid-sized instruments
Surfboards under 72 inches in length
Snow skis and snowboards under 72 inches in length
olf equipment under 50 pounds
Pack baby wipes, even if you do not have children. Use them to keep yourself clean after eating, wipe down your area if you make a mess or enjoy a quick wipe bath in the mornings to freshen up.
Consider bringing a lock along to secure your belongings to the luggage racks. Especially if you are bringing valuables along, a lock can give you extra peace of mind while you are away from your seat or sleeping.
Preload all of your media (games, movies, books, etc.) onto whatever electronic device(s) you plan to bring with you for entertainment, as the scenic routes Amtrak follows do not always allow for Wi-Fi Internet connections.
If you are making your long-distance journey from the comfort of a sleeper cabin, feel free to carry on your favorite wine, beer or spirits to enjoy along the way. Keep in mind, though, that all drinks not purchased on the train must remain in your private quarters.
Having everything you need with you on your Amtrak rail journey can mean the difference between being comfortable and enjoying your ride and having a less-than-stellar travel experience. Fortunately for you, taking luggage on Amtrak is simple, and there is no shortage of options for what you can bring along for your trip. When you are ready to set out on your next adventure, contact Vacations By Rail.