European river cruising is an up-and-comer to the vacation scene, yet is quickly gaining popularity with those travelers that like to be in the heart of the action. These well-planned voyages explore meandering waterways throughout the continent, weaving through enchanting towns and magnificent cities and past landscapes beaming with natural beauty. With vineyards, gorges, and ancient castles filling the gaps between destinations, there is always something new to experience. If you are ready to join the adventure, read this list of top tips for river cruise first-timers to make the most of your cruise experience.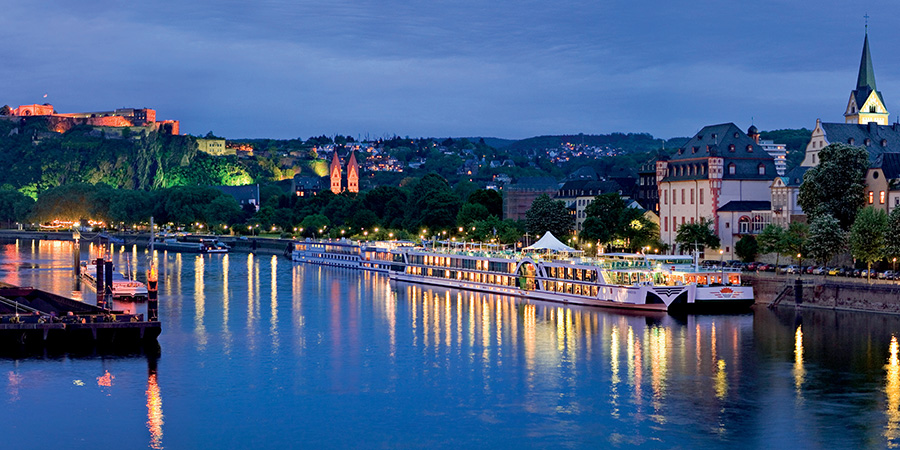 River Cruise Tips for Before You Go:
Avoid Sticker Shock
If you are a seasoned ocean line cruiser, pricing a river cruise may come as a bit of a surprise. Ocean cruises are one of the cheaper forms of travel, but nearly everything, in addition to the base ticket and cabin, is another fee. You pay for soft drinks, alcohol, onboard restaurant meals, shore excursions, and Wi-Fi out of pocket.
A river cruise is truly all-inclusive. Enjoy three meals daily in the onboard dining room with complimentary snacks and drinks throughout the day, including wine or beer with dinner. Wireless Internet is available throughout the ship. Further, bicycle rentals, shore excursions, and onboard enrichment are all provided in the up-front cost.
Increase Your Daily Activity Level
One thing you should know before you go is that European river cruises are best suited for active adults. Daily ports of call open up myriad possibilities for exploration. Walking tours alongside an expert local guide are among the most popular options. These tours move at a leisurely pace; however, if you are not used to extended walks, it can be challenging. You may also wish to sightsee on your own by walking through the waterside towns or join tours of popular attractions, like castles or vineyards. There are so many opportunities to immerse yourself in Europe. Before you leave, one of the best tips is to increase your activity level. Start taking short walks around your neighborhood, in the mall, or on an indoor walking track to build your stamina.
Break in Your Walking Shoes
In the same vein as above, ensure your walking shoes are broken in fully before you reach the dock. You will be on your feet a lot, and the last thing you want is sore feet. If you do not have time to break in a new pair, bring your tried-and-trues - a pair of supportive shoes that you know you can walk in all day without issue. Ensure there is plenty of non-slip tread on the bottom and adequate arch and ankle support.
Research the Destinations Along Your Course
Whether joining a Rhine River cruise, a Danube River cruise, a Dordogne River cruise, or setting out upon an entirely different waterway, make sure you map out your course. Look at the trip itinerary and pay attention to the docking cities along the way. You may wish to read about the destinations to discover the attractions, cuisine, or experiences that pique your interest. Looking up landmark locations or how to find your sought-after local items keeps you even more organized. After making notes about what you hope to do or see in each town, keep them with you as you travel. Doing this allows you to take each day by the horns and customize your voyage.
Resist the Urge to Overpack
The beauty of river cruises is that the dress codes call for one thing: stylish comfort. Leave your luxe evening wear and high-heeled shoes at home, and instead, focus on building a suitcase full of smart yet cozy pieces that can be mixed and matched to create different outfits. Think jeans, khaki pants, quick-dry hiking pants, skirts, casual dresses, shirts in a mixture of short and long sleeves, sweaters, and jackets. Choose a neutral color scheme for your clothing, so it is easy to create numerous outfits from a few staple pieces.
A huge tip for first-time river cruisers: Pack less than you need. There is limited storage space in your cabin, and most ships come equipped with laundry services.
Tips for First Timers to Enhance Your River Cruise Experience:
Learn the Layout of Your Ship
Remember, River Cruises are More About the Journey Than the Ship
You may notice during your trip around the ship that there are not multiple restaurants to choose from, casinos, or giant games rooms. There is a simple reason for this: River cruises focus more on providing an excellent itinerary than an extravagant onboard experience. That is not to say that you will not be surrounded by luxury - because you will be. Most river vessels liken themselves to floating five-star hotels. But since most of your daytime hours take place off the ship exploring beautiful and historical destinations, there is no need for all the extras one might need during days at sea.
Get to Know Those Around You
One of the best tips and tricks for first-time river cruisers is mingling with fellow passengers. The intimate nature of a river cruise lends itself to building new friendships quickly. You will likely see the same groups of people at mealtimes and during excursions. Join the onboard enrichment activities to get to know other travelers in a more informal setting. Making memories together is always more fun.
With less than 200 passengers onboard, the staff will also recognize you sooner. Sitting in the same sections in the dining room helps facilitate this faster. The servers are likely to learn your preferences and dietary requirements. They may even greet you by name, eventually. Return the favor by asking their names and getting to know them. The payoff is crafting a family-like environment onboard while traveling between gorgeous destinations.
Strive for Adaptability
Sometimes, the weather is unpredictable. Other times, you may be way more exhausted than you anticipated. While the itinerary for the journey is set ahead of time, you do not have to follow it to a T. Feel free to say no to a shore excursion if you need a rest day, if you do not feel like fighting the elements, or even if the day's plans do not align with your interests. It is fine to take a bike out for the day to ride along the shoreline while the rest of the travelers ride a local scenic train. You may wish to sightsee independently while others visit a historic building. Check-in with yourself, and adapt accordingly.
Pick Your Cruise Manager's Brain
A smart passenger utilizes all their resources; one of the best is your cruise manager. These well-versed experts know all the tips to make a journey successful and, therefore, are an invaluable tool to enhance your voyage. Listen to any tricks he may provide about the cruising experience, such as when to arrive for meals or how early to meet for group tours. Ask them about onboard activities or questions about the places you are visiting. He may even be able to offer additional sightseeing recommendations based on your interests as you travel.