Vancouver, the most prominent city on Canada's Pacific seaboard, holds a special place in the hearts of millions. It has a dreamy location between the ocean and the mountains, with coastal rainforests and sandy beaches framing its modern skyline. Fascinating points of interest are dispersed among exciting neighborhoods and beautiful surroundings. The city is exceptionally walkable, with its compact city center, and is consistently ranked as one of the most livable globally. It makes perfect sense that Vancouver is the kicking-off point for many an adventure, especially those by rail. In fact, Vacations By Rail utilizes this coastal gem as the starting point for a number of Western Canada and Canadian Rockies rail vacations. Make the most of your time here by checking out these ten can't-miss Vancouver attractions.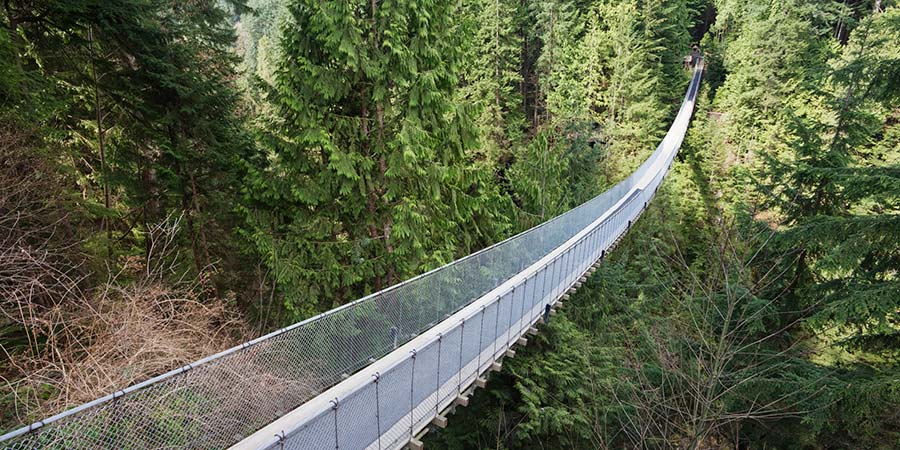 1. Capilano Suspension Bridge
Views of the rapid waters of the Capilano River meet North Shore Mountain scenery and a world enveloped in towering rainforests at the Capilano Suspension Bridge. This park is a fantastic place for outdoor adventures. Walk amongst the treetops on a series of seven suspension bridges, or brave a 450-foot suspension bridge perched precariously over the river at 230 feet in the air. Visitors can mosy along a 700-foot pathway anchored to a sheer granite cliffside for an even bigger thrill. What is thrilling about that, you ask? It hangs out over the top of Capilano Canyon.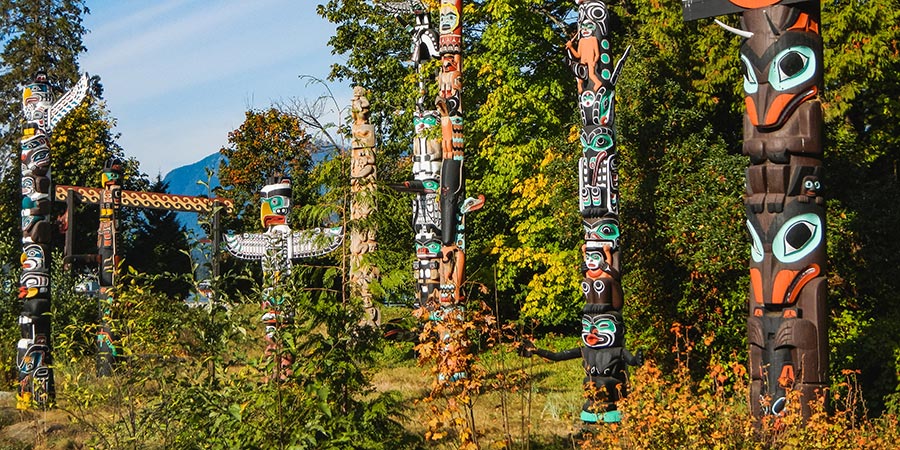 2. Stanley Park
By and large, one of the biggest tourist attractions in Vancouver is Stanley Park. This urban oasis encompasses over 980 acres of beautiful forest and ocean scenery and includes numerous draws. Walk or bike along the famous Sea Wall, visit the Vancouver Aquarium, or make your way to the Brockton Point Totem Poles, representing the First Nations in Canada. Well-maintained hiking paths surrounded by old-growth conifer trees weave through the park, and there are several sandy beaches, including Second and Third Beaches. Enjoy some of the park's best sights without taking a step while riding aboard the miniature train. With gardens, open space for activities, and plenty of beauty sprinkled among its acreage, Stanley Park has limitless allure.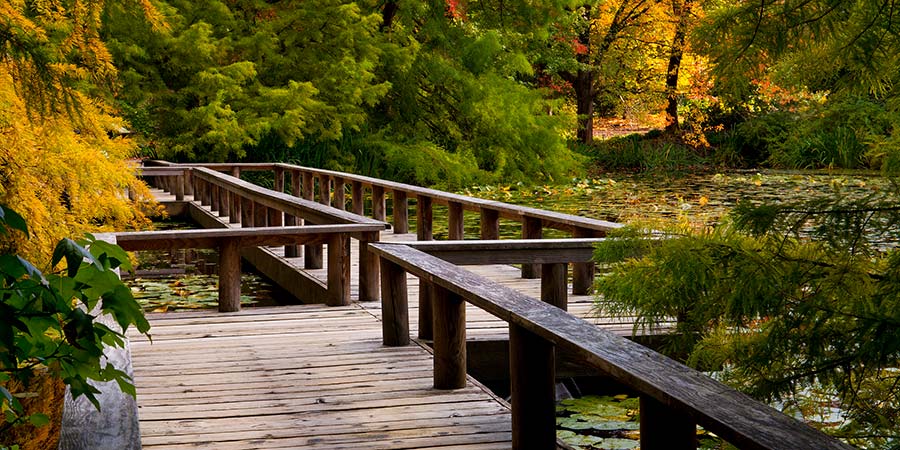 3. VanDusen Botanical Garden
Look upon over 7,500 plant species, including blossoms in every hue of the rainbow, at VanDusen Botanical Garden. Its lush gardens sprawl over 55 acres and have been filled with flora with year-round appeal. Look at flowers and blooming bushes in the spring and summer. Winter brings emerald-hued evergreens and winter berries hidden under the snow. Visiting around Christmas offers a special treat, as a million twinkling lights transform the park.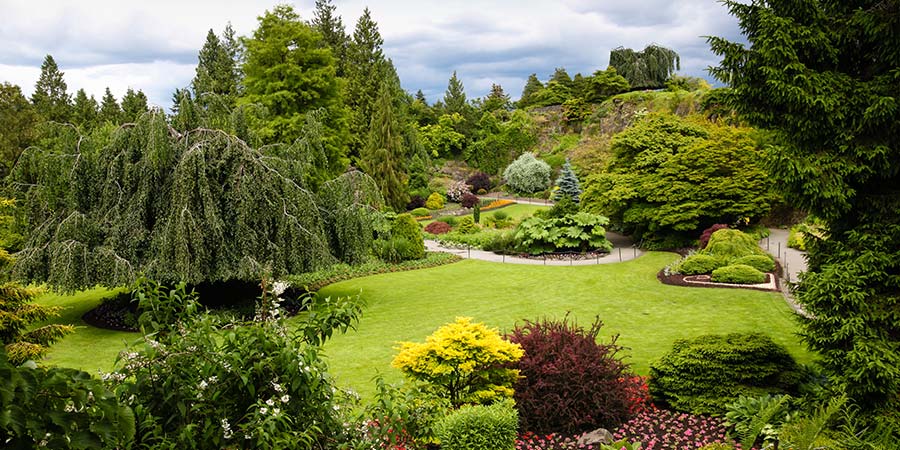 4. Queen Elizabeth Park and the Bloedel Conservatory
Not far from VanDusen Botanical Garden and in the heart of Vancouver, Queen Elizabeth Park is another excellent choice when it comes to tourist attractions in Vancouver. This park is the highest point in the city and offers panoramic views over the mountains, city, and beyond. Interesting sculptures and impressive fountains accent the natural scenery. Well-kempt landscaping pairs with gorgeous gardens, making this another hotspot for botanical enthusiasts. No site is more inclined to those looking for fantastic blooms than the Bloedel Conservatory of Queen Elizabeth Park.
Tropical plants and over 100 species of birds thrive in this domed-glass structure. Temperatures are maintained between 64 and 77 degrees year-round inside the conservatory; however, the high humidity makes it feel even warmer. These conditions are ideal for the colorful plants, flowers, and towering exotic trees that call this unique attraction home.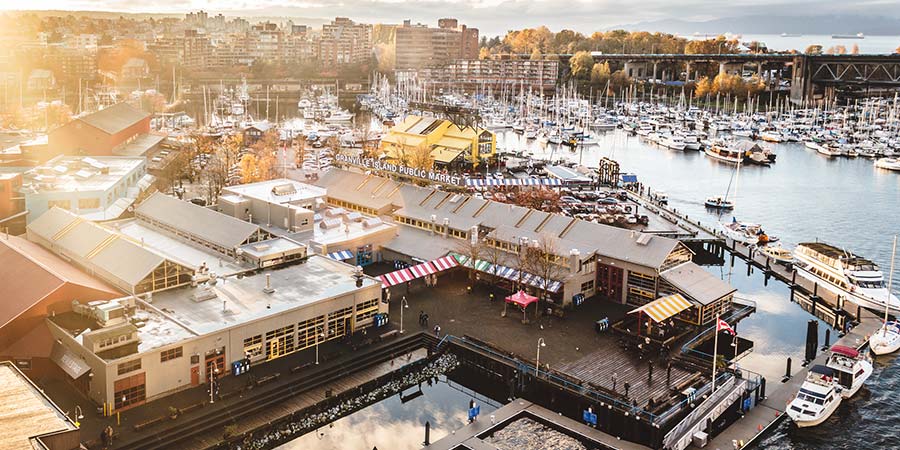 5. Granville Island
This Vancouver hotspot is set just across False Creek from downtown and is easily accessible by ferry or aquabus. While here, see artists at work creating works out of silk, metal, paint, and gold, or shop for ready-made goods and souvenirs at one of the boutiques. Granville Market is iconic for its wide assortment of fresh seafood, produce, and prepared food offerings. You can even enjoy a meal or a drink with a view in one of the many pubs and eateries found on Granville Island.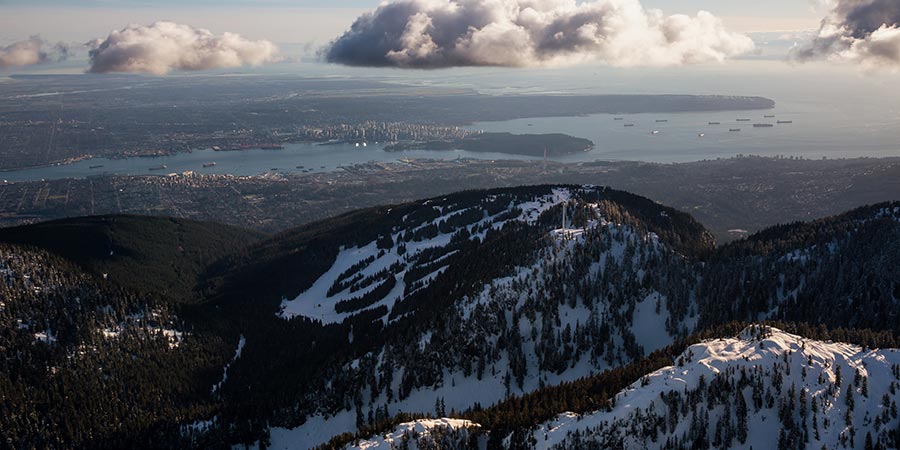 6. Grouse Mountain
Nicknamed the "Peak of Vancouver," Grouse Mountain is a peak located minutes outside downtown Vancouver. This mountain is a year-round haven for outdoor enthusiasts, with activities accommodating all fitness abilities. In the summer, enjoy breathtaking views over the mountains, forests, ocean, and city from the Skyride; climb 1 1/2 miles up to the summit of Grouse Mountain on the Grouse Grind; do the ropes course; visit the grizzly bear habitat; or listen to an informative ranger talk. When colder weather overtakes the coast, skiing, snowboarding, mountaintop ice skating, sledding, and snowshoeing are among the most popular things to do.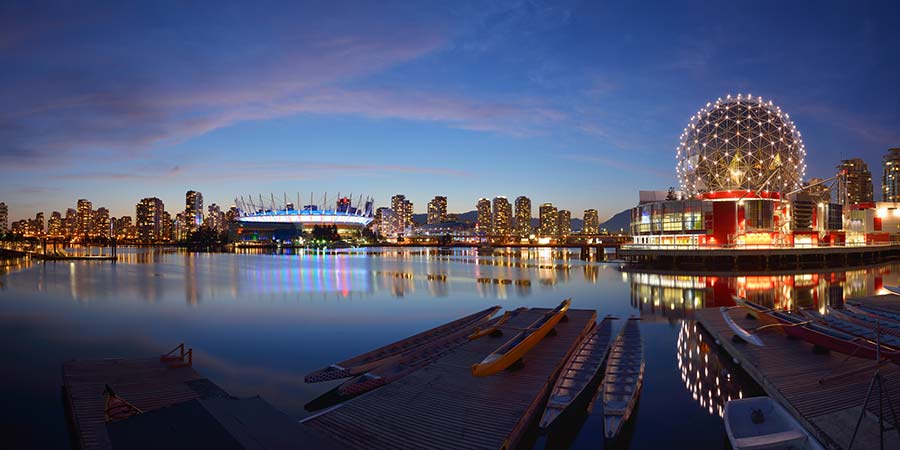 7. Museums Galore
Whether your interests lie in art, history, indigenous culture, or marine life, there is a museum in Vancouver to whet your appetite for knowledge. There are 21 museums in total in this 44-square-mile city, giving you plenty to choose from without having to venture too far. Some of the most popular include:
Museum of Vancouver - Explore the history of British Columbia and Vancouver in a museum dating to 1894.
Vancouver Art Gallery - Peruse over 12,000 works depicting the beauty of British Columbia.
Science World - Rotating and permanent exhibits join interactive displays to introduce guests to the world of science.
Vancouver Maritime Museum - Discover the Pacific Northwest and Arctic's seafaring history through fascinating displays, including an authentic ship from the 1940s.
Museum of Anthropology - Learn about the connections and differences of cultures worldwide while on the University of British Columbia campus.
Beaty Biodiversity Museum - Look upon over 2 million specimens that detail the natural history surrounding Vancouver.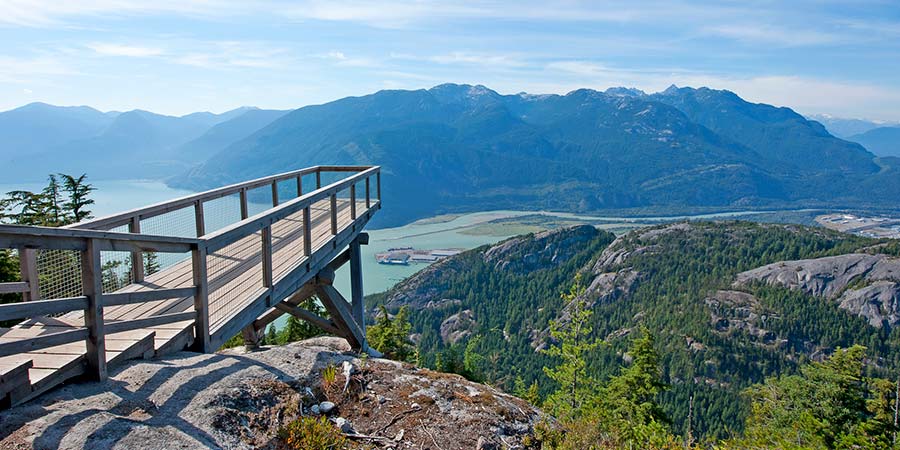 8. Vancouver Lookout
Standing 553 feet above the city streets, the Vancouver Lookout was the tallest building in Vancouver when it opened in 1977. While five other buildings have overtaken its height, none have surpassed its views. Visitors are invited to take a glass elevator up to the rounded upper levels, where 360-degree panoramas of the city are sure to delight. Guests can look at Stanley Park and the city blocks. Beyond the city, the North Shore Mountains and coastal rainforests sit aside ocean panoramas.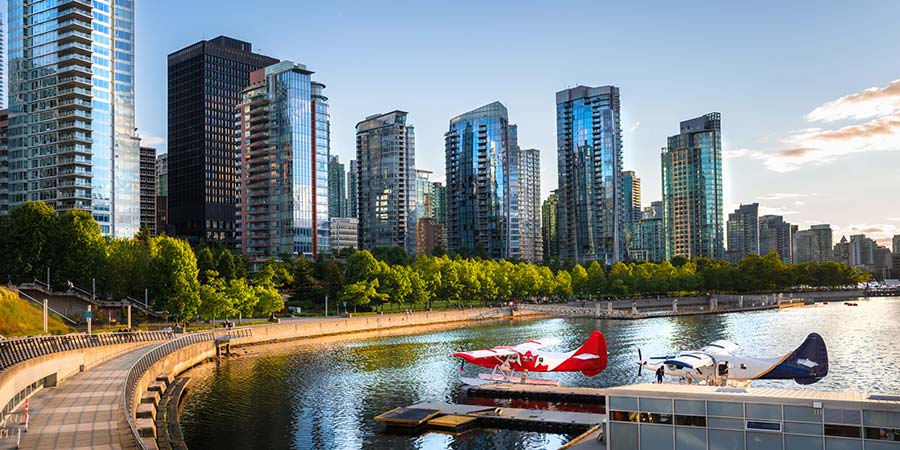 9. Diverse Neighborhoods
Among the most popular Vancouver attractions are not specific places but rather interesting neighborhoods throughout the city. Some of these sectors boast historic buildings that date to the city's infancy, while others are up-and-coming areas filled with all the trends modern travelers desire. Check out neighborhoods like:
Gastown - The oldest part of the city is adorned with cobblestone streets and 19th-century buildings; however, it has become a mecca for shopping, gastronomy, and fashion in Vancouver.
Coal Harbor - A stark contrast to Gastown, Coal Harbor is all high rises and modern life. This area has a unique connection to the ocean, forged primarily through its long sea wall.
Kitsilano - This region is ultra-trendy and the former home of Vancouver's hippy population. There is still a peaceful vibe to this neighborhood, and you may notice it while exploring the local beaches or green spaces. Fantastic restaurants and upscale shops complement all of this.
Chinatown - Over 100 years of history line the streets of this distinct cultural district in Vancouver. Enjoy festivals, authentic eateries, boutique shopping experiences, and access to the tranquil Dr. Sun Yat-Sen Classical Chinese Garden.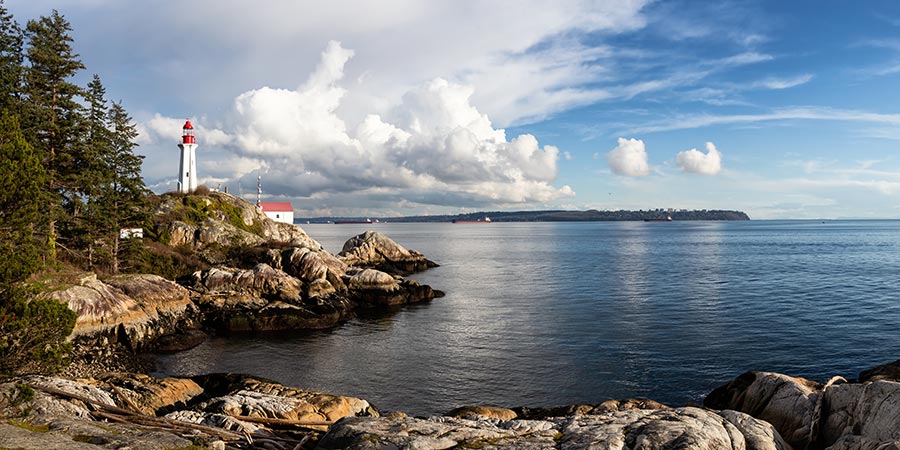 10. Sea to Sky Highway
If you want to get out of the city and explore the offerings surrounding Vancouver, there is no better way to accomplish this than the scenic Sea to Sky Highway. This roadway takes travelers from Vancouver to Whistler, weaving through charming destinations and beautiful surroundings.
After venturing out of the city and past Grouse Mountain, Horseshoe Bay is a fantastic little stop-off that features the Horseshoe Bay Lookout, a hidden gem in the Vancouver region. Sunsets here are breathtaking, though sitting around and watching marine life, like whales, seals, and sea otters, is delightful, too.
Whether the City of Glass provides the first - or last - taste of adventure on your rail journey or is your chosen vacation destination, there are many memorable ways to fill your time. In addition to this list, Vancouver boasts incredible touring options that explore popular sites and little-known treasures and plenty of great places to relax while surrounded by the scenery. Contact a Rail Specialist to learn more about your itinerary featuring Vancouver or to find one that does!