It is no wonder that the Canadian Rockies are among the most beloved regions in all of North America. Here, immense national parks preserve stunning landscapes filled with crystalline lakes, verdant alpine forests and towering mountains. You can walk upon ancient glaciers and stroll through the sprawling U-shaped valleys they carved millennia ago. There are incredibly scenic hiking trails throughout the Rockies, many of which lead to breathtaking lookouts or waterfalls, and all of which present phenomenal views of nature's glory. Even in the winter, the Rocky Mountain landscapes continue to impress from underneath a fluffy blanket of pristine snow. Icy waterfalls and frozen lakes set the backdrop for fantastic adventures. This is your guide to the Canadian Rockies, a place where endless beauty awaits.
Getting to the Canadian Rockies
Located just 1 hour outside of Calgary, the resort towns and national parks of the Canadian Rockies are easily accessible by car and train. Traveling by car affords a certain amount of freedom, such as visiting different destinations and exploring as you please. That being said, entering the Rockies by train offers a new perspective on the majestic landscape. There is no need to worry about navigating - just sit back and enjoy the ride as the scenery unfolds around the tracks. Both VIA Rail's flagship long-distance train, the Canadian, as well as the all-daylight Rocky Mountaineer follow routes from Vancouver into the Rockies, ending their journeys in Jasper, the largest national park in the Rockies. The luxurious Rocky Mountaineer also has a route that travels to Banff.
The Best Time of Year to Visit
There is no wrong time of year for a Rocky Mountain adventure; it really comes down to the experience that you hope to have during your time here. Usually by October, the temperatures begin to drop and the first snowfall has christened the new winter season. A transformation into a winter wonderland brimming with cold weather adventures soon follows. Expect the snow to hang around - at least on the tallest peaks - until June the next year. With fluffy snow on the ground, enjoy skiing, snowboarding, snowshoeing and wintertime hikes to frozen lakes and waterfalls. The rugged feel of the mountains is tamed ever so slightly by the snow and a distinct stillness overtakes the landscape. If you are hoping to climb to mountain peaks on the region's beautiful hiking trails, it is best to wait for the warmer months - typically mid-June through mid-September. Summer visits are ideal for hiking, mountain biking, kayaking, rafting, wildlife spotting and more. Because of the breathtaking scenery and abundance of outdoor excursions available, summer is typically the busiest season in the Rockies. Staying in the Rockies during a transitional season, such as that between mid-September and mid- October, offers the best of both worlds: hiking and outdoor adventures and the possibility of snow at any time. This brief fall season is filled with golden hues from the golden larch trees that frame the landscape, and because the chance of snow looms daily at this point, fall is one of the least busy seasons to visit the Canadian Rockies.
Where to Stay During Your Time Here
There are fantastic destinations scattered throughout this mighty mountain range; however, accessibility and overall charm make Jasper, Banff and Lake Louise top contenders for home bases during your time in the Rockies.
Jasper National Park is the largest park in the Canadian Rockies and is home to endless hiking trails, beautiful waterfalls and an untamed landscape brimming with wildlife. A stay in Jasper puts you close to Maligne Lake and Maligne Canyon, amongst other natural gems in the Rockies. The town center in Jasper has less of a resort feel than Banff, though there are still fantastic restaurants from which to choose and many wonderful hotel options. Popular hotels include the Sawridge Inn & Conference Center and the magnificent Fairmont Jasper Park Lodge.
Located nearly 3 hours south of Jasper is Lake Louise, a stunning lakeside destination that is beloved for its namesake. The hamlet is situated within the confines of Banff National Park and is itself a popular destination for hiking in the summer and skiing in the winter. The turquoise water of Lake Louise sits against an awe-inspiring backdrop of towering mountains and the Victoria Glacier. There is no experience quite like staying in the iconic Fairmont Chateau Lake Louise, the luxury resort with stunning views of the crystal-clear lake with the Canadian Rockies on the horizon.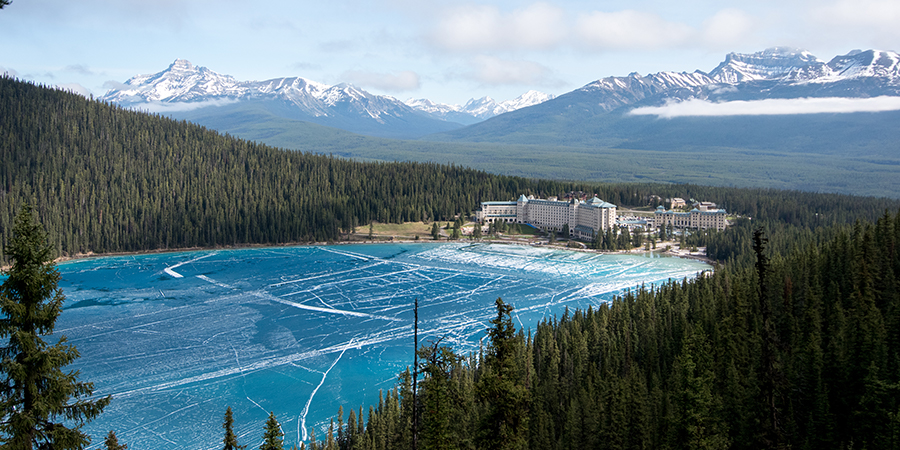 Canada's oldest and most popular national park, Banff National Park, is a mecca of adventure within the Canadian Rockies. This destination is ideal for travelers who desire more of a resort atmosphere alongside their nature expeditions. Banff features an enchanting town center where boutiques, restaurants, art galleries and museums sit aside beautiful hotels and souvenir shops. Dramatic views of the mountains surround as you explore the offerings of the main thoroughfare, and although Banff itself is commercialized, the pristine wilderness in Banff National Park is just moments away. A stay in Banff puts you near Moraine Lake, Johnston Canyon, Bow Falls and more. Hotel accommodations here are bountiful and include places like the Elk & Avenue Hotel and the historic Fairmont Banff Springs Hotel, known as the Castle of the Rockies.
Essential Items to Pack
Perhaps the most important thing to remember when packing for your Canadian Rockies tour is that the weather can change rapidly. Even a warm summer day may bring evening temperatures near freezing, and rain and snowstorms can crop up at any time. Bring plenty of layers to wear for your outdoor excursions, even in the summer months. During the winter, the cold climate and snowfall make heavy coats, gloves, hats, waterproof pants (such as snow or skiing pants) and insulated boots essentials. Layers such as thermal shirts and pants or long underwear are great accompaniments for your thicker outer layers, especially if outdoor adventures are planned. During other times of the year, pack so you can wear layers of short and long sleeve shirts and do not forget a waterproof jacket and sturdy shoes for your excursions. Sun hats, sunglasses, sunscreen, bug repellent and bear spray are also great things to include in your bags. Of course, one thing you must remember is a camera with plenty of memory; the scenery of the Canadian Rockies is spectacular.
How Many Days to Stay
How long you should stay in Banff, Jasper, Lake Louise and the Canadian Rockies as a whole is subjective. Are you looking for a restful retreat where you can hike and explore at leisure, or do you prefer a fast-paced vacation with days filled with sightseeing and excursions to points of interest? Maybe you are looking forward to the beautiful scenery but are content to go on just a few short adventures - or perhaps even none at all. There is no wrong way to enjoy the Rockies. At a minimum, spend at least two days here. This time can be split between the national parks or exploring the beauty of just one. The longer you stay, the more there is to uncover. For a more in-depth trip that includes excursions to the region's lakes, hiking, skiing and sightseeing, plan for at least four days. Of course, you could stay for weeks in the area and still not discover everything there is to offer.
Things to do in the Canadian Rockies
The Canadian Rockies are chock-full of sights to see and bucket list experiences. There are adventures for travelers of all activity levels, including some of the most spectacular examples of nature's prowess.
In Jasper:
Ride aboard the Jasper SkyTram to gaze upon the magnificent scenery from above
Cruise the stunning blue waters of Maligne Lake and enjoy views of three glaciers, mountains and the hauntingly beautiful Spirit Island
Hike Maligne Canyon to see the dramatic canyon and its prolific waterfalls
Take a dip in the Miette Hot Springs
Hike through the meadows near Mount Edith Cavell or around Sunwapta Falls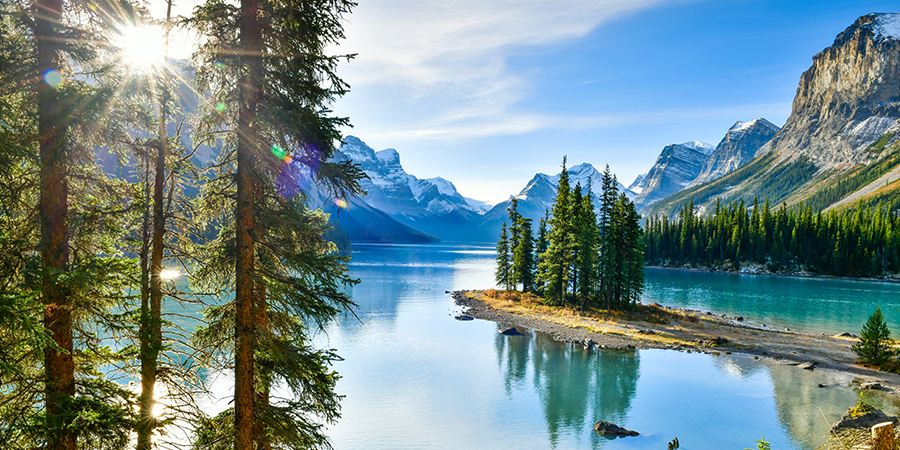 In Banff:
Visit picturesque Moraine Lake or Lake Louise, where you can enjoy the spectacular views from the shore or rent canoes or kayaks to sightsee from the water
Take a boat ride or go scuba diving in Lake Minnewanka
Ride the Banff Gondola to the summit of Sulphur Mountain for breathtaking vistas across the Rockies
Relax in Banff Upper Hot Springs
Hit the slopes at Sunshine Village or Lake Louise Ski Resort
Explore Johnston Canyon, home to trails and waterfalls, which are impressive in all seasons but especially when frozen over in the winter
Tour Cave and Basin National Historic Site, a small cave with big beauty that is the birthplace of Banff National Park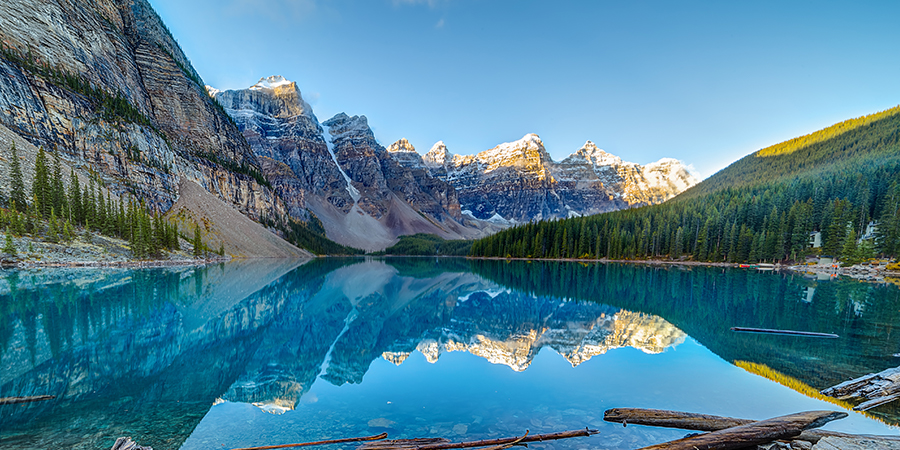 In Between:
Drive along the Icefields Parkway, noted to be one of the most scenic drives in the world and your direct connection between Jasper and Banff National Parks
Explore the Columbia Icefield, the largest non-polar icefield in the world, aboard a massive Ice Explorer vehicle
Walk upon Athabasca Glacier - you may even be able to drink from it
Look out upon mountains, glaciers and the gorgeous Sunwapta Valley from 918 feet above the ground on the glass-floored Glacier Skywalk