Traveling by train is one of the best ways to see North America. Amtrak alone covers 21,400 miles of track in 46 states and three Canadian provinces. Its rails venture through major metropolises, past small towns, and across vast stretches that showcase the variations of the American landscape from coast to coast. However, some of the most exciting places these long-distance trains can take you are the country's national parks. If it is an adventure like none other you crave, discover how visiting national parks by train can be just the answer.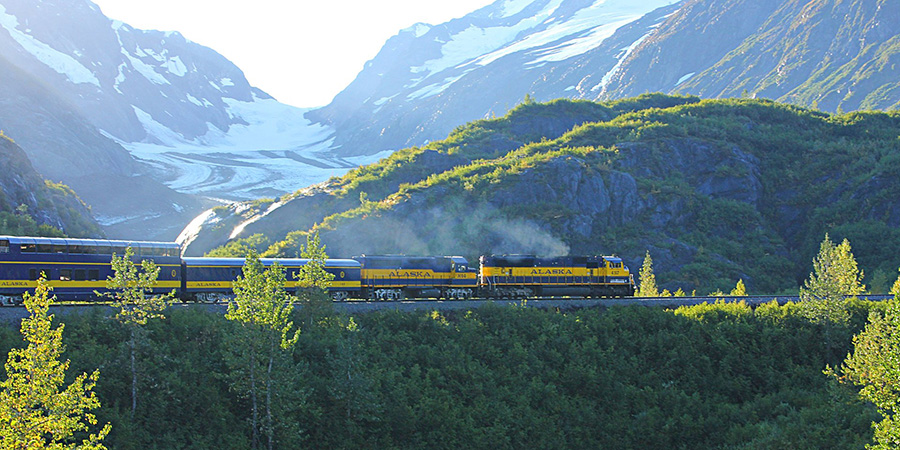 Scenic Routes Highlight the Beauty of America's Backcountry
Many journeys toward the national parks begin right in the heart of the country in Chicago, Illinois. While the scenery around the city is nothing new - corn fields, rural expanses, and suburbs - it does not take long to see why riding the rails leaves travelers in awe of America's beauty. Once the city lights have faded into the distance and the route is firmly underway, the rails weave through portions of the country where the roads do not reach and that you may not have seen otherwise.
Joining a train like the California Zephyr, the Empire Builder, or the Southwest Chief takes travelers West past lakes and across sweeping prairies. Once through the Great Plains, awe-inspiring scenes of mountain ranges, deep canyons, hoodoos, varied forests, colorful deserts, and wide-open skies greet the tracks. Each portion of the country has wonders to behold, so each route unveils something new. And because many trains include domed-glass Sightseer Lounges, you always have the best seat in the house to see the United States unfold.
If you are traveling to national parks in Alaska aboard the Alaska Railroad, the inspiring contrasts between city and backcountry become even more evident. Many stretches of this railway pass through regions so remote that there are no roads or train stations. Train vacations are your ticket to views of this unspoiled terrain.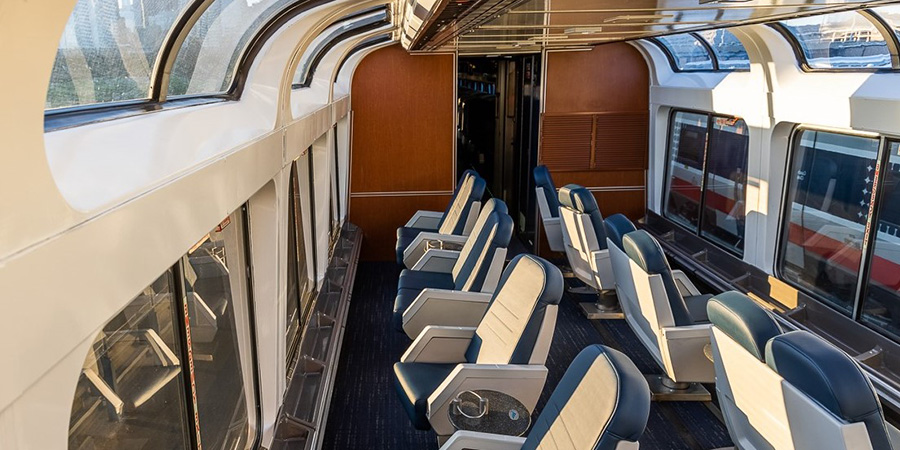 Train Vacations Offer a Chance for you to Relax
National Park tours are thrilling, with days filled with hiking, sightseeing, and animal spotting. With so much activity, why not bookend your trip with a dose of R and R aboard one of the nation's comfortable trains? After all, traveling by train allows you to simply sit back and enjoy the journey.
Traveling to and from national parks by train allows you to skip the stress of the airport, with its long lines, security checks, and crowded terminals. Overnight trains like the Empire Builder offer meals and overnight accommodations all in one place. That means you no longer need to worry about navigating unfamiliar roads or figuring out where to stop for a meal or place to stay after a long day of exploring. Instead, you are invited to lounge about the train, either in your seat, your private accommodations in the Sleeper Car, or the Sightseer Lounge while someone else takes the reins.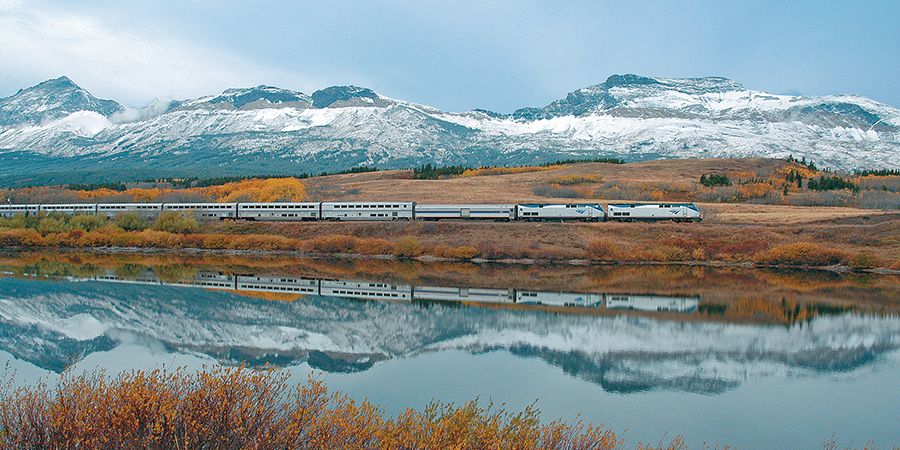 The Train Ride Becomes Part of the Vacation
Anticipation builds during travel, with each mile toward your destination infusing you with a new dose of excitement for what is to come. Riding a train is a bit different, though, because the sightseeing and adventure start when you step aboard. Unlike other vacations that do not truly begin until you arrive, train rides make the journey there an essential part of the overall vacation experience.
Whether you are visiting Yosemite National Park, Glacier National Park, or Denali National Park in Alaska, you can spend your time on the train any way you please. Spend quality time with your friends or family playing games and enjoying new experiences together. Socialize with fellow travelers and meet people from around the country or even the globe. Listen to interesting route commentary by the train's staff or enjoy watching lesser-seen vistas break on the horizon.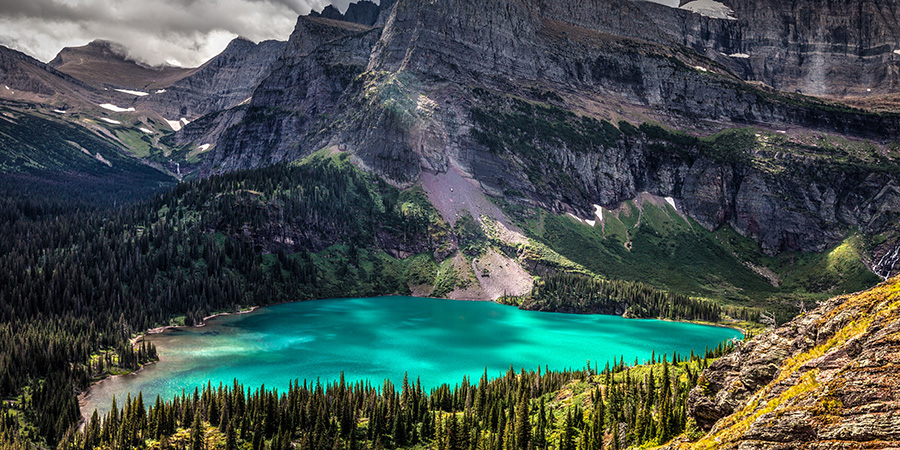 You Can Connect Multiple National Parks Throughout the United States
The U.S. is home to over 60 national parks, with several of the best-known parks found throughout the West. One of the best things about national park tours is that you do not have to choose just one, as many packages include a course that weaves its way to several.
For example, joining America's Treasures & Natural Wonders allows you to explore Glacier and Yellowstone National Parks in Montana before continuing to Grand Teton National Park in Wyoming. Even more, adventure lies ahead as the journey presses toward Bryce Canyon and Zion National Parks; then, the tour wraps up at one of the world's great wonders, Grand Canyon National Park.
For a truly unique experience, enjoy a complete loop through the United States aboard three different Amtrak trains on the Canyons, Glaciers & Waterfalls by Rail expedition. Depart Chicago aboard the Southwest Chief bound for Grand Canyon National Park. Continue to Los Angeles, where you join the Coast Starlight for one of Amtrak's most scenic routes up the California coastline toward San Francisco--ideal for a day trip to Yosemite National Park--and Seattle. The adventure continues on the Empire Builder with a stop in Glacier National Park before arriving back in Chicago.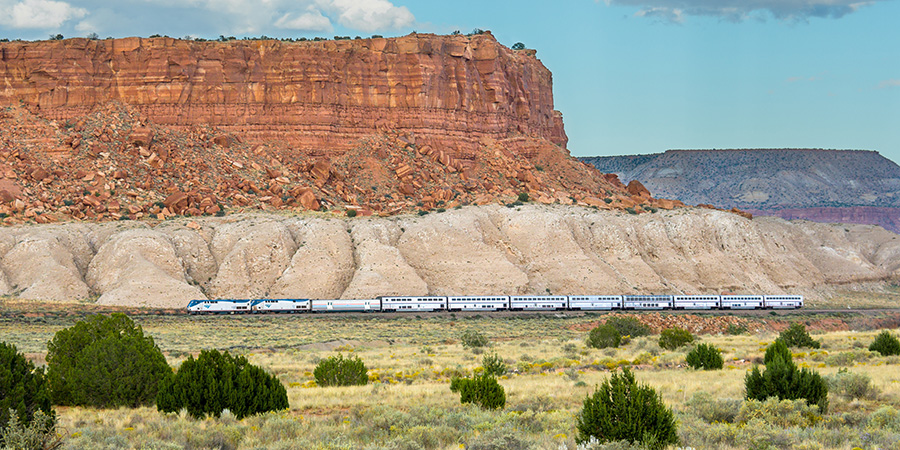 Traveling to National Parks by Train Recalls a Bygone Era
In the early days of America, train travel was the safest, quickest, and most efficient way to traverse long distances. Going on a trip was an event, not an everyday occurrence, and as such, the railways curated the onboard experience to meet those expectations. By choosing to visit national parks by train instead of car, you are invited to relive that romance.
The experience starts at your departure city's train station, such as Union Station in Chicago, a gorgeous building constructed in 1925, or Seattle's King Street Station, dating to 1906. These structures automatically set an ambiance unlike any in an airport. Onboard, sizable windows illuminate the train and offer incredible vistas over the landscape. Long-distance trains offer traditional dining experiences in addition to quick-grab options, and when it comes to accommodations, travelers have numerous options, including bedrooms with en suite bathrooms. This type of privacy and space is the stuff of dreams for airline travelers.
Vacations By Rail offers a collection of exciting packages that showcases the best of America's national parks by rail. Contact one of our Rail Specialists to explore your options.