Ghosts, hauntings, and paranormal activity, oh my: The world is filled with places that can leave you asking, "What was that sound?" Spooky season is amongst us, friends, and there is no better time to explore those things that bring chills to your spine. Throughout the United States, tucked away in Canada, and across the pond in places like England, Scotland, and Italy, some of the most inconspicuous destinations have the most activity from the other side. If you are ready for a fright, explore these haunted locales on your next rail vacation.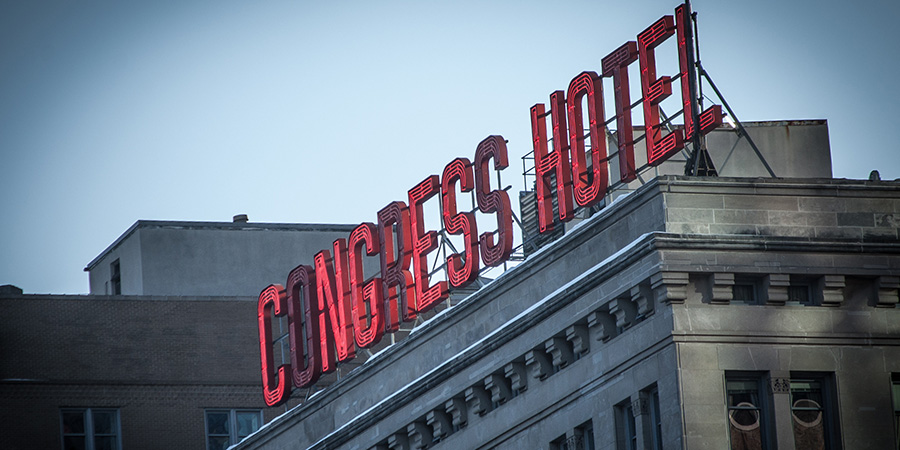 1. Chicago, Illinois - The Congress Hotel
A centrally located starting point for many a train trip throughout the United States, Chicago has a booming Union Station and a long history as a traveler's city. Chicago's modern looks tend to make people forget that it has a dark past and is one of the more haunted cities in the country. One such place within the Windy City has a fantastic location amid downtown Chicago and within walking distance of Grant Park and the Magnificent Mile: the Congress Hotel.
Travel+Leisure Magazine actually named the Windy City's most haunted hotel as the most haunted place in all of Illinois in 2016. Since this hotel was constructed in 1893, it has had plenty of time to rack up visitors - including those who never left. Numerous apparitions are said to roam the halls and make mischief in the rooms, including none other than Al Capone. For a genuine fright, check out room 441.
2. Savannah, Georgia - Hamilton-Turner Inn
Thanks to its long and multi-faceted history, Savannah, Georgia, is teeming with creepy stories and mysterious happenings. One site that gains attention is the Hamilton-Turner Inn, a 17-room bed and breakfast on Lafayette Square. This boutique hotel was a private residence from the time it was built in 1873 until 1965. It became apartments and later the inn that it is today.
The property has seen much tragedy throughout its nearly 150-year history, and because of that, visitors say that it is a hotbed of paranormal activity. Footsteps in rooms, the sound of billiard balls rolling down the stairs, and a cigar-smoking apparition are just some of the things guests might experience when visiting the Hamilton-Turner Inn.
3. Denver, Colorado - Cheesman Park
When people think of Denver, it is usually for its beautiful mountain scenes and access to nature; however, the city is also home to one of the most haunted sites in Colorado: Cheesman Park. This highly desirable neighborhood, with its beautiful park and nearby Botanical Garden, is built over the top of Denver's first cemetery.
Over 5,000 people were buried in the cemetery during the city's early years. However, nearly half of the graves were disturbed when Denver decided to convert the land into a park. The man in charge of moving the coffins dismembered and split the bodies into smaller coffins to make more money. Once authorities uncovered his nefarious deeds, the other graves were simply forgotten and built over. It is no wonder spirits wander through the park and make their presence known in the gorgeous mansions that line its streets. Because our Colorado Rail Experience begins and ends in Denver, you can spend some time uncovering its eerie atmosphere for yourself in your spare time.
4. Charleston, South Carolina - Old Town Jail
Over 300 years of history, including wars, fires, floods, slavery, and dark events of all types, have contributed to Charleston's hair-raising aura. It is evident in the historic homes and buildings throughout the city, where ghostly activity is an everyday occurrence. Old Town Jail is the most haunted of them all.
This building was constructed in the early 1800s and served as a POW camp during the Civil War and a jail for Charleston's most notorious criminals for well over 100 years. Some of these prisoners' sentences never expired, and they still roam the halls to this day. Legendary serial killer Lavinia Fisher and the organizer of a slave uprising, Denmark Vesey, are among those that roam the halls, touch guests, and make things go bump in the night.
Discover the Charms of the South (and the haunts that come along with them) in Charleston and Savannah with Vacations By Rail. In addition to planned excursions, this tour includes plenty of independent sightseeing time that allows you to discover the cities' creepiest sites, including Old Town Jail.
5. Santa Fe, New Mexico - La Fonda on the Plaza
In the heart of the Southwest lies Santa Fe, the oldest capital city in the United States. This destination was settled in the early 1600s, and the need for a hotel came with the new residents. La Fonda on the Plaza sits on the site of the city's original inn, a property occupied by a hotel of one type or another for over 400 years.
While La Fonda on the Plaza in its current form is only 100 years old, history has soaked into its very essence from the land on which it sits. Visitors report seeing John P. Slough, Chief Justice of the Territorial Supreme Court, roaming the halls and lobby, even though he was killed in 1867. There is a bride who haunts the Bridal Suite, room 510, and reports of a cowboy who cannot seem to cross over. La Fonda reigns as one of America's top haunted hotels, and you have the opportunity to experience it for yourself when joining our Albuquerque Balloon Fiesta By Rail.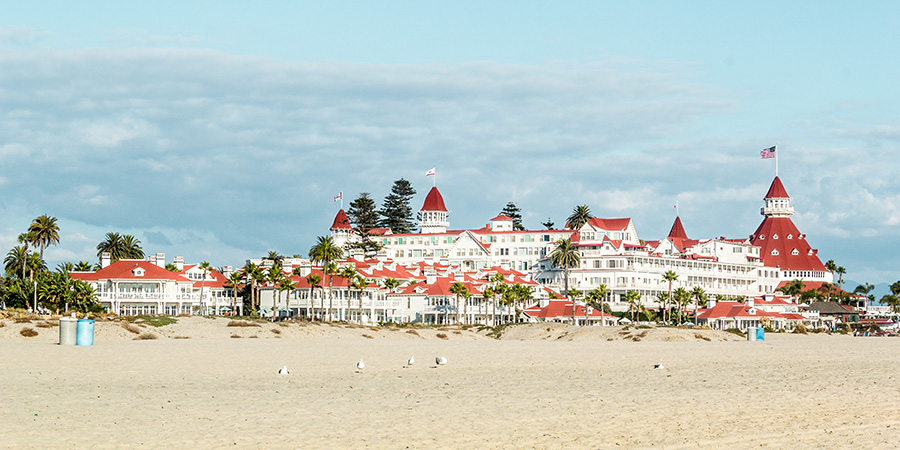 6. San Diego, California - Hotel del Coronado
Seaside San Diego is surprisingly teeming with creepy sites perfect for ghost hunters. One such place is the gorgeous Hotel del Coronado. The haunting that takes place at this iconic inn is mostly courtesy of one young woman who chose the outdoor staircase as the place to end her life in 1892. This ghost, Kate Morgan, likes to turn lights and electronics on and off, move items around her original third-floor suite and the gift shop, and cause inexplicable temperature changes. Her gentle spirit is ideal for travelers who crave a mild fear factor.
While you dine at the Hotel del Coronado on our California Coast Classic rail vacation, keep your senses on alert. You may just meet Kate in person.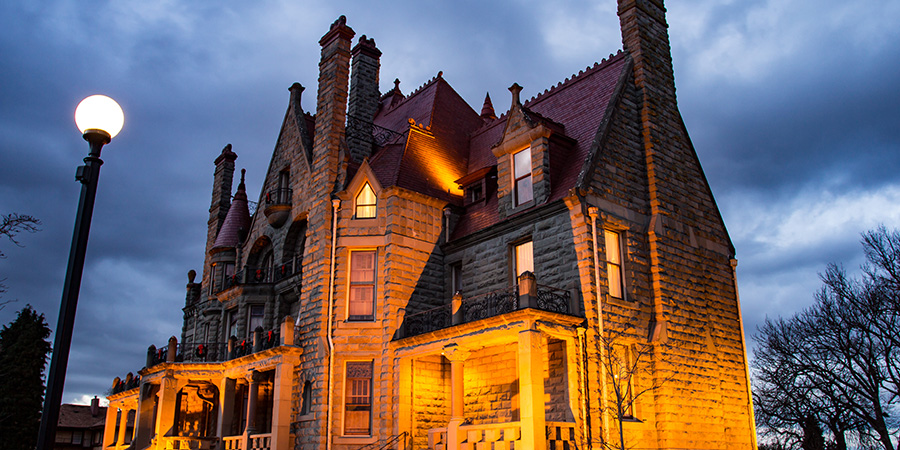 7. Victoria, British Columbia - Craigdarroch Castle
There is no place in British Columbia with more ghost stories than Victoria on Vancouver Island. Some speculate that it is due to the region's long history of human occupation, as Victoria has seen almost 6,000 years of activity. Still, many other theories related to the ocean and terrain exist. One place to witness the city's otherworldly inhabitants is Craigdarroch Castle, a National Historic Site of Canada.
The Dunsmuir Family constructed this massive four-story mansion in 1890. Before it was complete, Mr. Dunsmuir died, and a series of deaths since has led to an eerie feel to this home. It seems as though the original family never left their beloved estate. Visitors often claim to hear a child crying, see a woman on the staircase or in the ballroom, and notice the sound of piano music - even though there is no piano onsite. Are these the spirits of the Dunsmuirs or simply guests' imaginations?
8. Vancouver, British Columbia - Hotel Fairmont Vancouver
Downtown Vancouver has its share of spooky sites, including the Hotel Fairmont Vancouver. This hotel's longest-staying guest has been a fixture on the property for over 80 years. You can call her the Lady in Red. The "Lady" is considered to be socialite Jennie Pearl Cox, who was killed in a car accident in 1944. Jennie roams the halls and is sometimes spotted in the rooms. She is also known to walk through locked elevator doors, open and close doors, and mess with lights. Her footsteps greet living visitors and add a bit of mystery to stays in this gorgeous high-end hotel.
Will you meet Jennie when you stay at the Hotel Fairmont Vancouver? Because this luxury inn is the accommodation of choice at the beginning of many of our Western Canada and Canadian Rockies rail journeys, you have plenty of chances to share a hallway with her.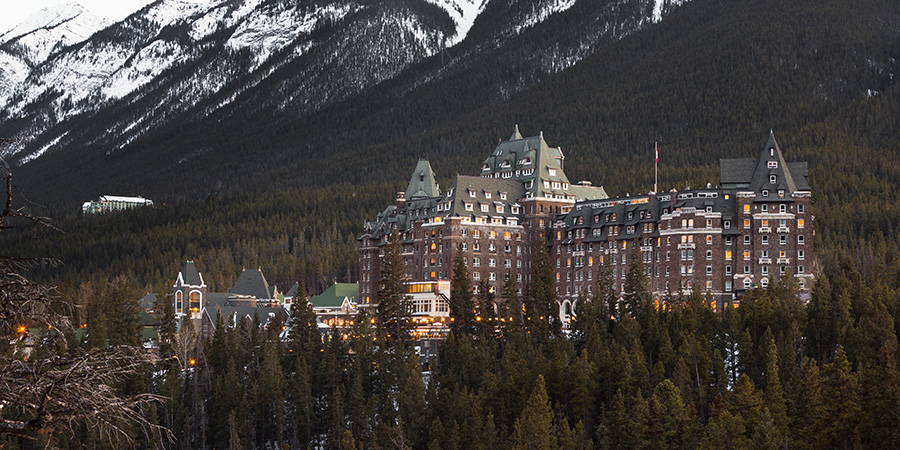 9. Banff, Alberta - Fairmont Banff Springs Hotel
Tucked in the heart of the Canadian Rockies, Banff is a famous resort town that has attracted hordes of outdoor enthusiasts since founded in the 1880s. One of the most beautiful places to stay is the Fairmont Banff Springs Hotel, though it also happens to be one of the most actively haunted.
While the staff denies the stories, and there is no concrete evidence of apparitions and activities on the property, plenty of guests weave a different tale. There are reports of a ghostly bride, who is thought to have fallen down the staircase leading to the ballroom, and a helpful bellhop named Sam, who worked at the hotel for decades before his death in 1975. Some unknown spirits are also said to reside here, making their presence known through phantom screams and by stealing pillows from sleeping guests.
You can decide if these legends hold any truth while surrounded by picturesque scenes of the rugged Rockies on your Canadian Rockies rail vacation, such as the Luxury Rockies Explorer.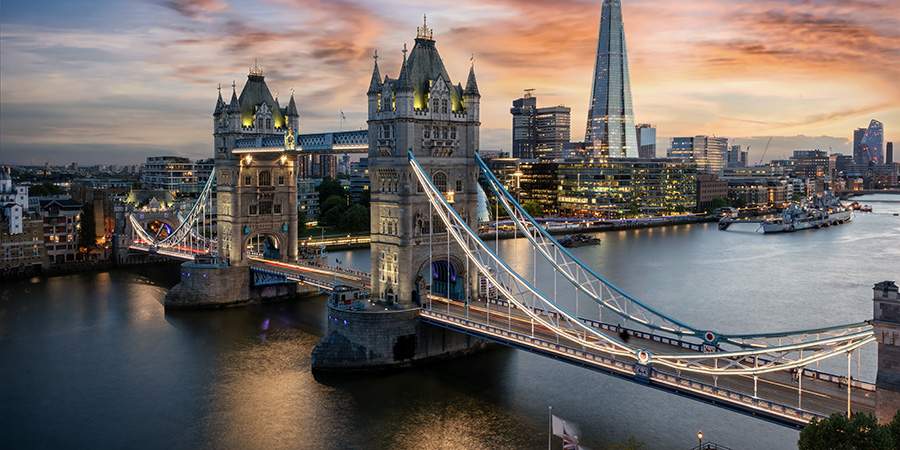 10. London, England - Tower of London
A city steeped in royal lore and incredible history, London is undoubtedly the site of many a haunt. From parks to children's hospitals, pubs, and homes, there is no shortage of places to get a scare. One of the most haunted locales within London is a hallmark of the city and a crowning jewel of the River Thames: the Tower of London.
Constructed nearly 1,000 years ago by William the Conqueror, the Tower has been a site of death, imprisonment, and fights galore. Two young princes were buried within its walls, and famous figures, including Anne Boleyn and Lady Jane Gray, were executed here. As many as 13 ghosts - and maybe more - wander through the property, fill the air with their ghostly screams, and waft unique scents through the air. This spooky site is a truly unique haunt in that there have been many claims of animal ghosts throughout the Tower, as well, including a grizzly bear. Which one will you come across when touring the Tower of London during your visit on our Best of London and Paris By Rail tour?
11. Edinburgh, Scotland - Edinburgh Castle
Scotland's capital city is often noted as one of the most haunted in the country, and for a good reason. Its turbulent past has included Viking invasions, Roman conquering and occupation, wars, and strong-handed rulers. Edinburgh's imposing castle, built in 1103, has plenty of stories of its own to tell, making it a top place to visit for a spooktacular time.
Visitors note seeing a ghostly black dog wandering the grounds and hearing the sounds of phantom drums and bagpipes playing. In her 16th-century attire, the Grey Lady roams the oldest parts of the castle. There are even reports of prisoners of the Napoleonic Wars harassing tourists and workers in Edinburgh Castle. Stories range from smelling a prisoner who reportedly fell into manure to being shoved while on the castle's walls.
If you have been looking for a way to visit this haunted site, look no further than Vacations By Rail's Scottish train tours. The Edinburgh, Jacobite & the Isle of Skye journey even offers skip-the-line access to the castle and all its otherworldly inhabitants.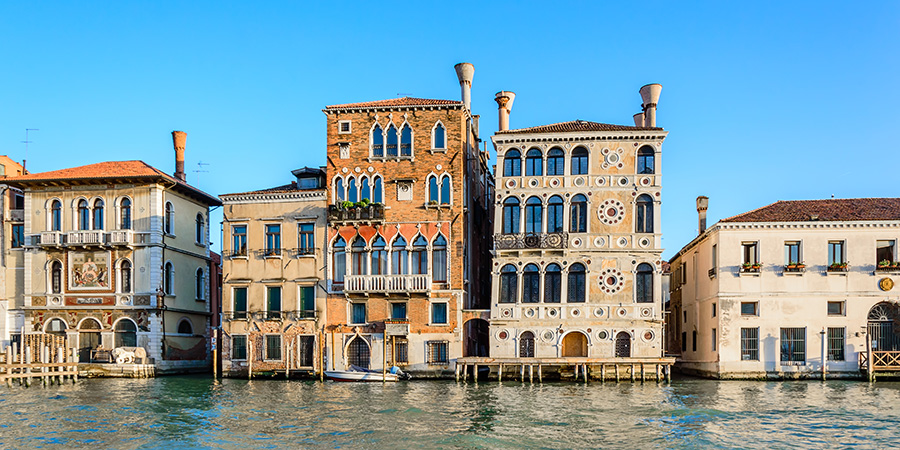 12. Venice, Italy - Palazzo Dario
Italy's romantic Floating City is a place aswarm in legends, mystery, and death. From the Black Plague of the 14th century to the infamous Council of Ten that ruled the city for more than 400 years, plenty of dark energy is floating amidst the pretty canals. Following the Grand Canal takes you to one such place that is said to be cursed, and that is Palazzo Dario or Ca'Dario.
Giovanni Dario built this beautiful waterside home in the late 1400s, and he committed suicide not long after. Next, his son was murdered. Over the next 500-plus years, at least ten other owners - or their family members - have died or been killed under mysterious circumstances. Because of its sketchy past, local lore calls this stunning palace the "House of No Return" and "The Killing Place." Enter if you dare.
An independent rail tour of Italy offers plenty of chances for you to explore the city's most hair-raising sites, including Palazzo Dario. Venture there before boarding the legendary Venice-Simplon-Orient Express on our Venice Simplon-Orient-Express - Venice - Vienna - Paris journey or as part of your leisurely sightseeing time on our Venice, Florence & Rome tour.
Whether you are a believer or not, there is no denying that some places leave you looking over your shoulder and raise the hairs on the back of your neck. Get out and explore this Halloween season in one of these haunted locales with a well-planned tour package from Vacations By Rail. Our trips take you near and far, allowing you to explore the destination that most intrigues your inner ghost hunter. Contact a Rail Specialist to find your gateway to the other side.