A packing list can be a helpful tool when you're planning the logistics of a vacation. There is a lot to consider, from wardrobe choices and accessories to helpful additions that make your time away from home more convenient. Whether your trip is just a few days with short stints on the rails or you embark on a train trip across Canada, this is your guide to packing for train travel without extras to weigh you down.
First and foremost, if your vacation is longer than a few days or your trip includes an overnight rail journey, you will probably require a carry-on bag and a large suitcase. Bag requirements vary by train, so it is essential to understand the size and dimensions recommended by the train you are taking before beginning to pack for your Canada rail vacation. You must check anything above and beyond your personal onboard allotment, and you cannot access checked baggage while aboard the train. Therefore, it is essential to ensure there is room for everything you need in your carry-on bag during those days and nights on the train.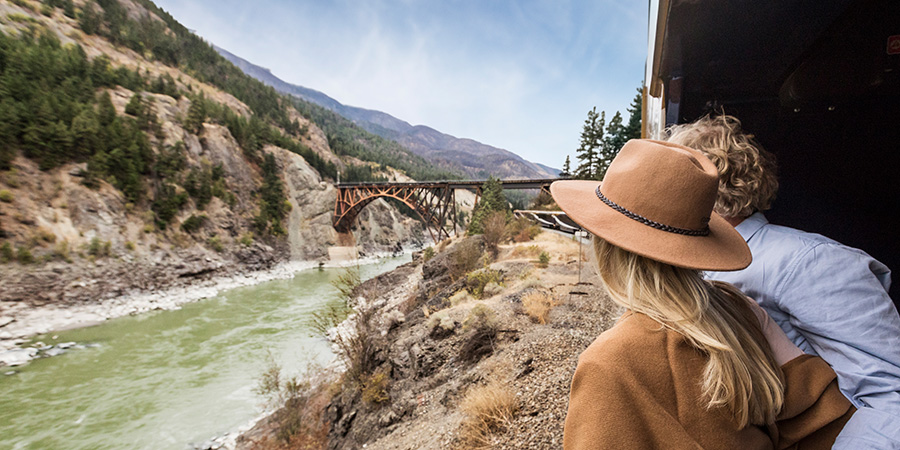 Things to Wear on the Train
Whether you are taking a quick train journey between cities or a more extensive long-distance rail journey, you should always plan for comfort and convenience while on the train.
Choose loose-fitting pants with a comfortable waistband, as you will be sitting for hours at a time. Select flat-soled shoes that are easy to slip on and off; you want to avoid fumbling with laces whenever you wish to move about the train. A sweater, cardigan, or light jacket is essential, especially during the summer months when the air conditioning can make the train cars chilly. If your train comes equipped with a domed-glass Sightseer Lounge Car (or if you have a window seat), you may need sunglasses or a hat to help with the glare.
While the weather may be mild in your current location, winter conditions change by province. Wear your coat onto the train or sling it over your arm to wear when you disembark the train - tuck your hat, gloves, and scarf into its pockets or your bag. And let's be honest, winter gear takes up a lot of luggage space, so carrying it on saves valuable room for other things - like shoes.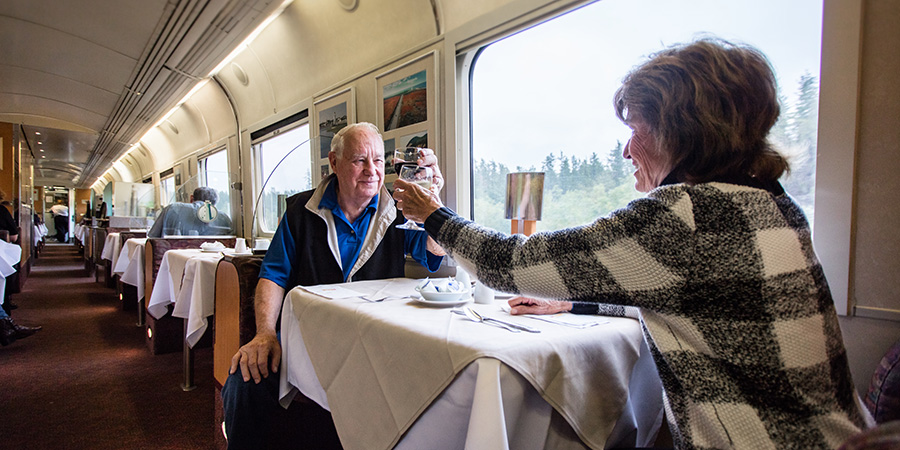 Your Personal Articles and Carry-on Bag
Your personal articles and carry-on bag are the most important things you pack for your time on the train. These pieces of luggage will be the easiest to access, as they take up less space when left out. Keep essentials within your reach, whether at your seat or in your cabin on one of VIA Rail's long-distance overnight trains. Things to pack in your carry-on include:
A change of clothes - Select a neutral color scheme that is easy to mix and match.
Sleepwear
Daily medications
Passport
Valid ID or driver's license
Wallet with a small amount of cash
Train tickets and your trip itinerary
Portable cell phone charger
Power adapter if your charger is incompatible with your seat or cabin electrical outlets.
Toothbrush, toothpaste, and floss
Any toiletries you may need
Aspirin or over-the-counter pain reliever for headaches
Eyeglasses
Hand sanitizer
Camera for photos along the course
A good book or an e-reader and its charger
Refillable water bottle
Hand lotion
VIA Rail travelers may consider bringing along snacks for the ride; gourmet snacks and meals and alcoholic and non-alcoholic drinks are complimentary on the Rocky Mountaineer
Any additional winter gear you could not fit into your coat pockets - scarf, gloves, hat, gator face protector, etc.
Of course, those who carry a purse or personal bag onto Rocky Mountaineer can place quick-grab essentials like chargers, identification, wallet, hand sanitizer, glasses, medications, and camera in this bag and leave the rest for their suitcase. After all, since this train travels by day only, everything else you need will be waiting for you at the end of the day.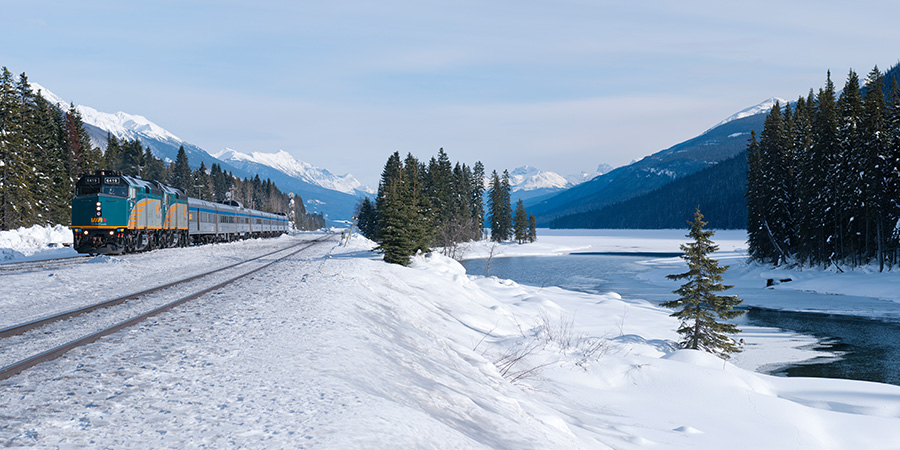 Your Main Suitcase for Your Canada Rail Vacation
Since most of what you need for your vacation will be in your main suitcase, packing cubes are highly recommended to keep things tidy, organized, and easy to find. Consider an easily maneuverable suitcase and one that is no more than 62 linear inches with spinner wheels. Now for your packing list for your Canadian rail journey.
Clothing
No matter the season you are traveling, planning for layers is key. It is much easier to remove and add versatile pieces to accommodate your temperature than to pack many separate outfits to choose from, depending on the weather.
One of our best tips for accomplishing layers is choosing clothing that follows a neutral color scheme. Additionally, include a few staple items of clothing you can build your outfits around daily. You can always change their look with the addition of accessories. In addition to the basics, consider packing:
Thick wool socks to wear with hiking and/or snow boots - moisture-wicking in the summer and warm in the winter. This item is the only thing you should pack more of than you need; sometimes, a mid-adventure sock change is essential!
Several pairs of pants or jeans that are suitable for sightseeing, restaurant visits, and tours
A few different cardigans or sweaters that match your chosen outfits
Belts, scarves, jewelry, watches, hats, etc., to accessorize your outfits and change the look
Shoes
There is no place for high-heeled shoes on a Canada rail vacation. It is unsafe to wear high heels on the train, as the train's natural movement can decrease your stability. In your destination, walking tours, visits to natural sites, and unpredictable weather are all factors to consider, and none of them are suitable for heeled shoes. Instead, select more practical choices, including:
Broken-in walking shoes - Select a pair of tried-and-true tennis shoes that you know will not hurt your feet after extended wear.
Well-fitting boots - If you are vacationing in the Canadian Rockies or somewhere else in Canada where nature is at your doorstep, you need sturdy boots with ankle support. If you are traveling during the winter, it does not matter where your route takes you; the amount of snow, ice, and precipitation that most of Canada see requires boots with thick tread and non-slip soles.
Slip-on shoes with rubber soles for the train
Flat-soled sandals for summer travel and to dress up outfits for dinners, wine tastings, or special outings
Seasonal Gear
Always plan for the weather in Canada. While West Coast destinations typically enjoy milder weather, the temperatures drop much lower in the interior, and snow stays on the ground longer into the year. The Maritime region in the East is often frigid in winter, with large amounts of snow.
The summer brings hotter temperatures across the country, especially in the interior. There are plenty of places to enjoy the water and the sunshine. Make sure your suitcase includes items like:
A small umbrella
A packable waterproof rain jacket
Seasonally appropriate hats
Long underwear to layer under clothing in the winter
Sunglasses
Sunscreen
A swimming suit, if you are traveling during the summer
Extra Additions to Your Luggage
Before going crazy with toiletries and additions that may be useful during your trip but take up lots of valuable space, pause and research. Hotels and overnight train accommodations on VIA Rail provide toiletries, so there is no need to bring items like shampoo, conditioner, and body wash if you're trying to save space in your luggage. Once you have narrowed down your list of what you want to pack, place them in your suitcase along with these essentials:
Hairbrush or comb
Hair products, like a curling iron, straightener, gel, or hairspray
Makeup and skin care needs
Power adapter for outlets (should you skip this in your small personal bag)
iPad, e-reader, laptop, or tablet and applicable chargers
Cell phone charger (to save the portable charger for when it is truly needed)
A Canada rail vacation can be the trip of a lifetime with a bit of preparation. Remember: you do not have to bring everything, and there are plenty of places to grab essentials if you forget them. May your luggage be light and your adventures more than you ever hoped for this travel season.