When vibrant fall foliage falls from the branches, one thing is certain: The Canadian winter is just around the corner. Cold temperatures overtake days of warmth, and snow begins to fall - first in the highest mountains and then gradually across the country. From the mountains of British Columbia to the rocky shores of Nova Scotia, the landscape undergoes changes that excite locals. Winter in Canada is known to be vexing, but don't let the cold temperatures scare you away.
Canada's winter is a time of magic when the country can shine in its purest form. Witness cities seemingly frosted like cakes under layers of snow and pristine wilderness punctuated by frozen lakes and proud groves of conifer trees. Enjoy the spirit of the hearty Canadian people who break up the long months of snow and gloom with festivals, winter sports, and activities that leave you counting down the days until summer breaks once more. Here are our top eight reasons why the winter months are the best time to travel in Canada.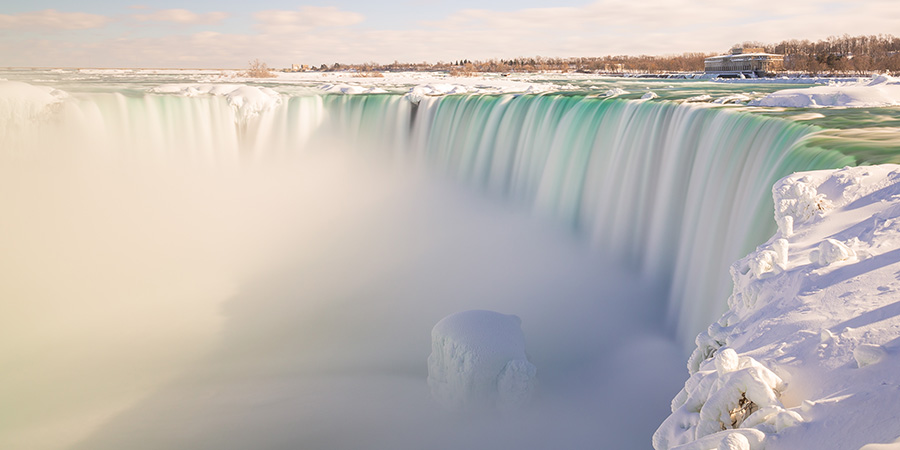 1. Cold Temperatures = Fewer Crowds
In general, most tourists venture to the Great White North during the warmer months when outdoor adventures are grand and cities are rife with activity. Late May to early June brings the first waves of visitors, while July and August are the peak tourist months. The vacation season continues through the beginning of fall, with some leaf peepers hanging around to see the autumn hues overtake the terrain in October. By winter, though, most of the crowds have departed.
Of course, prime winter hotspots, and ski resorts like Whistler-Blackcomb and Banff, see a massive influx of travelers, but these people are interested in something other than sightseeing. They are there for one thing and one thing alone: the slopes. If you are not planning on joining them on their alpine endeavors, this leaves the rest of the country free for you to explore.
Enjoy perfect photo opportunities at places like the CN Tower in Toronto and the seawall in Stanley Park in Vancouver. Watch in wonder as Niagara Falls continues to perform its show, yet it is made more impressive by ice build-up, icicles framing the falls, and snowy trees along the shores. The tides in the Bay of Fundy in New Brunswick are just as powerful during Canada's winter. Cold-weather travel offers you a front-row seat to it all.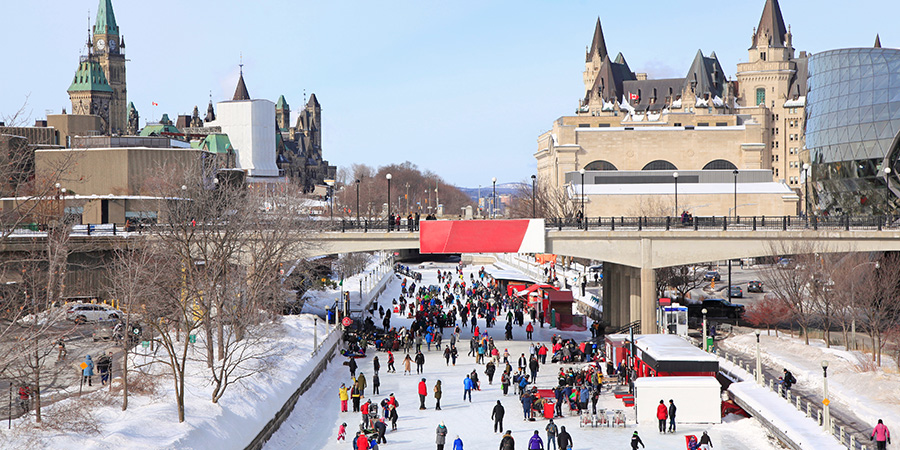 2. Winter Festivals are the Best Kind of Fun
Canadians know that the best way to pass the time during the cold and dreary winter months is by having a great time. In keeping with this, winter festivals pop up in provinces across the nation to celebrate the season and its offerings. Some of the most popular include:
Quebec's Winter Carnival - This massive event has taken place each February since 1894 and is the largest winter festival in the world. The cheerful character Bonhomme plays host for this highly anticipated event.
Winter Festival of Lights - Canada's largest free outdoor light festival occurs every November to February at Niagara Falls and has been a favorite of Central Canadians for over 40 years.
Winterlude - Ottawa's most famous festival takes place every February and includes epic attractions, including the largest snow playground in North America, the Snowflake Kingdom.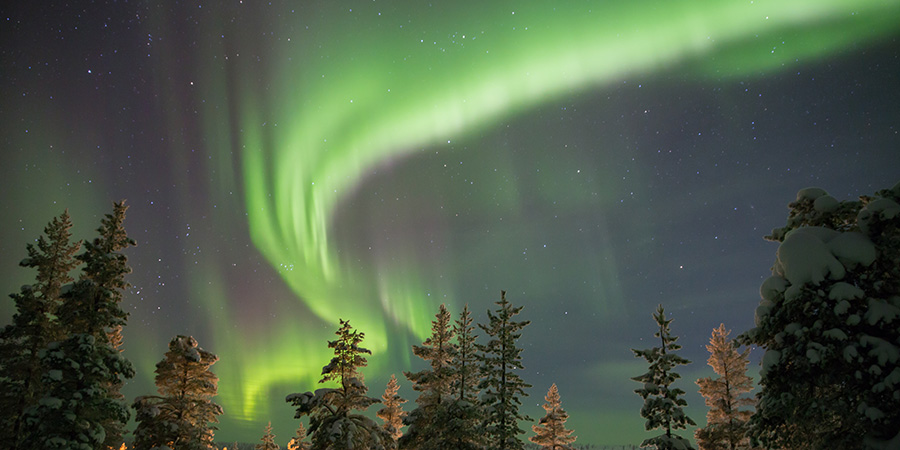 3. The Aurora Borealis Shines in its Full Glory
When the skies are dark and the solar conditions are just right, nature's most glorious show dances across the winter skies in Canada: the northern lights. These fantastic red, purple, and green hues make their appearance, lending an otherworldly look to the atmosphere. Few places in North America offer the privilege of seeing the aurora borealis, yet Canada is one of them.
The northern lights are not visible everywhere throughout the country, yet there are several locales that are accessible by train for winter travelers.
Jasper National Park in the Canadian Rockies
Churchill in Northern Manitoba
Edmonton in Alberta (the aurora is less visible here due to light pollution but can still be seen)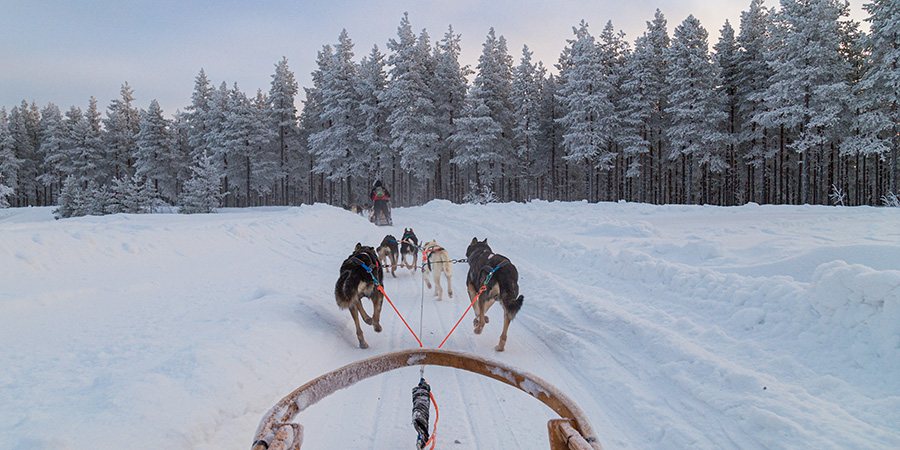 4. Winter Sports Reign Supreme
If there is one thing that is synonymous with cold weather in Canada, it is winter sports. Most people think of hockey, but this is just the tip of the iceberg. With dramatic mountain ranges like the Coast and Canadian Rocky Mountains, skiing and snowboarding are ever-popular. Cross-country skiing, snowshoeing, and snowmobiling are other fantastic ways to explore the snow-clad wilderness. There are even places to go dog-sledding.
Frozen lakes and rivers set the stage for ice skating experiences like no other. Imagine lacing up your skates while sitting on the shores of Lake Louise, eventually taking to the frozen body of water with Chateau Lake Louise, glaciers, and high mountain peaks forming the backdrop.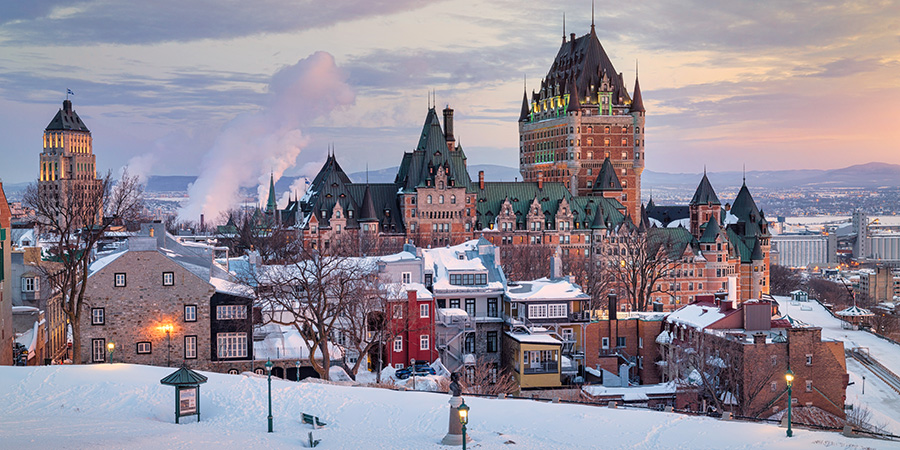 5. Winter in Canada Lends a Magical Feel to the Cities
Imagine the charming, cobbled streets of Quebec City dusted in a layer of new-fallen snow and the rooflines of historic buildings and quaint shops dripping with icicles. Winter's embrace softens the more modern structures in Montreal and Winnipeg. In contrast, the fishing villages and small communities that line the Maritimes' shores seem to be a natural match.
But it is not just the weather that changes the cities. Throughout Canada, iced-over waterways transform into ice skating rinks. One fantastic example is the UNESCO World Heritage Site Rideau Canal Skateway in Ottawa, the world's largest naturally frozen skating rink. Christmas markets pop up in Toronto, Quebec City, Vancouver, Banff, and other tourist cities. Outside of Quebec City, a hotel constructed entirely of ice, the Hotel de Glace, makes an appearance yearly from January until March. There is so much to enjoy during winter in Canada.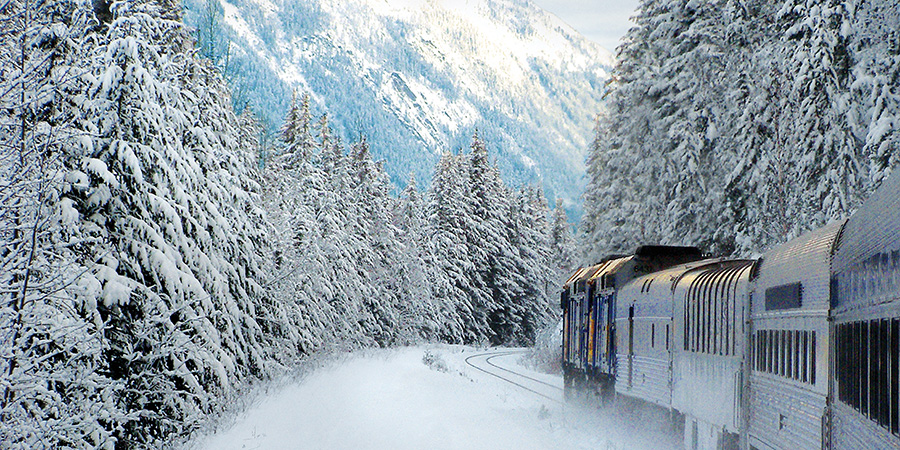 6. The Country Turns into a Winter Wonderland
The ambiance of Canada's wide-open terrain during winter defines peace and quiet. Waterfalls freeze on their descent down mountainsides, canyons collect snow and ice, and white frosts the mountain peaks everywhere you look. There is a reason Canada is called the Great White North, after all.
Riding through these frozen landscapes by train offers a unique perspective on Canada. Time stands still, and nature's beauty lies untouched. It is baffling and inspiring how different the landscape looks when transformed into a winter wonderland. Exploring by foot, perhaps on a walking tour of frozen Maligne Canyon or while searching for the northern lights, puts you in the midst of it all.
7. Staying Warm is More Fun in Hot Springs
With a blanket of fluffy snow covering everything within sight, and temperatures requiring layer upon layer of clothing, you might think staying warm is a thing of the past during winter in Canada. What if we told you there are places in nature that offer all the warmth you could desire without having to step a foot indoors? It is true; Western Canada has numerous hot springs.
The most accessible and well-known is Banff Upper Hot Springs, located in Banff National Park. While mineral water is contained within a beautifully designed outdoor pool, it retains its heat and natural properties and stays at a temperature of between 98- and 104-degrees Fahrenheit. Visitors can soak in the springs after a long day of exploration while looking over views of evergreen forests and Canadian Rocky peaks.
Other hot springs include:
Harrison Hot Springs in British Columbia
Miette Hot Springs in Jasper National Park
Radium Hot Springs in Kootenay National Park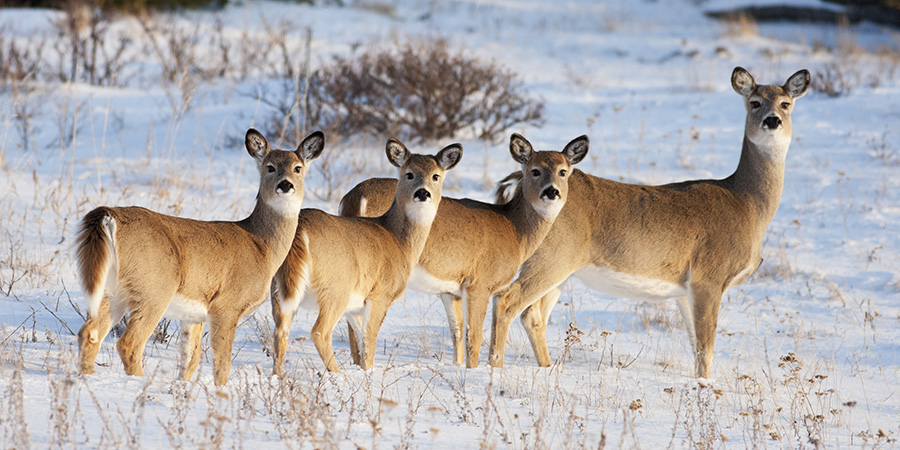 8. Spot the Animals That Stay Out During the Winter Months
Plenty of wildlife sticks around to enjoy the winter in the Canadian backcountry. Small animals like foxes, snowshoe hares and weasels stalk through the forests, while you may spot larger mammals, including moose, elk, and deer, wandering through the valleys looking for a snack. Bighorn sheep and mountain goats look out over the snowy landscape on the mountainsides. You may even spot bald eagles soaring through the skies or snowy owls perched in the trees.
If your winter vacation package puts you near the coast, you may spot seabirds, which do not shy from the cold temperatures and frigid ocean. In late winter, several species of sea lions and seals make their way to British Columbia's waters, and just because it is winter does not mean that all the whale species have migrated. It is relatively common to see humpback whales in December and January in Victoria, and minke whales, orcas, and beluga whales live in the waters year-round.
You may even spot some bears during your winter trip if you are in the correct location. Vancouver Island's hearty bear population requires a shorter hibernation period than most other Canadian bears, thanks to the island's mild climate. Further north in Manitoba, Churchill is the world's polar bear capital. Most polar bears hunt in Hudson Bay during the winter; however, a keen eye can still spot these majestic animals.
The perks of saving your Canadian vacation for the cold months are endless, and not only do they offer just as much - if not more - enjoyment as summertime trips, but they also come at a smaller price. So grab your warmest winter gear, your snow boots, and your love of adventure, and then contact Vacations By Rail to find your perfect Canadian winter getaway.