In the 1800s and early 1900s, traveling long distances in the United States was best accomplished by train. Tracks wove throughout the landscape, introducing travelers to places unlike any they had seen before, including national parks. The first national park, Yellowstone, was established in 1872 and several more opened to the public before the turn of the century.
The marriage between national parks and rail vacations solidified throughout the decades to become one that made adventure safely accessible for the first time. There was a romance and sense of excitement to this era - one that travelers are welcome to relive today when they embark on a train vacation to America's parklands. Luckily, some of the best-known parks are accessible via notable rail routes. Here are ten fantastic options to consider when you are ready to book a trip by train to national parks.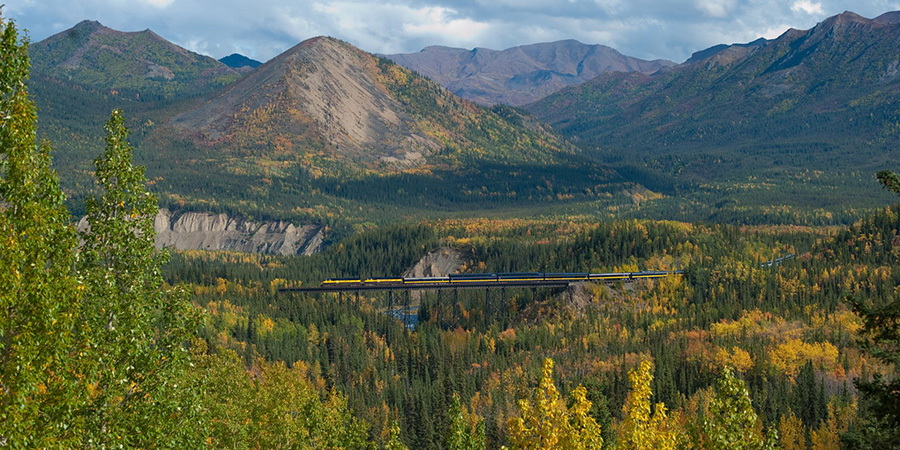 Denali National Park
Venture into the heart of Alaska to Denali National Park aboard the Alaska Railroad's flagship train, the Denali Star. This park is spread over 6 million acres and is a true testament to the wild wonders of the world. Its centerpiece, Mt. Denali, stands proudly over the landscape at 20,000 feet. Wildlife tours are popular throughout the park, as is hiking on trails and in the backcountry. Flightseeing expeditions and ATV excursions are among the more adventurous options in Denali.
Kenai Fjords National Park
Marvel at the joining of mountains, glaciers, and ocean at Kenai Fjords National Park. This coastal masterpiece offers a different perspective on Alaska and is best explored by boat. Its gateway city is Seward, easily accessible via the Alaska Railroad's Coastal Classic. Passengers are treated to inspiring views from Anchorage to Seward and enjoy a short commute from the city into this massive 607,800-acre park.
On arrival, visitors are welcome to explore one of the 40 Harding Icefield glaciers or embark on a cruise through the icy waters. Marine life is abundant in the protected waters, so whale-watching expeditions are popular. On land, driving Exit Glacier Road or hiking trails that lead to massive hunks of ice are great ways to experience Kenai Fjords' glaciers.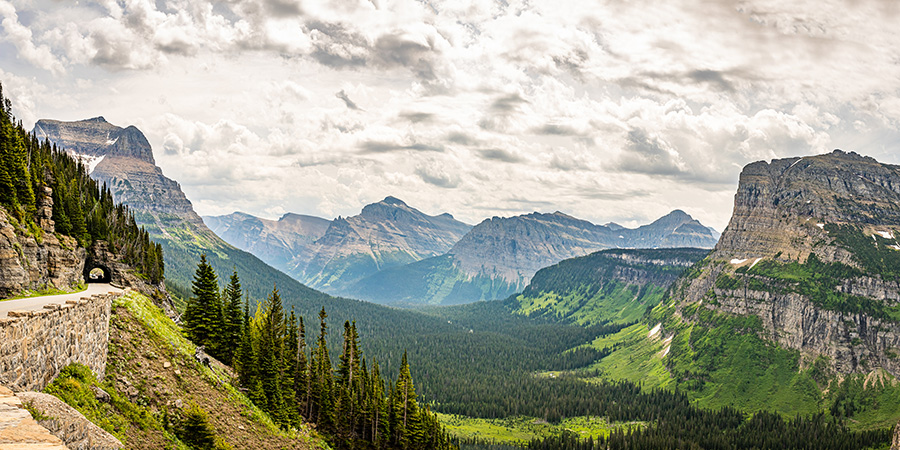 Glacier National Park
Join Amtrak's Empire Builder in exploring the "Crown of the Continent," Glacier National Park, in northern Montana. America's tenth national park was established in 1910 and has left visitors in awe ever since. From its towering mountain peaks to its mighty waterfalls, carved valleys, rushing rivers, and 26 impressive glaciers, Glacier National Park's one million-plus acres present nature in its most exquisite form. In fact, its ecosystem and wildlife have remained virtually unchanged in the century since the park's opening.
Do not let the park's massive size and wild surroundings trick you into thinking it is inaccessible; instead, the Empire Builder drops travelers right at its gates. Visitors can even stay in one of the historic Glacier Park Lodges after a long day of sightseeing. While there is plenty to do during a visit to this shining example of the American West, one of the most famous remains driving on Going-to-the-Sun Road aboard vintage Red Jammer buses.
Grand Canyon National Park
One of the world's great wonders beckons when you visit Grand Canyon National Park in Arizona's desert. Layer upon layer of red rock greets visitors as they arrive at the South Rim. It is one of the best spots for gazing upon the mesmerizing views over America's most dramatic canyon. For over 100 years, visitors have been enjoying these vistas, hiking to the bottom of the canyon, rafting the mighty Colorado River, and exploring historical sites throughout the expansive parkland.

While visiting the Grand Canyon is synonymous with the American road trip, train travel is a fantastic way to reach the park and all it offers. Vacationers may travel from Chicago, Illinois, to Williams, Arizona, aboard Amtrak's Southwest Chief, then connect with the Grand Canyon Railway for a memorable ride through colorful arid expanses to the park's South Rim.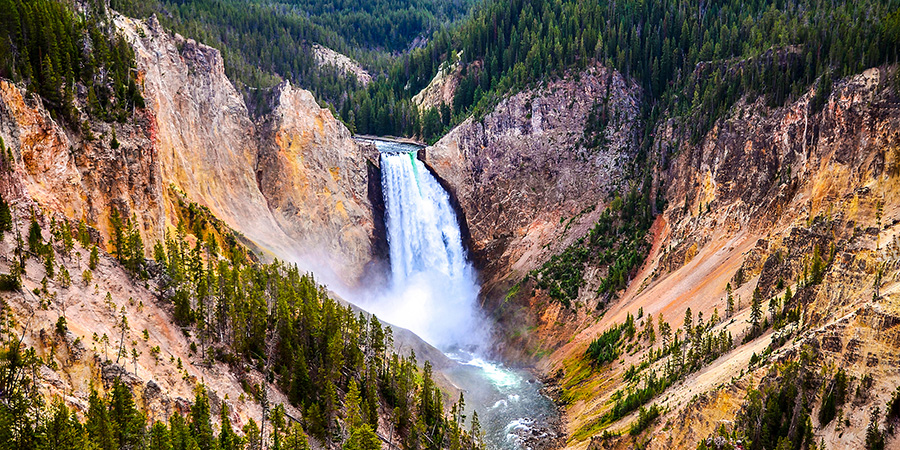 Yellowstone National Park
All aboard the California Zephyr or the Empire Builder for a train ride across the country to Yellowstone National Park, America's oldest and largest parkland. Ulysses S. Grant established Yellowstone as the world's first national park in 1872, and has attracted millions of visitors annually since. It is no wonder why, as the park's 2.2 million acres are a hotbed of thermal activity and inspire guests with its hot springs, geysers, forested mountains, gorgeous waterfalls, and wildlife.
While Yellowstone is not directly accessible by train, travelers can combine their rail journey with car or motorcoach travel to reach this incredible destination. When riding the Empire Builder, guests can disembark in Whitefish, Montana, and enjoy a scenic drive toward the park through Montana's Big Sky Country. Venturing to the West from Chicago on the California Zephyr offers access from the Wyoming side of the park, as the train stations in Salt Lake City, and the journey must continue by road toward Yellowstone.
Grand Teton National Park
Also located in Wyoming, Grand Teton National Park is a hidden gem of the West. Its 310,000 acres play host to massive 12,000-foot-plus mountain peaks, forests lush with life, wind-swept valleys, glacial lakes, and a heavy dose of archeological and geological history. With the Snake River cutting through its impressive terrain, it is no wonder the waterway has become one of the most popular ways to explore the scenery. The cowboy town of Jackson, Wyoming, plays a gateway for this spectacular park and is easily accessible after taking Amtrak's California Zephyr to Salt Lake City.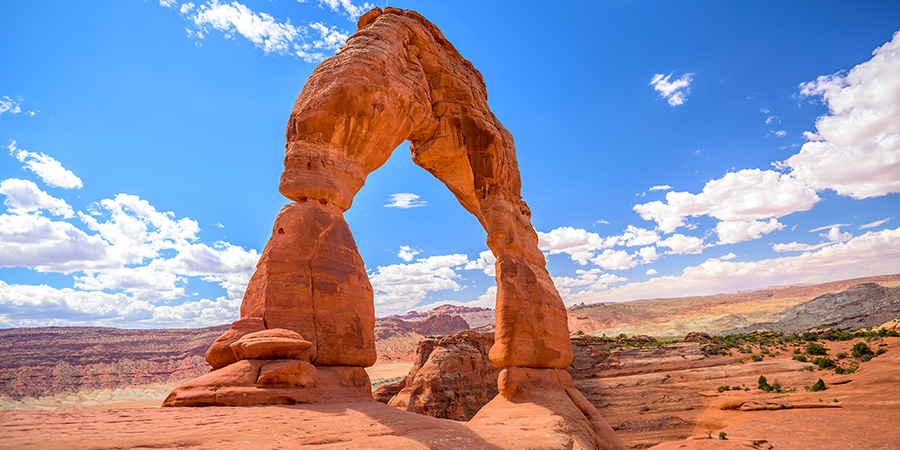 Arches National Park
Rust-hued sandstone arches, soaring hoodoos, impressive rock fins, and balanced rocks rise out of the arid terrain in Arches National Park, one of the West's most unique protected lands. While this region has seen over 10,000 years of human activity, it did not see national park designation until 1971. Since then, visitors have grown to love its short hiking trails and scenic drives that lead to insanely beautiful vistas.

Reaching Arches National Park has never been easier, thanks to the opening of America's new luxury train route, the Rocky Mountaineer's Rockies to Red Rocks. Adventure seekers travel in high style while on an incredibly scenic daylight-only course from Denver, Colorado, to Moab, Utah, just five miles from the park.
Canyonlands National Park
Riding the Rocky Mountaineer train to national parks also gives you the option to visit Canyonlands National Park, located just half an hour from Arches. Canyonlands also presents a sea of crimson landscapes. Deep canyons carved over the millennia by the Colorado River meet flat-topped mesas and stacked rock formations. Pinnacles and buttes formed by natural erosion further complement the scenery. As the sun goes down, thousands of stars twinkle in the sky overhead, and views of the Milky Way overtake the park, as Canyonlands is an International Dark Sky Preserve.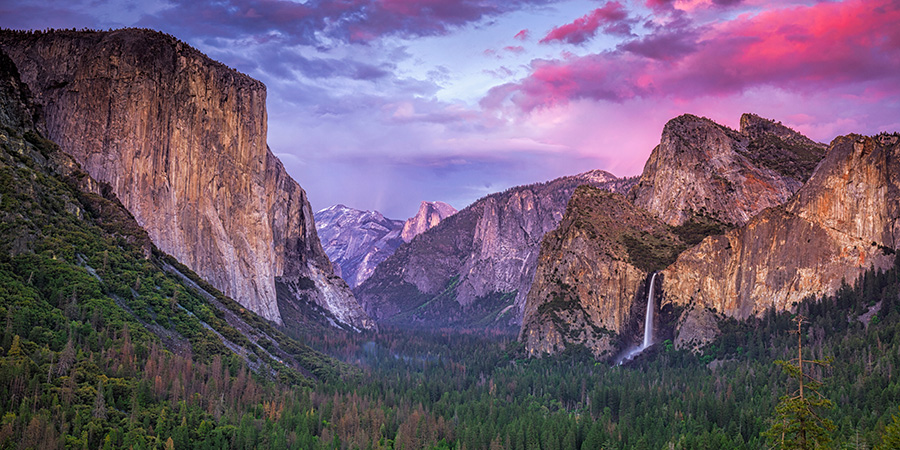 Yosemite National Park
Another West Coast favorite, Yosemite National Park is one of the top vacation spots in California. Its granite monoliths and plunging waterfalls draw intrigue, yet the groves of giant Sequoia trees are the greatest attraction. Bridalveil Falls and Yosemite Falls are gorgeous, as are Half Dome, El Capitan, and Glacier Point. There is much to do, whether wandering through forests of ancient trees or hiking to lookouts that showcase nature's glory.
The Coast Starlight, traveling from Los Angeles to Seattle up California's Pacific coast, and the California Zephyr, whose journey ends in Emeryville just outside San Francisco, are fantastic ways to access Yosemite. After all, both lines pause around San Francisco, and the park is merely a day trip from the city.
Acadia National Park
The Atlantic Seaboard on the opposite side of the country is home to Acadia National Park. Situated just outside Bar Harbor, Maine, this beautiful 48,000-acre piece of land was designated as a national park in 1926, though its importance was recognized long before that. Visitors are treated to sights of beautiful beaches, craggy coastlines, Cadillac Mountain, and colorful forests. Wildlife and marine animals enjoy protected habitats where they can roam freely. Acadia National Park is not directly accessible by Amtrak train; however, riding the Downeaster to Portland, Maine, means a scenic drive along the coast is all it takes to reach the park.
Whether you crave ocean scenes, wild mountainscapes, or desert vistas seemingly captured from another planet, America's national parks offer so much to be discovered. Contact one of Vacation By Rail's Rail Specialists to find an escorted or independent train tour that combines well-planned routes with visits to brilliant parklands to create a vacation that lives on in your heart for years.