A certain stillness comes with the winter months - a calm and quiet that you do not often experience during the other seasons. Now imagine how magical this calmness could be on a grand scale, like Alaska's massive landscape, which encompasses more than 665,000 square miles. But even though this is the largest of all the United States, Alaska remains one of the least populated, making it the ideal location to experience the natural glories of the winter season. So grab your snow boots and your heavy coat, and cozy on up because these are the top reasons you should visit Alaska in winter.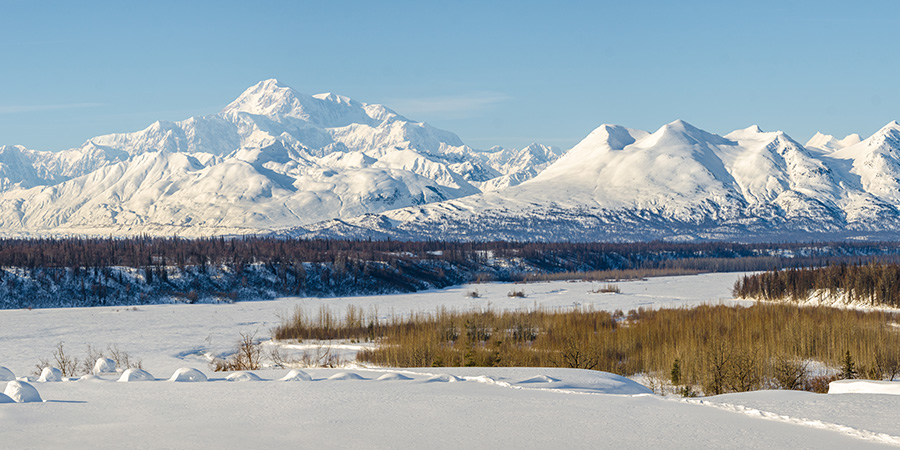 Winter Travel Means That You Get to Skip Tourist Season
The peak travel season for America's Last Frontier typically runs from June through August, though the first travelers trickle in at the end of May. By this time of year, the snow has melted except on the highest peaks. The days have also lengthened, transforming Alaska into the Land of the Midnight Sun. Tourists abound in popular cities, the state's national parks, and sites from the coast to deep inland. This time of year is also the heart of cruise season, so the waterways see more traffic, too. Skip the crowds by planning an Alaska winter trip.
To visit this vast state in the winter means coming any time between October and March, as the season is quite long in the far north. Locals will see the first kisses of snow falling from the sky in mid- to late-October, and as the days shorten and winter rears its head, the chances of snow only increase. This scares off many visitors; "Will it be too cold?" "Will the snow prevent my itinerary from being completed?" We are here to tell you no!
While it will be cold in Alaska during winter, the temperatures vary significantly by region. Those vacations that explore the Southeast, places like Juneau, Sitka, and Ketchikan, can enjoy mild winter temperatures, much like those of Seattle. In the Southcentral portion of the state, Anchorage sees highs around freezing and lows in the teens. Traveling deep inland to destinations like Fairbanks, you see daily lows in the negative digits and highs well below freezing. Further north in Bettles in the arctic circle, double digits below zero degrees Fahrenheit are common.
But these temperatures do not stop the locals; they should not stop you either. After all, with the right gear in your suitcase, nothing prevents you from getting the best vantage point on this vast landscape and an exclusive look at sites otherwise too crowded by visitors. An up-close picture with Matanuska Glacier - yes, please. For a winter in Alaska tour pack:
Thick coat with a hood (consider down for added warmth)
Waterproof gloves or mittens
A scarf or fleece-lined gaiter to warm your neck
Warm hat
Snow pants (depending on your itinerary's activities)
Snow boots
Several pairs of wool socks
Lots of base pieces for layering (think fleece-lined leggings, polar fleece vests or jackets, sweaters, long underwear, etc.)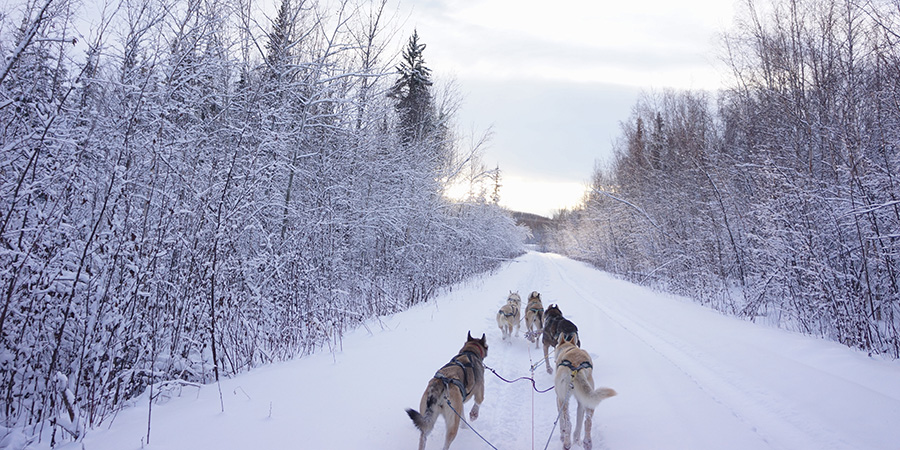 Winter Recreation in Alaska is Top Notch
When you live in a place as beautiful as Alaska, of course, you want to get out and enjoy each season's offerings. The state has a vast and lively array of wintertime activities to keep all who enter its snowy embrace busy during those long winter months.
Sightseeing:
Visit one of Alaska's national parks, such as Denali National Park or Kenai Fjords National Park
Cruise Prince William Sound for a look at calving icebergs and glistening glaciers
Walk on a glacier, like Mendenhall in Juneau
Meander through the quiet streets of Alaska's top destinations
Visit museums and cultural centers, such as the Alaska Native Heritage Center in Anchorage, without crowds
Winter Sports:
Dog mushing (dog sledding) is the cream of the crop when it comes to Alaska winter activities
Snowmobile through the vast backcountry
Go skiing or snowboarding
Try cross-country skiing or snowshoeing to connect with nature
Ice skating can take place on marked frozen ponds or creeks or at dedicated rinks
Ice fishing is a memorable experience
Ice climbing is an outdoor adventure like no other
Other ways to enjoy Alaska in winter:
Soak in endless views from the storied lines of the Alaska Railroad
Take a soak in a naturally occurring hot spring, like those at Chena Hot Springs Resort outside of Fairbanks
The Fun Does Not Stop When the Sun Goes Down
Though the sun may be fleeting, recreational activities are anything but when you visit Alaska during the winter. It is no secret that just as sunlight is abundant in the summer, it is just as scarce from November to January. Alaska in December may only see six hours of sun in Juneau and four in Fairbanks. As you continue toward the north pole, places like Barrow do not see the sun for months at a time. There is no need to worry.
There are still plenty of ways to enjoy your time in urban areas. Places like museums, restaurants, distilleries, and breweries offer plenty of local flairs while keeping you inside and in the light. Outside, lights illuminate ice rinks and popular tubing and sledding spots. The cities host numerous festivals, enchanting markets, and unique attractions, like ice carvings. The Alaskan people know how to beat the winter blues and keep the excitement rolling throughout the year. Visiting in the off-season, winter, makes this even more apparent and allows you to experience the heart and soul of Alaska.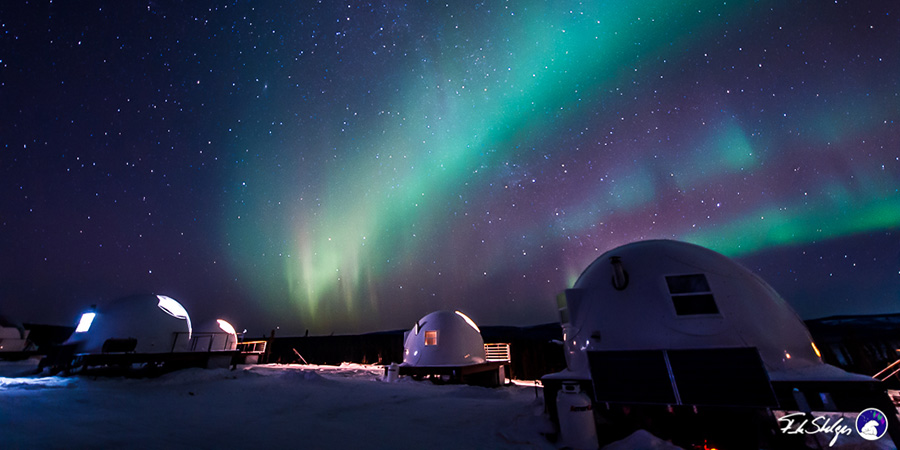 You Will Have a Front Row Seat to the Aurora Borealis
One of the best parts of visiting Alaska in winter is the ability to view the northern lights with ease and abundance. Hues of red, purple, and green flow freely across the night sky throughout the year, but the long hours of daylight during the spring and summer months can make them difficult to see. No matter which part of the state you visit, this spectacular natural phenomenon is visible after the sun goes down.
Now, some parts of the state are better positioned than others, thanks to their remote locations and lack of light pollution to interfere with the show. Top destinations for aurora viewing include Fairbanks, which is widely beloved as one of the world's best spots to observe the northern lights, Denali National Park, and Anchorage. Fairbank's central location in the state makes it easily accessible by the Alaska Railroad. Because of its draw, there are several resorts nearby, including Borealis Basecamp and Chena Hot Springs Village, where you can soak in amenities and countless outdoor adventures while chasing the show of a lifetime.
There Are Plenty of Chances to Get to Know Alaskan Natives
Visiting a new place during its peak travel season is great; however, there is something noteworthy about experiencing its essence without thousands of outsiders around. The busyness that comes with tourist season means that you might miss hidden gems, whether eateries or attractions, or you simply do not have a chance to soak in a locale's nuances. The beauty of an Alaska tour in winter is that the locals come out to play without the crowds. Rubbing elbows with those who live there means you can get tips for the best places to grab a drink or where to go to mark off a particular Alaska travel bucket list item. Locals know the best restaurants - and where to avoid - and can direct you to places you might not have discovered on your own. Best of all, meeting the people who call Alaska home throughout the year means you can delve into the culture head-first and learn facts and anecdotes only they would know.
As you plan your trip and begin packing for your winter vacation to Alaska, bask in the knowledge that you are about to experience winter as it is written in stories in a landscape that sits virtually untouched by humans. Vast forests blanketed in snow give way to icy waterways, and mountain peaks loom over sweeping valleys, where animals roam freely. Even the cities seem to be exceptions rather than the rule and are surrounded by nature that is so impressive that you must see it first-hand. There are few places like Alaska during the winter.