Canada's unique terrain is composed of many contrasting elements. Spectacular mountain scenes join with diverse coastlines, swaying grasslands, remote stretches of arctic tundra, and beautiful boreal forests to paint a vivid picture of the Great White North. Each province and territory offers something new to see.
The country's government recognized just how amazing the landscape was in the late 1800s and designated Banff National Park (then called Rocky Mountains Park) as Canada's first protected parkland in 1885. Since then, Canada has grown to include nearly 40 national parks and ten additional national park reserves. Each park has been shielded from the modern world's impact and remains as wild as nature intended.
Visiting one of Canada's national parks is your chance to see the country as it was meant to be seen, and venturing there by train makes the experience even more memorable. Grab your camera and pack your hiking boots; here are five extraordinary national parks accessible by train in Canada.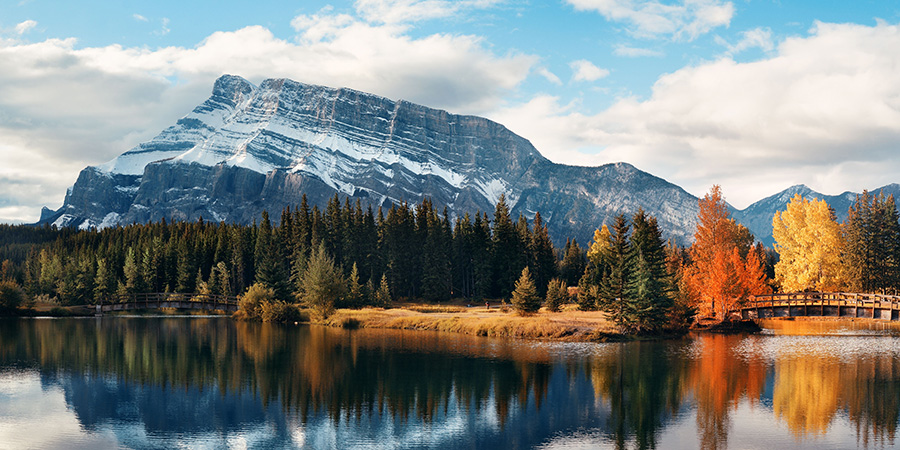 Banff National Park
Banff National Park shines as a stunning example of untouched mountain terrain in the heart of the Canadian Rockies. Dramatic snow-capped peaks plunge into far-reaching valleys, and ancient glaciers feed into brilliantly-hued lakes. There are hiking trails galore throughout the 2,500 square miles of the park, as well as opportunities to sightsee aboard an airborne gondola and soak in naturally occurring hot springs.
Visitors can reach Banff National Park aboard VIA Rail's premier long-distance train, the Canadian, which follows an overnight course from Vancouver. While the train does not have a route directly into the park, riding from Vancouver to Jasper, then driving through the Canadian Rockies via a highly scenic route puts Banff within easy reach.
For a front-row seat to all the glory hidden in Canada's rural expanses, join the luxurious Rocky Mountaineer. Not only does this train travel by daylight to showcase all the breathtaking scenery, but it also offers a high standard of service that includes some of the most complex and inspired culinary experiences in the rail world. On arrival in Banff, some of the most popular places to explore throughout the park include:
The Whyte Museum of the Canadian Rockies - Visitors can immerse themselves in the history of the Rocky Mountains through photos, documents, and artwork.
Bow Falls - An impressive set of rapids near the juncture of the Bow and Spray Rivers
Johnston Canyon - Home to the Upper Falls, the Lower Falls, and the Ink Pots, which are smaller mineral springs
Moraine Lake - This breathtakingly blue lake is one of the most photographed spots in Canada
Lake Louise - Enjoy views of the Victoria Glacier, soaring mountain peaks, sparkling turquoise waters, and an elegant chateau, the Fairmont Chateau Lake Louise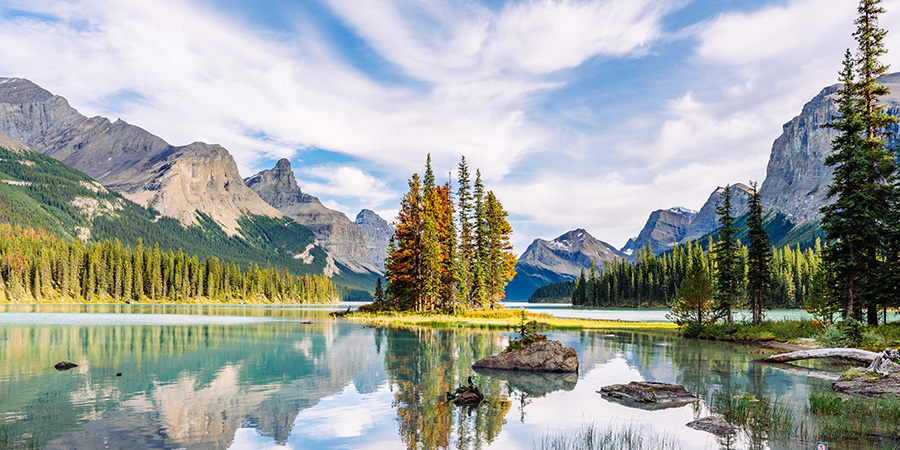 Jasper National Park
Also nestled amongst the peaks and valleys of the Canadian Rockies, Jasper National Park was established in 1907. This parkland encompasses over 4,200 square miles of land, making it the largest national park in the Rocky Mountains. Travelers marvel at the offerings of this protected land year-round, including its extensive hiking rail system and wide-open skies, which are free from light pollution. Jasper National Park is the second-largest Dark Sky Preserve globally and is an idyllic place for stargazing.
Whether it is wildlife spotting, mountain climbing, or winter sports you seek, Jasper National Park sets the stage for adventure. Visitors can choose to travel there aboard VIA Rail's Canadian or while enjoying the amenities of SilverLeaf or GoldLeaf Service on the Rocky Mountaineer train. Another popular option is to join time in Banff and Jasper National Parks by traveling between the two via the ever-scenic Icefields Parkway. Within the park, you may wish to visit:
The Valley of Five Lakes - A popular hiking region that showcases five unique bodies of water
Athabasca Glacier - This massive glacial toe of the Columbia Icefields is accessible via Icefields Parkway. Adventurers can venture out onto its thick ice aboard massive Ice Explorers.
Medicine Lake - Act fast because this lake mysteriously disappears each autumn
Maligne Lake - Spectacular blue-green waters are surrounded by magnificent mountain peaks and play host to Spirit Lake, the most photographed Canadian Island
Maligne Canyon - The deepest slot canyon in Jasper National Park
Athabasca and Sunwapta Falls - Both are powerful waterfalls that send gorgeous glacier-fed water rushing through the rocks with high mountains surrounding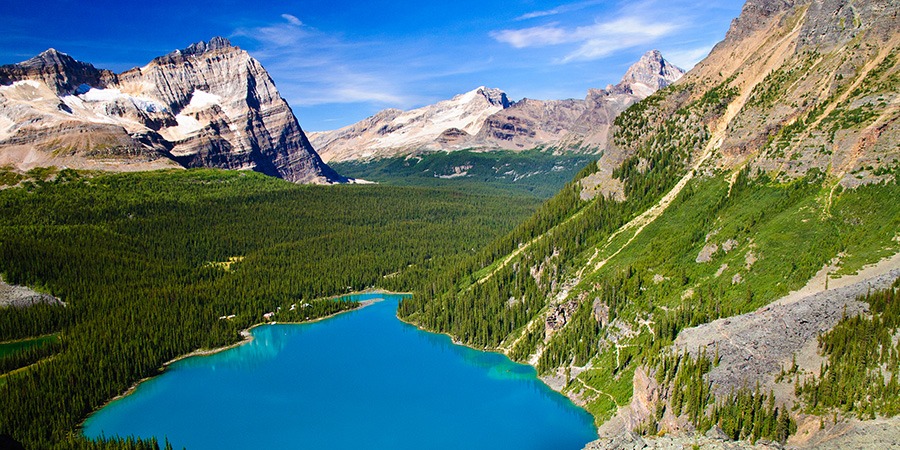 Yoho National Park
One of the two smaller national parks set within the Canadian Rockies, Yoho National Park is tucked in the Western Slopes of the mountains on the British Columbia side of the Continental Divide. This park was founded just after Banff in 1886 and encompassed approximately 500 square miles of awe-inspiring mountain peaks, spectacular lakes and rivers, and fantastic waterfalls. Its terrain tells the story of Canada's geologic history and hosts numerous species of wildlife, including bears, moose, elk, wolves, mountain lions, and plenty of smaller creatures.
While there is no train directly to Yoho National Park, its proximity to Banff and Jasper National Parks makes it easily accessible. Travelers can access its beautiful lands via the scenic Trans-Canada Highway. In the park, consider visiting:
Emerald Lake - Named for its colorful waters, this lake is surrounded by the Presidential Range and is the largest lake in Yoho
Natural Bridge - Gaze upon thundering falls as they venture between rocks split by the mighty Kicking Horse River
Takakkaw Falls - Coming from the Cree word for "wonderful," this single-drop waterfall is one of the tallest in Canada
Spiral Tunnels - Not naturally occurring, but still incredibly impressive, the Spiral Tunnels are a marvel of railroad engineering
Yoho Valley - Look upon its beauty from Yoho Valley Road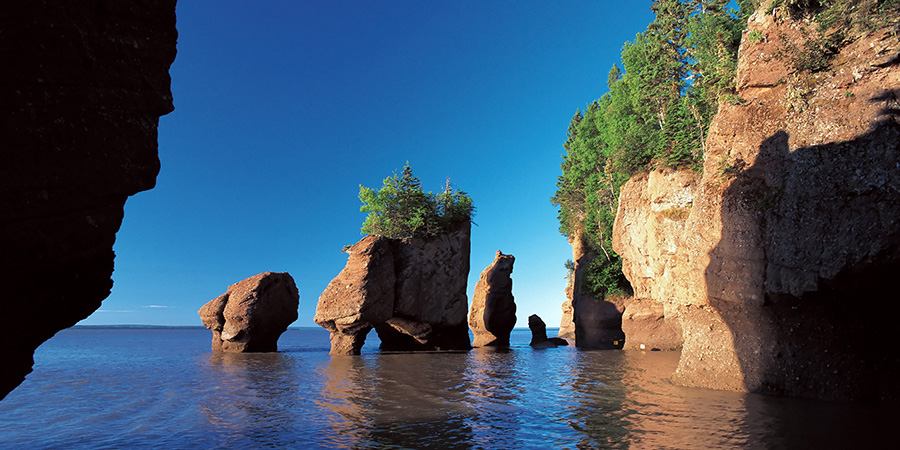 Fundy National Park
This enchanting parkland is set on the eastern shores of Maritime Canada in the province of New Brunswick. Travelers looking for a fantastic place to explore the offerings of the Atlantic need not look further. Rising out of the Canadian Highlands, Fundy is home to rugged coastlines, lovely beaches, coastal forests, and numerous hiking trails from which to set your sights on it all. Fundy National Park, while smaller at only 80 square miles, has been delighting all who visit since its opening in 1950.
Getting to this seaside gem is convenient, thanks to VIA Rail's Ocean. This overnight train navigates through Eastern Canada from Montreal to Halifax. Hopping off the train in Moncton, New Brunswick, puts visitors within an hour's drive of the national park; however, following the Ocean to the end of the line in Halifax still allows a day trip to Fundy. Once there, there are several key places you must see, including:
The Bay of Fundy - Some of the world's highest tides show their power at the Bay of Fundy. Visiting at various times of the day offers different perspectives on the ocean.
Third Vault Falls - The highest in the park at 52 feet and easily accessible via a well-maintained hiking trail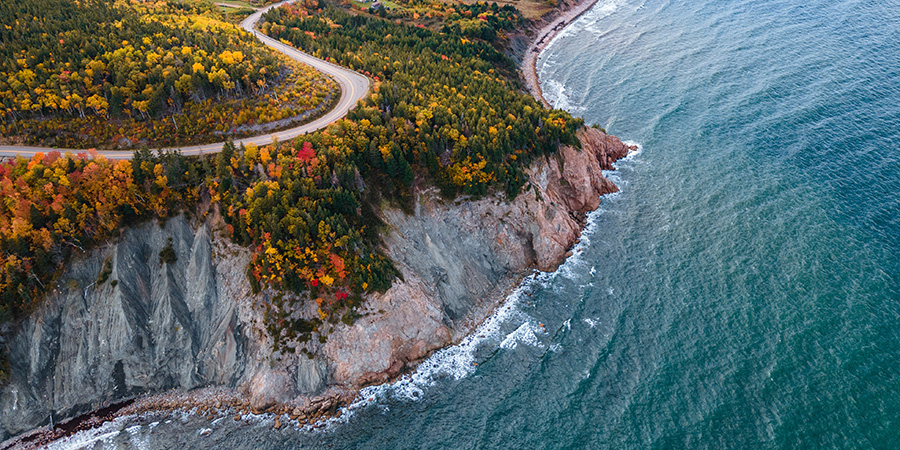 Cape Breton Highlands National Park
Seaside charms and beautiful sights abound in the upper reaches of Nova Scotia at Cape Breton Highlands National Park. Incredible views over the Atlantic Ocean can be seen from the summits of forested mountains and rust-colored cliffs. Wildlife like moose and bears abound, and visitors can spot whales from the craggy coastline. There is much to love within the park's 360-plus square miles.
Rail journeys that explore Eastern Canada often feature VIA Rail's Ocean, and this is your ticket to the wonders that await at Cape Breton Highlands National Park. Since the park is on Cape Breton Island, there is no direct route; however, your train ride will take you through Truro and Halifax, Nova Scotia, both of which are in the proximity of this Maritime treasure. From either of these cities, soak up mountain views and delightful ocean scenes en route to the park, which is four or five hours away, depending on your departure city. On arrival, enjoy things like:
The Cabot Trail - While not entirely contained within the park, nearly one-third of this world-famous byway's grandeur beckons in Cape Breton Highlands National Park
Ingonish Beach - The most popular within the park and is suitable for swimming and beach combing
Visiting Canada's national parks by train affords you the privilege of soaking in the country's dynamic vistas each mile of the course. You can sit back and relax, knowing that incredible adventures await at the end of the tracks. Contact Vacations By Rail to find a vacation package that artfully combines the train journey you desire with the Canadian national park(s) you cannot wait to see.