With spring blossoming around us and Earth Day on the horizon, Mother Earth might be on our minds a little more these days. How are we making a difference? What impact do our lives and travels have on the planet? Luckily, travel providers around the globe are having similar thoughts making strides to better the planet and ensure the world's natural areas, cities, and beloved destinations remain for future generations to enjoy.
The idea of responsible travel is transforming the industry as a whole and challenging the finest minds to create more environmentally friendly modes of transport. From personal electric cars and mass transit buses in cities throughout the United States to more efficient airplane designs that burn less jet fuel and hydro-powered trains, the 21st century is bringing a range of developments. These changes come in various flavors and attack the idea of ecotourism on multiple fronts, allowing vacationers to reduce their carbon footprints simply by making thoughtful choices in the ways they travel. And one of the easiest decisions they can make is to join a rail vacation.
The railway industry is one of the leaders in the sustainable travel movement. With train travel at the heart of every great rail journey with Vacations By Rail, our travelers can breathe easily that their carbon footprint is minimized each time they choose to travel by train rather than other forms of transportation. Did you know…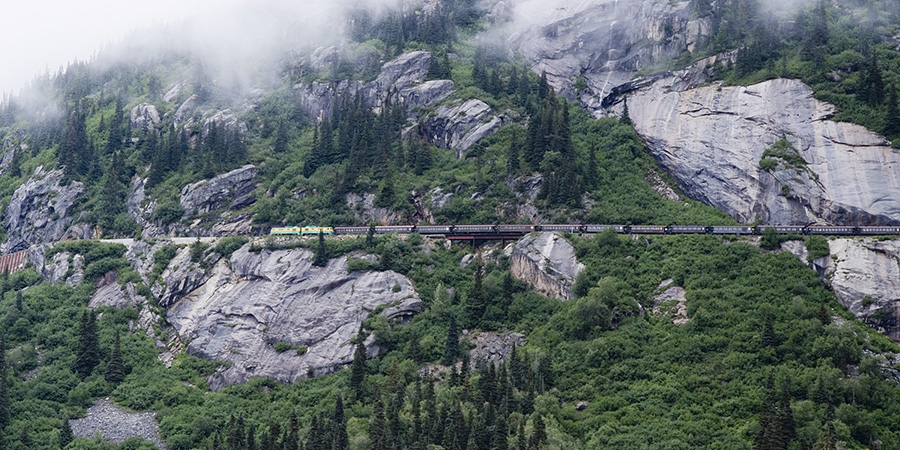 Only walking and cycling have more benefits for the environment
Passengers may be surprised to learn how small the railway's carbon footprint truly is. When compared to vehicular and airplane travel, trains emit between 66 and 80 percent less carbon into the atmosphere. Even electric cars, the most environmentally friendly option on the market, can produce up to 13 times more carbon dioxide than trains. In some places, trains account for less than 3 percent of the overall emissions.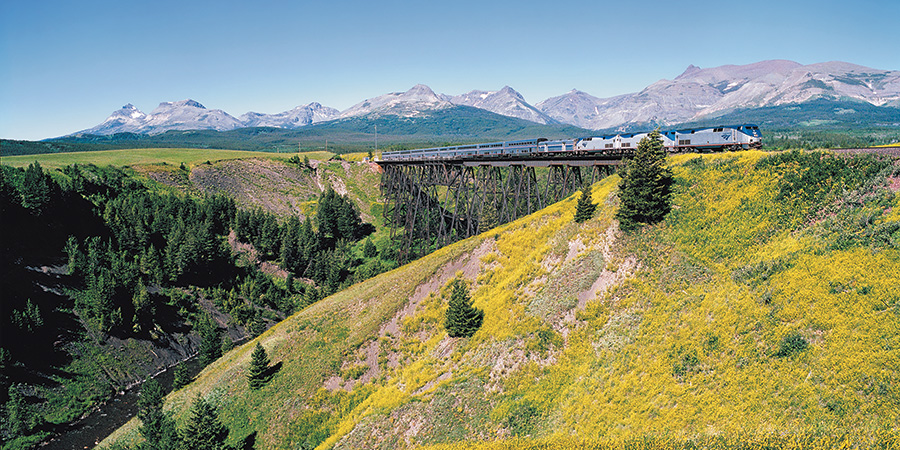 Railways around the globe recognize the benefits of ecotourism
Around the world, railways are updating their fleets with modern, streamlined trains and forming strategies that propel their environmental initiatives into the future. This global effort means that wherever your train vacation takes you, you can feel confident that you are doing your part to make responsible travel choices.
Amtrak, the premier choice for passenger train travel in the United States, utilizes electric-powered trains in the Northeastern corridor. The company's fleets elsewhere in the nation have been updated with cars that use less fuel and have fewer CO2 emissions.
Eurostar has moved to 100 percent electric trains in Western Europe, with wind power fueling 100 percent of their Netherlands trains.
VIA Rail Canada aims to continue reducing greenhouse gas emissions by 30 percent by 2030.
The Schweizerische Bundesbahnen (SBB) and the Rhaetian Railway in Switzerland operate by 90 and 100 percent hydropower, respectively.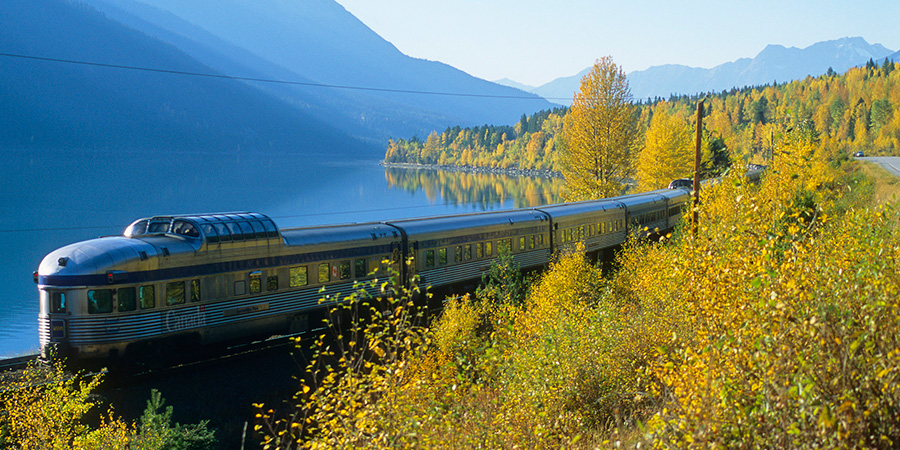 Train companies are looking at sustainable travel from multiple angles
In addition to reducing carbon emissions and air pollution, railway companies have adopted unique ways of recycling, reducing waste, and making their operations as eco-friendly as possible. These behind-the-scenes factors cover many fields, ranging from aiding onboard service and operations to how the trains' outdated materials are used.
If your Canadian rail vacation utilizes VIA Rail, rest assured that the railway is making strides to reduce waste as much as possible. Their goal, by 2025, is to have zero-waste trains on the Corridor Service train, including decreasing the material sourced for trains and the packaging and waste produced onboard.
Eurostar is putting the idea of sustainability into practice in many ways:

All the honey used onboard and in the stations' Business Premier lounges is produced in hives tended to by Eurostar staff.
Onboard food waste from the Business Premier class is composted to become fertilizer for local farms and garden centers.
Plastic waste is being reduced across the board by implementing compostable cups and biodegradable wooden cutlery.
Moving away from paper ticketing, Eurostar allows passengers to send their tickets to their phones. E-tickets mean less trash and less to keep track of as you board.

Amtrak is changing its approach to recycling and repurposing its materials. Instead of throwing away old leather train seats as the carriages are remodeled, Amtrak has partnered with People for Urban Progress to create a line of bags, wristlets, and other travel accessories. Customers can carry a piece of Amtrak history while keeping material out of landfills.
But trains are not the only way we travel, even on a rail vacation. Suppose, for example, that you are joining a European train tour. United States travelers must fly across the Atlantic to begin their journey at the designated point - often London St. Pancras. Even domestic tours may require flying to a major city to commence your adventure. It is well documented that airlines are among the worst offenders of CO2 emissions; however, airlines are also making significant changes to become a responsible eco-travel option. When traveling by plane:
Select a flight on a Boeing 737 or 787, which uses 20 percent less fuel than similarly sized vessels, whenever possible.
Look at your chosen airline's sustainability plan:

Southwest Airlines is committed to achieving carbon-neutral growth between 2019 and 2030 and being entirely carbon neutral by 2050.
United Airlines plans to be 100 percent green by 2050 and is beginning to implement Sustainable Aviation Fuel (SAF) to reduce CO2 emissions per passenger. Further, guests can see an estimate of their flight's carbon impact while searching.
American Airlines pledges to replace 10 percent of its jet fuel with SAF by 2030, reduce Scope 2 emissions by 45 percent by 2035, and be entirely carbon neutral by 2050.
Delta Airlines retired 200 aircraft in 2020, replacing them with aerodynamic planes that are 25 percent more fuel efficient than older models. They also hope to switch to 10 percent SAF by 2030.
Allegiant Airlines recently added 50 Boeing 737s to its fleet to reduce its overall jet fuel usage.
Alaska Airlines is working to reduce paper usage onboard by 50 percent and has discontinued the usage of straws. They are also composing all coffee grounds used onboard. They have also released an aggressive sustainability plan to become carbon neutral by 2040.

Consider contributing to Carbon Offset programs, such as those that plant trees in natural areas or purchase SAF, when buying your flight ticket.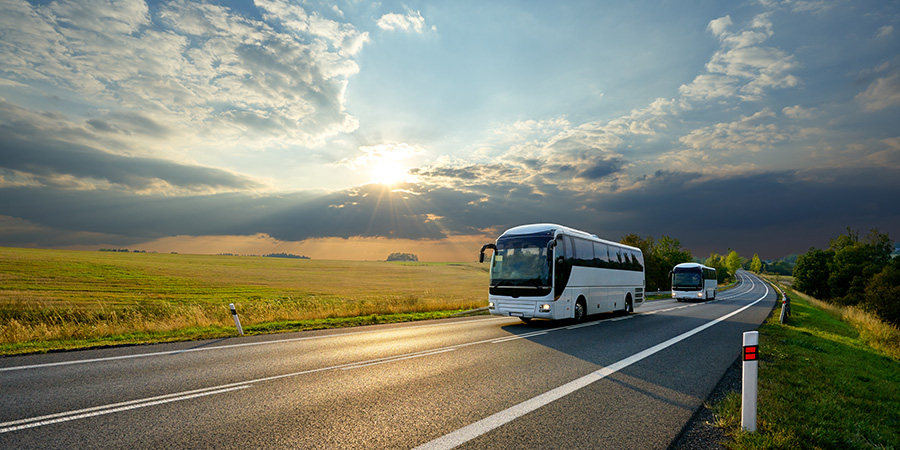 Many of Vacations By Rail's escorted tours also use deluxe motorcoaches while traveling shorter distances that do not call for planes or trains. While this may seem like a step away from sustainable travel, it is actually the opposite. Motorcoaches are amongst the most environmentally friendly options for passenger transportation, emitting only .17 pounds of CO2 per passenger mile. Other benefits of this mass-transit option include:
Motorcoaches reduce roadway congestion created by personal vehicles.
Up to 94,000 pounds of wear is kept from the roadways when groups choose motorcoaches over personal cars for their travels.
Many motorcoach companies are changing to diesel fuel, increasing fuel efficiency to up to 240 passenger miles per gallon.
Becoming an eco-travel supporter does not have to mean reinventing the wheel and making tough choices between the environment and where you want to go. In many ways, sustainable travel is evolving daily, and you have a chance to be a part of it by joining a well-planned journey from Vacations By Rail. Our itineraries use some of the world's best railways - many of which have sustainability plans that are as impressive as their routes. As much as train travel was a part of the past, it propels ecotourism into the future. Contact a Rail Specialist to find a journey that meets your need for adventure guilt-free.