Sweet summertime - the time of year every school child craves. That carefree spirit of the season often carries over into adulthood, making it the perfect time of year to get out and explore the globe. The United States is rife with places to visit, but when many travelers begin planning, they only think of those destinations with sandy shores and tropical temperatures. For your summer trip, consider something different, a place where the sun refuses to set, and there is more adventure to be had than you could ever imagine. We are talking about the Great Land itself, America's Last Frontier, Alaska.
Visiting Alaska in summer is ideal for those vacationers that crave the freedom to explore and the immensity of nature. Alaska has over 6,600 miles of coastline and 365 million acres of land - much of which is undeveloped - just waiting for you to explore.
Summer in Alaska begins unofficially in May when the temperatures warm. By June, summer is in full swing, and the days only get longer and the weather hotter as you roll into July. August offers a warm goodbye to the summer months, yet it is still an excellent choice when it comes to times to visit Alaska. With nearly three months of opportunity, you have plenty of time to immerse yourself in the wild wonders only found in this state. If you need more convincing, here are five great reasons why you should visit Alaska during the summer.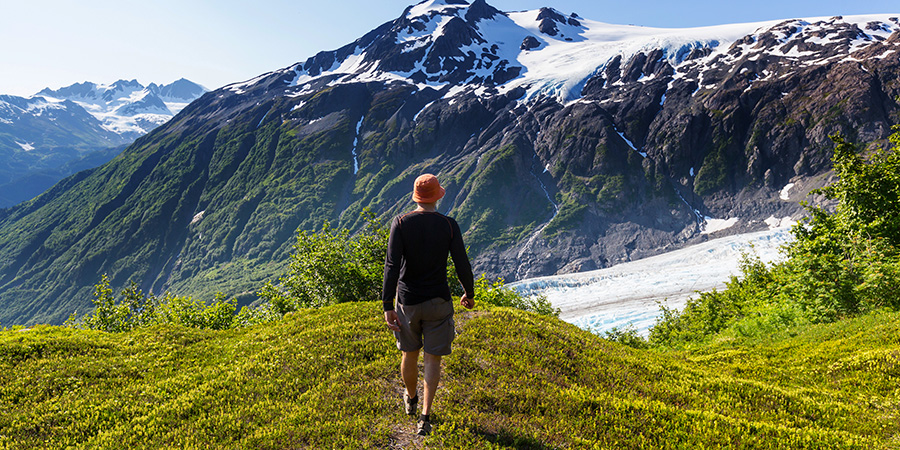 1. The weather is just what the doctor ordered
When packing for your Alaska summer vacation, you may wonder if you need to pull out your winter gear. Do you need to bring your coat? Will pants and long-sleeved shirts be your uniform for the duration of your trip? To all of these questions, the answer is no!
Alaska's summer begins creeping up through the Southeast portion of the state in late May, and the entire state sees lovely, warm days by July. On average, you can expect daytime temperatures between 60- and 80-degrees Fahrenheit, depending on the region hosting your adventure. Along the coast, the highs stay closer to the 60 to 65-degree range. Further inland, those temperatures rise, soaring into the 80s and, occasionally, the 90s or above. Summer evenings see temperatures around 50 degrees Fahrenheit, making it chilly but not cold. That means that even in America's most northern state, you can still bring your shorts and T-shirts; just bring a jacket, too.
In addition to boasting temperatures that set the perfect tone for getting out and exploring nature, Alaska sees a relatively dry stretch during the peak summer months. Most days in June and July are free of precipitation, and it is not until later in August that the rainy season returns. Except for the highest mountain peaks, the snow has long since melted away.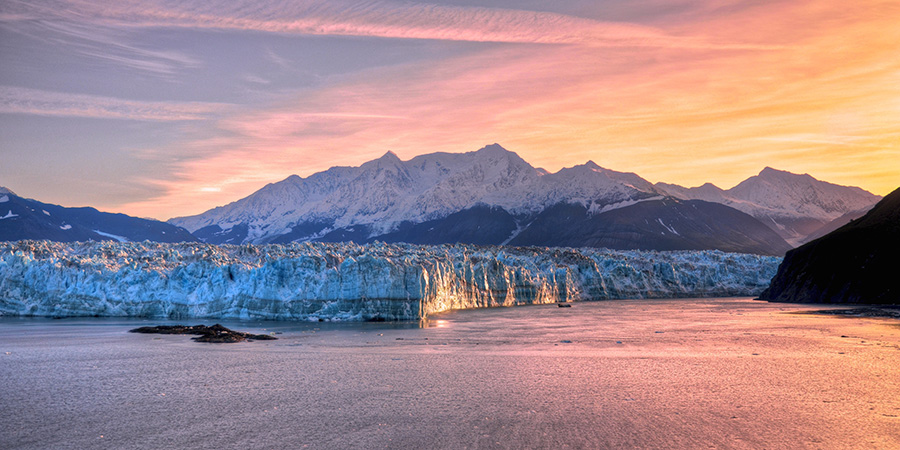 2. You have endless hours to sightsee and be active
If you are a night owl, you are in for a treat. Vacation packages that venture to Alaska in summer fall during the time of the midnight sun. After the spring equinox, the days lengthen by minutes at a time until the day bleeds into the night seamlessly. Juneau sees as many as 18 hours of daylight in mid-June, whereas Fairbanks has up to 22. But even the brief "night" is not dark skies and starlight; instead, it is more of a twilight period during which the sun goes down in the sky a bit, but the light never shuts off.
Experiencing the Land of the Midnight Sun firsthand is surreal because the concept of time falls to the wayside. Businesses, golf courses, attractions, and national parks stay open later, allowing you to take advantage of the daylight while it is available. You may wish to check out local hiking trails at midnight, enjoying perfect views of the multicolored wildflowers and lush green valleys as you stroll. Take to the water for kayaking, or visit a glacier to see its ice sparkle in the warm hues of twilight around 2 a.m.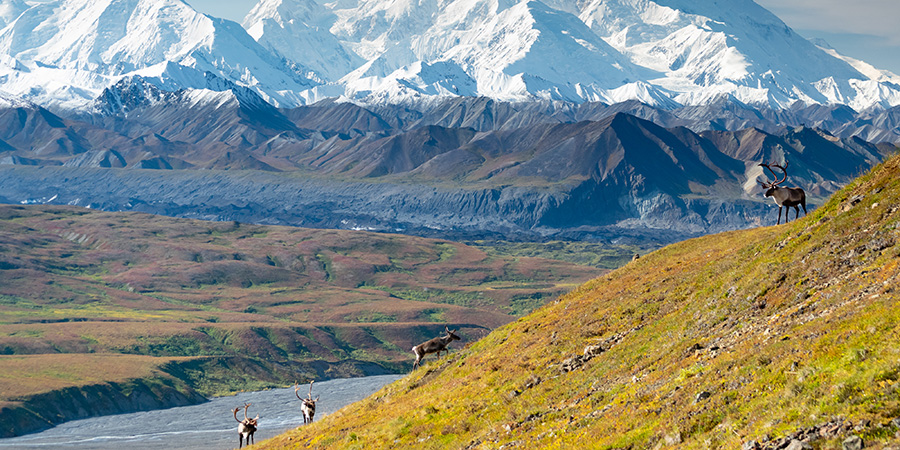 3. Wildlife viewing is easier than ever
Thanks to the amount of undeveloped, wide-open wilderness that remains in Alaska, wildlife has fewer constraints when it comes to their territory. The state is home to numerous large mammals, including black and brown bears, moose, caribou, wolves, and Dall sheep, to name a few. The warm weather brings them out of their winter hideaways in search of food, water, and sunshine. You may spot bears fishing for salmon along a river or see Dall sheep grazing on grass on a mountainside. Bald eagles soar through the skies overhead and often perch in trees alongside the water, waiting for a fish's scales to shine in the sunlight.
The water is also teeming with life, from smaller creatures like fish, crabs, and sea urchins to massive whales. June and July bring several species of whales to Alaska's waters, including humpback, minke, gray, and killer whales. Sometimes you can spot them breaching the surface or spouting from the shoreline. There are also tons of fantastic whale-watching cruises you can join to see these majestic creatures up close. Seals, sea otters, puffins, and Dall's porpoises are other marine life you may peep on your summer trip.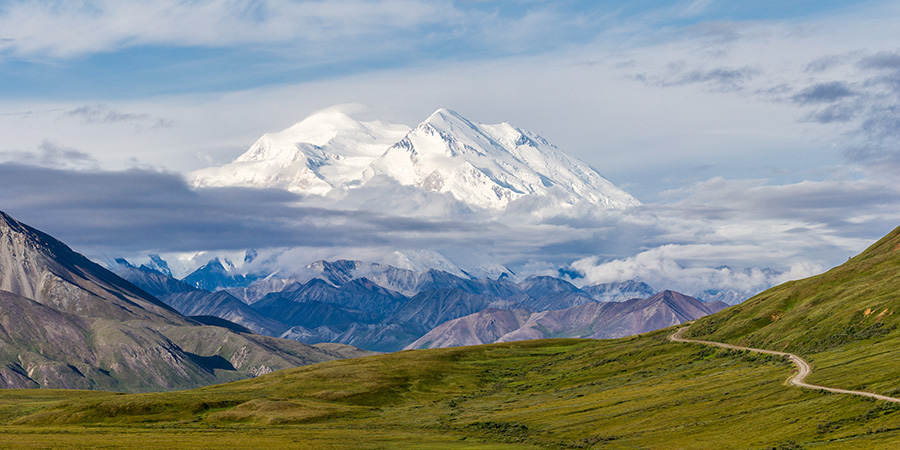 4. Summer activities are aplenty
In addition to wildlife spotting, there are many riveting things in Alaska that span a great spectrum of interests. Visit places that speak to the state's indigenous culture, like the Alaska Native Heritage Center in Anchorage or the Totem Heritage Center in Ketchikan. Activities like brewery hopping are also possible throughout the state. Discover traces of Alaska's gold rush past at historical sites, or venture to one of the many museums, like the Anchorage Museum, that detail life in this vast and wonderful wilderness.
It is the great outdoors where summer's splendors truly make the most impact. Visiting Denali National Park is an experience you are not likely to forget. Home to towering Mt. Denali, the tallest peak in the United States, this park is a playground for hikers, mountain bikers, climbers, and photogs. The untouched terrain here is ideal for looking for Denali's big five - moose, Dall sheep, grizzly bears, wolves, and caribou - and offers the peace and quiet you need for a summertime reset. Cruising through Kenai Fjords National Park, visiting Glacier Bay, or seeking out some of the formidable glaciers throughout the state, like Mendenhall or Hubbard, are other memorable ways to spend your summer days.
While you probably won't catch a glimpse of the northern lights at this time of year, you can get a taste of one other winter activity in summer: dog sledding. Of course, the sleds cannot run without snow on the ground, but you are welcome to visit kennels and meet the dogs, learn about the sport's place in Alaskan culture, and maybe even watch a dog carting demonstration.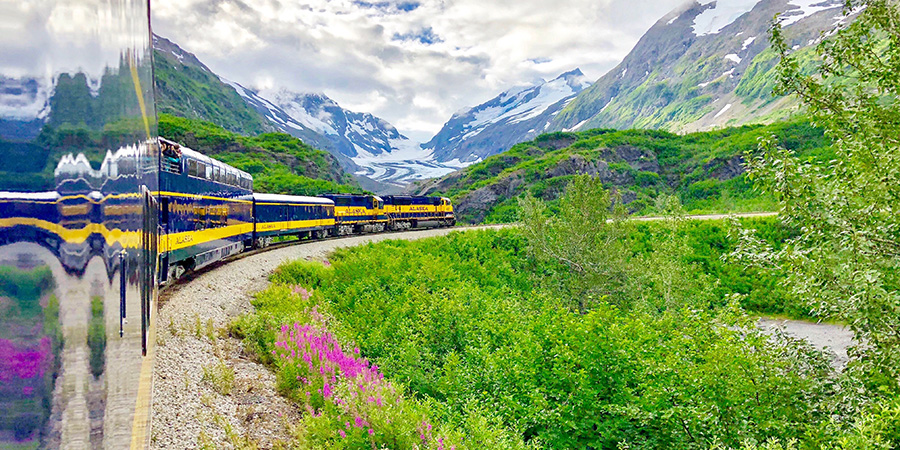 5. Accessibility is unmatched in any other season
Some roadways close or become inaccessible during the winter months due to snow. Hiking trails quickly turn treacherous and navigating waterways can be impossible due to ice. Following an itinerary during the long days of summer eliminates these obstacles.
Alaska's national parks are open and ready to host travelers. Exploring them during the warm months allows you access to parts of the park that are difficult to reach, even if they are technically accessible during the winter. If you are hoping to ride the scenic and remote lines of the Alaska Railroad, summer trips are the perfect time for that, too. More routes are available, and the views over the water, mountains, and lush terrain are unmatched on this railway that traverses the lands that cars cannot reach.
Summertime in Alaska may be fleeting, but its adventures are anything but short-lived. Consider one of our tours, like Alaska the Greatland or the Alaska Wilderness Tour, which explores the Last Frontier's finest offerings. Contact a Vacations By Rail specialist to get more inspiration for your summer escape.