Located on the Iberian Peninsula, the Douro River is an up-and-coming river cruise destination that begs your discovery. This waterway flows over 550 miles through Northern Spain and Portugal on its pathway toward the blue waters of the Atlantic Ocean. Mediterranean flair exudes from the shorelines, encouraging travelers to immerse themselves in the colorful culture in each port of call. This culture bubbles to the surface in many ways, making itself visible in food, wine, music, and unique traditions. It is enough to whet your appetite for adventure and keep you guessing at each stop along the course. Intrigued? Here are five more reasons why your next vacation should include a Douro River cruise.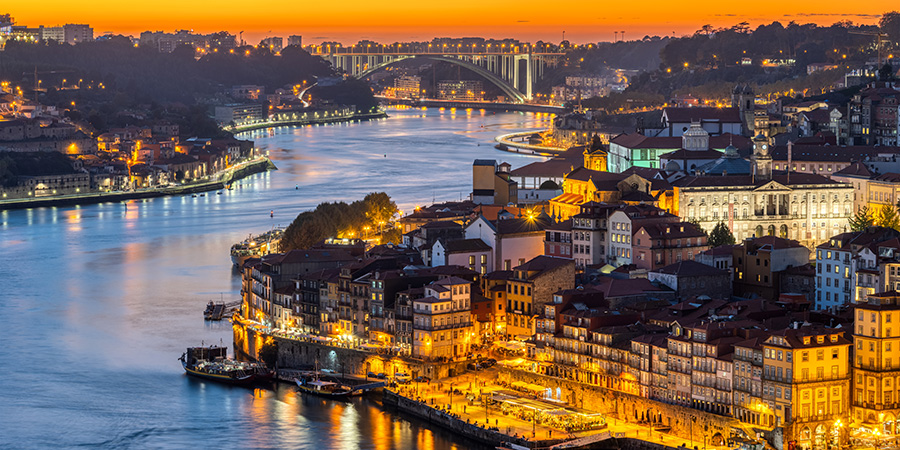 The Douro River is a Hidden Gem Amongst European River Cruise Destinations
While certainly not unheard of, the Douro River has yet to hit the map as a hot European river cruise destination. You might think this is because it lacks the scenery that draws tourists to other rivers, or there are no exciting attractions bringing cruise enthusiasts to its shores. On both accounts, you would be wrong.
Thanks to the river's positioning on the Iberian Peninsula, it is tucked away in its own little corner of Europe. The Douro sits far from the major waterways of the continent, like the Rhine, the Danube, and the Rhone Rivers, leaving it less accessible than some other channels. Additionally, the Douro features a series of deep, narrow locks that make it difficult for large ships to navigate. All these factors play in your favor if it is an intimate cruising experience you seek.
Joining a Douro River cruise means you are invited to explore aboard a smaller cruise ship that easily navigates this scenic waterway. These floating hotels typically accommodate less than 200 guests, with many vessels hosting even less than that and staying in the 150-guest range. For the quaint riverside towns along the Douro, the smaller infusion of travelers ensures they are not overwhelmed during the tourist season. Locals welcome visitors warmly and are happy to share their traditions and cuisine, and the ports of call are mostly free of kitschy souvenir shops. A cruise on the Douro River is your chance for an unmatched look at the beauty of Spain and Portugal.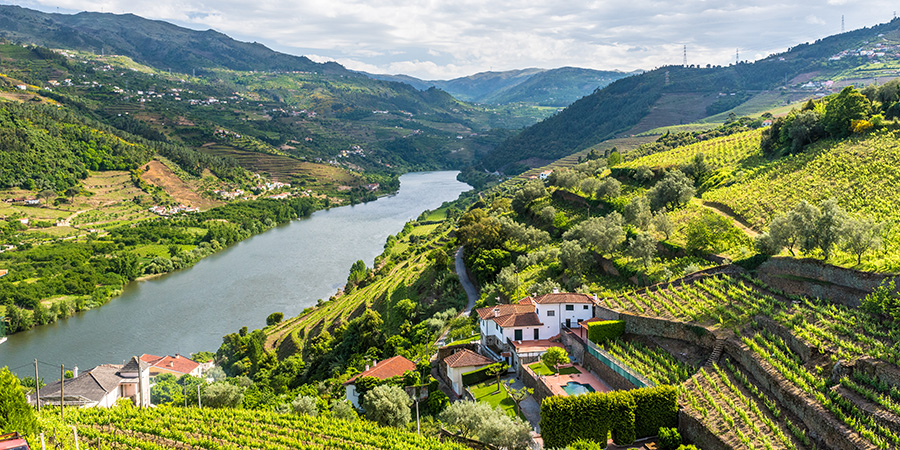 The Douro River Enjoys a Long Cruising Season
Thanks to the Douro's location on the Iberian Peninsula, the countries through which it flows enjoy a primarily temperate climate with plenty of sunshine and warm weather to greet vacationers. The best time to go on a Douro River cruise can fall between March and November, with each season opening a new range of possibilities. Some cruise lines even run through December, as temperatures rarely fall below the mid-40s in the Douro Valley.
The most popular time to cruise the Douro is between late May and October, when the landscape is at the pinnacle of its natural beauty. There is plenty for vacationers to do at this time of year, ranging from scenic walks in ancient towns, guided city tours, wine tastings, and visits to beautiful palaces and gardens. The towns see the vast majority of travelers during the summer holiday period, late May through August, then things quiet once more.
For an even more intimate look at the destinations along the Douro River, consider cruising during one of the shoulder seasons when most tourists have hung up their adventure hats for the year. In the spring, March, April, and early May offer sights of budding flowers, vines just beginning to creep up their trellises, and green returning to the landscape. The autumn, late September, October, and November, brings harvest time and the gorgeous warm hues of fall foliage.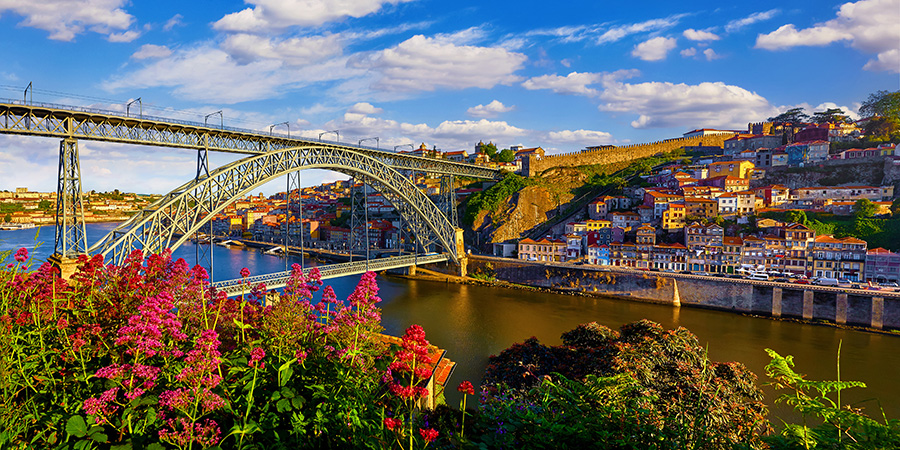 Natural Beauty surrounds Douro Valley Cruises
Setting out through Spain and Portugal on the Douro River offers a peak at some of the two countries' most dramatic landscapes. Steep hills made up of jagged metamorphic rock surround the river, creating sheer cliffs in some places and tall, sloping hillsides with inclines of
45 to 60 degrees in others. Expertly terraced vineyards, shaped and cultivated for thousands of years, grace the hillsides. Cruising through the Douro Valley brings lush foliage and the occasional shoreline tree grove - a sea of green surrounding this river known as the "River of Gold," thanks to its brilliant yellow coloration as the sun sets over the Marão mountains.
All this natural beauty gives way to vibrant towns, villages, and cities huddled against the shoreline. Some of these destinations showcase the modern side of Portugal, while others are like a time warp back hundreds of years. The varied architecture and colorful facades sit in sharp contrast to the ebbs and flows of the terrain, yet somehow, it all works together to create days of memorable scenes from the Douro.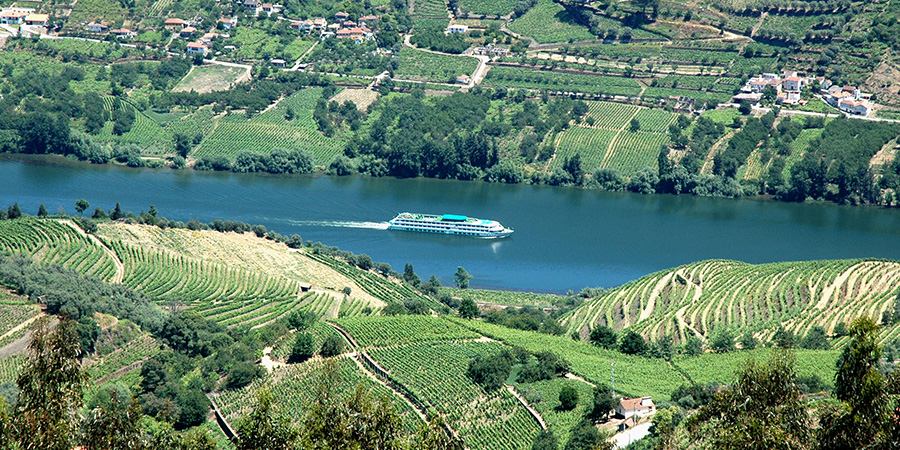 Port Wine Flows as Freely as the Water
Terraced vineyards frame the course as boat trips set out on this winding waterway, some stretching as far as the eye can see. For over 2,000 years, cultivators have sown seeds, nursed their growth, and harvested their flavorful grapes to create delectable wine in the Douro Valley. The region's long history of viticulture has earned the Alto Douro Wine Region UNESCO World Heritage Site designation. Its incredible beauty pairs with a long history of innovation and economic importance to create a destination that is best discovered with your palette.
As your cruise unfolds, look upon centuries-old wine estates, known as quintas in this part of the world. Most produce port, a sweet fortified wine with a gorgeous ruby red color. Port is typically served as a dessert wine and has a slightly different consistency and alcohol content than other wines, thanks to the addition of brandy during the fermentation process. Most cruise itineraries include plenty of chances to taste this regional delight for yourself; however, if it does not sound like your cup of tea - or wine - some growers are able to coerce a few varietals of red and white table wines out of the rugged terrain.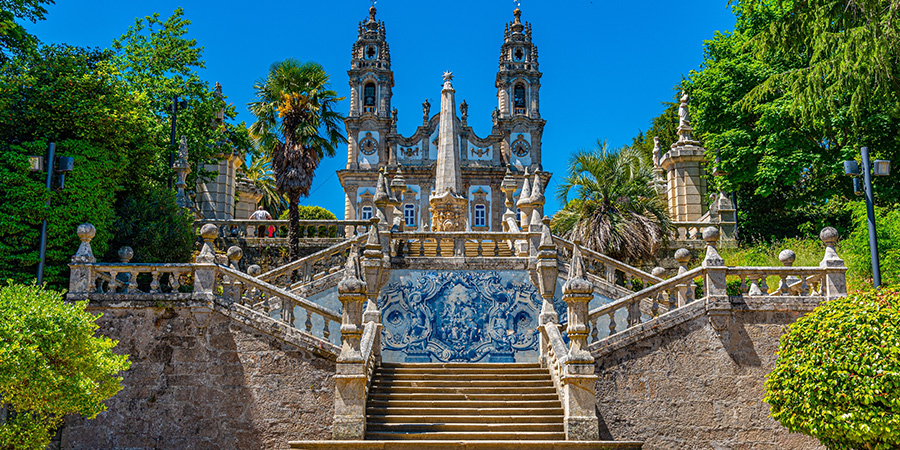 Douro Valley Destinations Brim With Charm
Because river cruises are an all-inclusive experience, your boat trip on the Douro River will include exciting ports of call nearly every day, if not daily. These destinations give you a taste of the liveliness and culture exclusive to Spain and Portugal. Many Douro River cruises begin and end in Porto, the beloved port wine hub of Portugal. While the charms of this city are certainly evident, there are small locales along the course that offer hidden treasures.
Spend time in places like Lamego, famed for its beautiful cathedral that is only accessible via 700 stairs, or in the small historic village of Barca d'Alva at the cusp of the National Park of Douro International. This locale has been producing wine for over 2,000 years and has plenty of old-world ambiances to discover on foot. Castelo Rodrigo is seemingly a portal back in time, with its medieval buildings and impressive ruined castle.
A favorite port of call for travelers is not set right along the river but is easily accessible from the Douro's shores: Salamanca, Spain. From its intriguing cuisine to its academic prowess, flamenco dancing, and Casa de las Conchas - a building covered in hundreds of seashells - Salamanca offers something for everyone.
A Douro River cruise is your chance to take on the wonders of Spain and Portugal. Consider our Lisbon & Douro Cruise package, which spends time in Lisbon and Sintra before joining the mighty Douro for a journey through wine country to towns where lively culture and rich traditions warm your spirit. For more river cruising opportunities or to book your next vacation, contact Vacations By Rail today.