The cows have cleared from the valleys, and the colorful wildflowers have returned to the earth. With each passing month after the fall equinox, the days get shorter, and the temperatures fall until, eventually, winter overtakes the landscape in one of Europe's most scenic countries. The gingerbread villages, towering mountains, and deep coniferous forests take on a new look clad in their winter white. Switzerland in December is spellbinding, and January and February follow suit.
Travelers are greeted by a winter wonderland in the most fantastic sense of the words, making this alpine nation one of the best places to spend the cold months. It becomes a hub for skiing, snowboarding, tubing, snowshoeing, and other outdoor adventures in the resort towns. Lower elevation destinations that do not have the same sporting appeal clear out for the season to give visitors a more intimate look at their offerings. Whether you hope to huddle up in a charming wooden chalet after visiting a Christmas market or to hit the slopes, here are a few of the best places to visit in Switzerland in winter.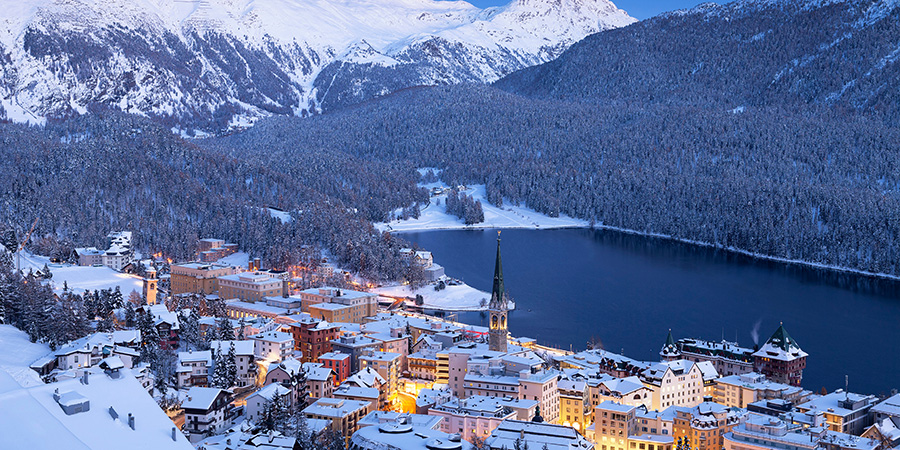 1. St. Moritz
Of all the places to visit during the cold months, where better than the birthplace of alpine winter tourism? This resort city is located in the southern portion of the country in the Upper Engadine region at an elevation of over 6,000 feet above sea level. Thanks to its elevated positioning within the Swiss Alps, St. Moritz sees plenty of snow and cold temperatures during the winter, setting the perfect tone for winter sports and magical scenery.
This locale has an excellent infrastructure for tobogganing, cross-country skiing, snowy hiking, skiing, and snowboarding; however, sports are only some of the things for winter visitors to do. St. Moritz is home to an immersive Christmas market with all the traditional eats and wares for which one could hope. Ice rinks pop up throughout the town, and the snow globe vistas lend themselves to fantastic photo opportunities. A soak in the 3,000-year-old mineral springs, now contained in local spas, offers a perfect dose of relaxation after a long winter's day.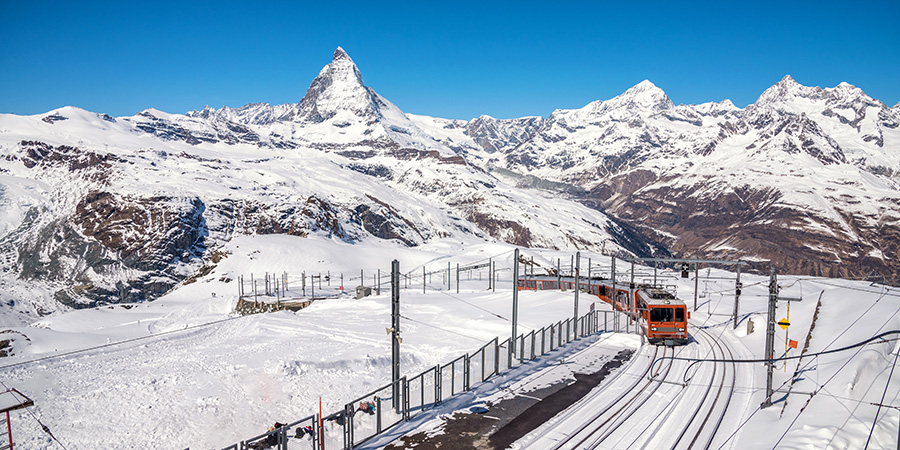 2. Zermatt
The snow-covered Matterhorn rises in the distance as a beacon welcoming outdoor adventures in southern Switzerland's Zermatt. Wintertime visitors find themselves spoiled for options in this quaint resort town. World-class skiing, including on Europe's longest ski run, is complemented by an authentic Après-ski atmosphere. Fine dining establishments, bars, and pubs line the car-free streets, providing plenty of opportunities to indulge.
But Zermatt has plenty of other ways to indulge your senses, too. Visitors can ride the Gornergrat Railway for unrivaled views of the mighty Matterhorn and its snowy surroundings or visit the base of the mountain to peruse the stalls of the annual Christmas market. Boutique shops abound, and relaxing spas are the perfect place to get a massage after gliding down the mountainside.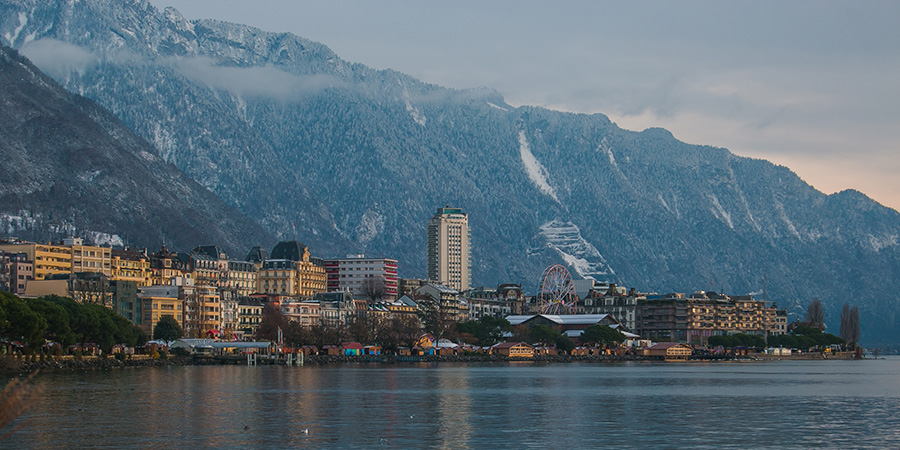 3. Montreux
When thinking of Switzerland in winter, most people do not typically think of a mostly mild climate, but that is just what they will find in Montreux. Mediterranean landscaping joins the rolling foothills of the Swiss Alps to create a unique atmosphere in December, January, and February. The weather typically stays (in Fahrenheit) in the low 40s or high 30s at this time of the year, and while there is snow, it is less than you might expect of the Alps. These are just some reasons Montreux is one of the best places in Switzerland for winter travel.
Even with a warmer temperature than surrounding locales, the cold-weather ambiance is undeniable. Sip authentic mulled wine while you wander through Montreux's Christmas market, or lace up your skates and try ice skating on the natural ice rink in nearby Caux. Old Town is charming in the wintertime, with its varied architecture, and makes for a picture-perfect snowy scene. There are many ways to explore the Montreux Riviera.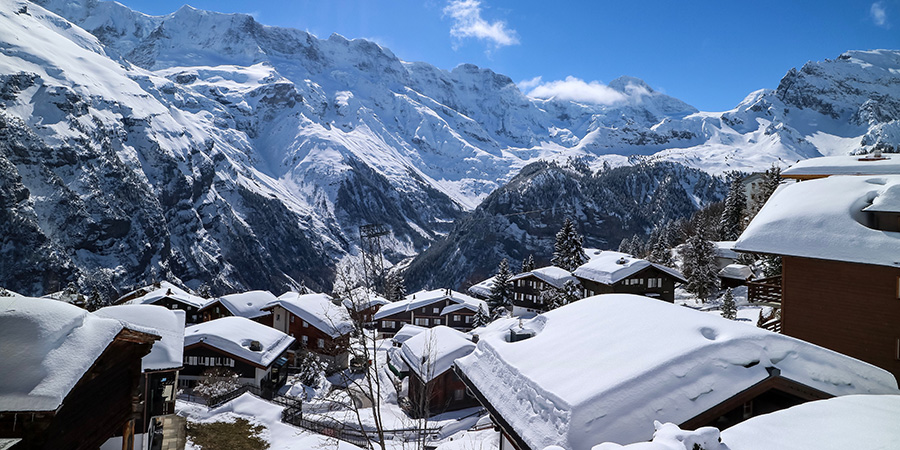 4. Mürren
Located in the postcard-worthy Bernese Oberland, Mürren is a small town that makes the perfect addition to any Switzerland winter travel itinerary. The village sits at an elevation of about 4,000 feet and is accessible via cable car and train. Its car-free infrastructure makes Mürren a treat to explore on foot, and its delightful wooden buildings and chalets create an enchanting atmosphere - especially when blanketed in snow.
Mürren makes a superb base for adventure for exploring Mount Schilthorn, a peak featured in the James Bond film "On Her Majesty's Secret Service." This mountain features some of the steepest and most challenging runs in the Jungfrau Region - a treat for advanced skiers and snowboarders alike. However, riding to the top also offers miles upon miles of snowy views, overlooking the Swiss and French Alps, Germany's Black Forest, and beyond.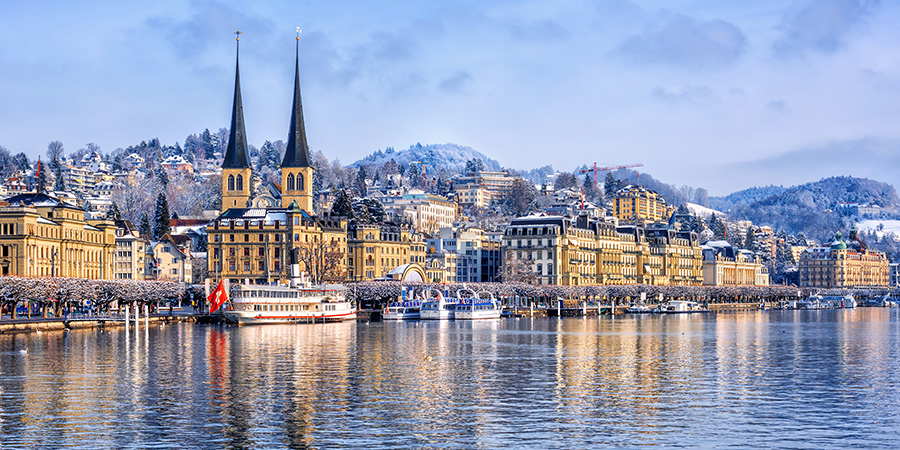 5. Lucerne
One of the best places to experience Switzerland in winter is also one of the most scenic: Lucerne. Imagine a picturesque town along the shores of a gorgeous blue lake with imposing snow-clad mountains in the backdrop. Think of a place where the architecture melds old and new, with some structures nearing 700 years old. Now cloak it all in snow and wintery skies, and you have the pretty town of Lucerne. One trip makes it evident why winter is the best time to visit.
From late November until February, Lucerne transforms into an idyllic winter scene. Christmas markets pop up throughout the city, and winter activities provide plenty of festive activities. Because there are fewer visitors at this time of year, it is easier to notice the houses' detailed facades and the Chapel Bridge's beauty. Lucerne is not a hotspot for winter sports, yet Mount Pilatus is just a short distance away and is a memorable place to explore skiing, snow hiking, tubing, sledding, and more.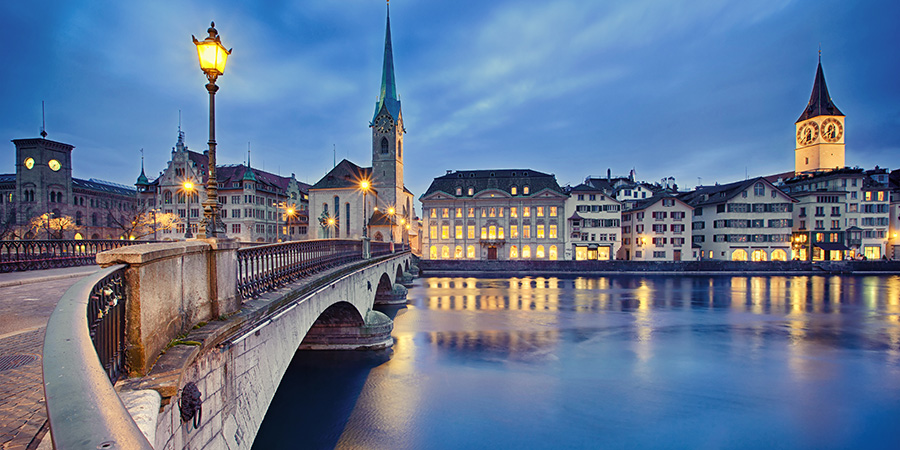 6. Zürich
Zürich is a dynamic city in northern Switzerland that is easily accessible by car, train, and plane. Whether using the city as a starting or ending point for your adventure or a stand-alone destination, its winter splendors are as immense as the mountains surrounding it. Christmas markets, Swiss hot chocolate, and medieval buildings cloaked in snow are just a few of the things that make Zürich so special in the winter.
The city boasts outdoor ice skating rinks, including Europe's largest open-air rink, amidst picture-perfect buildings. Shops and restaurants decorate for the season and create a festive atmosphere. Old Town's charms only intensify when snow falls from the sky, with its narrow streets providing excellent pathways for urban explorations. One of the top things to do in Zürich is to visit the various Christmas markets and stalls throughout the city, each with its appeal. While Zürich rarely gets below freezing, even for the lows, visitors are invited to warm up over a traditional fondue dinner after exploring its wintertime splendors.
Visiting Switzerland in winter is ideal for travelers who crave a different perspective on the Alps. When traveling with Vacations By Rail, enjoy itineraries featuring scenic train rides, such as the Glacier Express and the GoldenPass Panoramic, which present frozen scenery while traveling between destinations straight out of a Christmas movie. Discover where your winter travels can take you by contacting a Rail Specialist today.