Wisps of winter collide with the renewing embrace of warmer weather to make the spring season one that many look forward to in Switzerland. This time of the year is one for celebration as the temperatures rise and the days get longer. Residents and travelers follow suit, setting out into the country for explorations in earnest for the first time since fall. From mountain hikes to cable car rides and outdoor activities surrounded by spring blooms, there are plenty of ways to enjoy spring in Switzerland. If you plan a vacation to this world-class destination during nature's awakening, here is your month-by-month guide.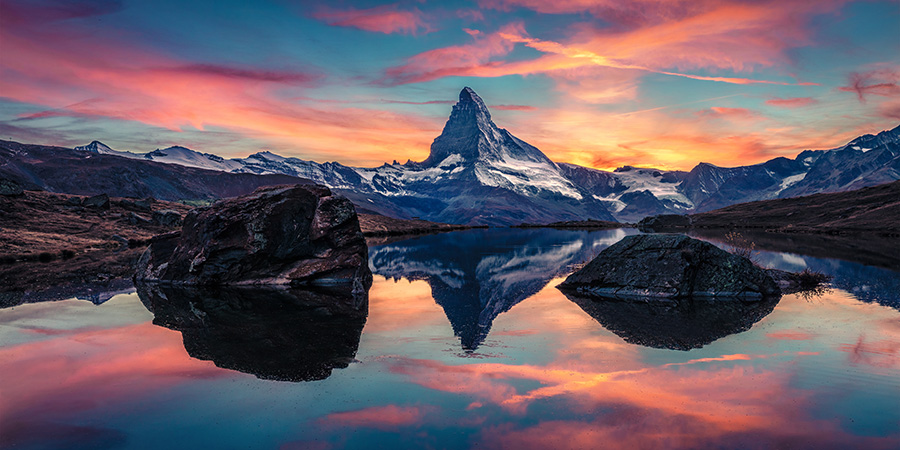 March in Switzerland
Subtle changes begin to take hold in the landscape in March, yet the weather is still pretty wintery in most places throughout the country. March is a true shoulder month, offering the benefits of both spring and winter, depending on where you are in this small county. In higher-elevation cities, including Zermatt and St. Moritz, the average temperatures rarely exceed 37 degrees Fahrenheit. Moving down into the Lake Lugano region, daily highs may climb into the mid-50s by the end of the month. There are still plenty of chances for snowfall during spring, especially this early in the season, regardless of where you are in Switzerland.
What does the weather mean for your adventures? Well, many high-mountain ski resorts are still at full capacity, making the most of the final morsels of winter. There is still plenty of snow on the ground, after all. If skiing and snowboarding are not your jam, try a cable car ride over the snowy terrain, ice skate, go snowshoeing, or meander through the charming villages still clad in their winter white.
Lower-altitude resorts may begin to shut down for their annual break as the snow starts to melt in March. The run-off from the snow melt rejuvenates waterfalls and sets small streams and rivers flowing once more. Early spring blossoms poke through the soft earth, and some hiking trails reopen slowly (though they will be muddy). In cities like Montreux and Lucerne, this is a lovely time for sightseeing, with temperatures in the low-to-mid 50s providing a comfortable setting.
If March is your perfect time to visit, make sure you bring:
A coat
Waterproof boots (snow boots are preferred)
Lots of wool socks
Clothing for layering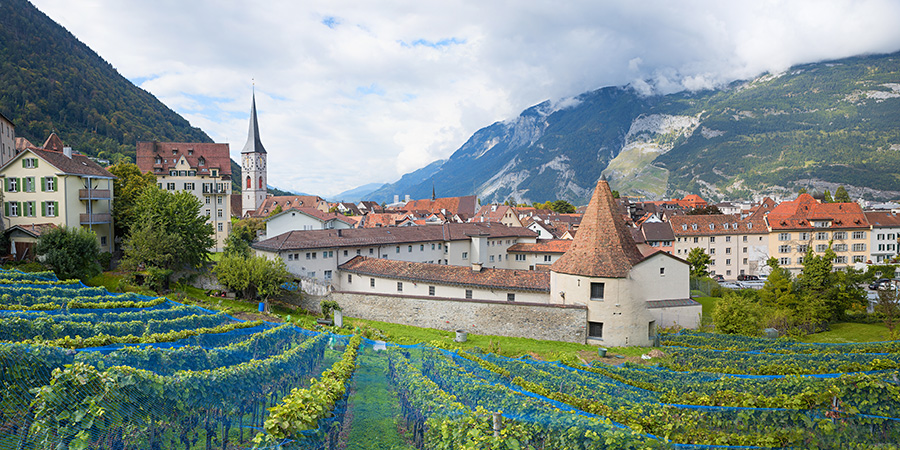 April in Switzerland
April is the true off-season in Switzerland - too warm for skiing but not quite warm enough (in higher altitudes) for summer expeditions. Much of the country's snow has melted away by this point, revealing colorful landscapes once more. While some snowfall may occur in places like Zermatt and St. Moritz, it becomes less common as the month unfolds. This month is a wonderful time to visit if you enjoy smaller crowds, discounted travel, and better access to some of the more popular sights throughout the country.
Visiting Switzerland in April allows you to bask in temperatures that reach over 60 degrees Fahrenheit in a handful of locations and rarely fall below freezing at night. Places like Chur, Montreux, and Lucerne all offer brighter days with temperatures in the 60s, whereas Zermatt may still hover in the 40s. Elsewhere in the country, including the Lake Zürich region, falls somewhere in between. You can expect some rainy days to nurture the kaleidoscope of spring blooms rearing their beautiful heads, though April is still considered relatively dry.
Except for high-altitude ski resorts like Zermatt, nearly all resorts have closed the gates for the season. Because of this, some scenic cable car rides up mountain peaks are limited, as many shut down for annual maintenance between the busy winter and summer months. However, there are still plenty of fantastic ways to get out and explore the beauty of spring in Switzerland.
Low-lying cities, villages, and alpine meadows are filled with blossoms in every rainbow hue. Explore them on foot by setting out on one of the newly opened hiking trails or while bumbling through medieval cities awash in history. Switzerland is famous for its scenic train rides, and the freshly born landscapes are incredible to view from their panoramic windows. Consider the Bernina Express, the Glacier Express, or the Gotthard Panorama Express.
Your visit to Switzerland in April could also include time at one of the country's springtime festivals. Geneva hosts a tulip festival, and Sechseläuten is something that everyone looks forward to at the end of April in Zürich. Bern's International Jazz Festival is also an event to remember.
For a visit in April, your suitcase should include:
A packable coat to use as needed
Hiking boots
Clothing for layering
Sunglasses
Hat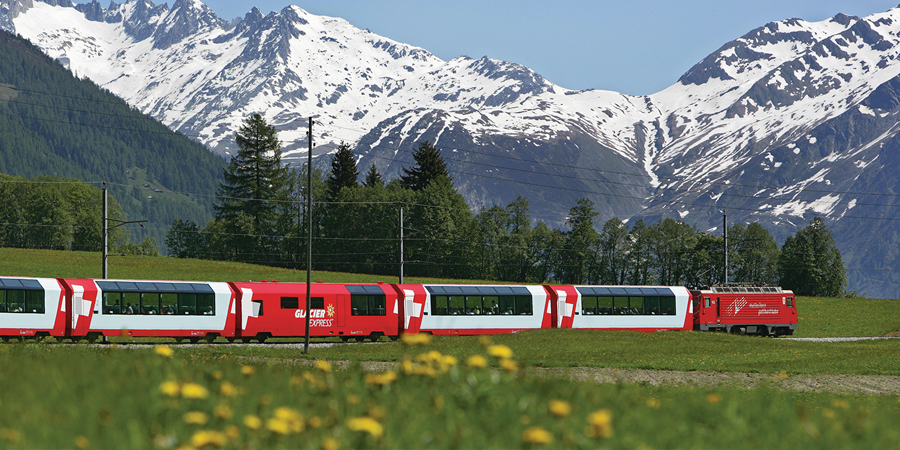 May in Switzerland
Your first tastes of summer's promises occur in May when you choose this time to visit Switzerland. While still relatively calm in terms of tourism, this month - particularly at the end - sparks the beginning of the summer travel season. Gradually, the cable cars that were closed for interseason maintenance, the hiking trails that were still glazed over, and the passes still clinging to snow open up for your exploration.
Spring in Switzerland is at its peak in May. Nearly anywhere you venture, from Chur to Montreux, Zürich, Bern, Lugano, Lucerne, Geneva, and smaller villages in between, see daily highs that peak in the mid-to-high 60s. At night, the temperatures stay comfortably above freezing, so embrace the beauty of evening strolls along the lakeside or late dinner excursions. Even St. Moritz sees average highs in the 50s, and Zermatt - a year-round winter wonderland - climbs into the 40s. Snowfall is nearly a non-factor at this time of year, though it does remain on the ground in the highest altitudes.
Get ready for narcissus blooms galore on the roadsides and along hiking trails. Colorful alpine blossoms decorate valleys and mountainsides. During spring, particularly in May, outdoor explorations are fantastic. Late-spring hikes in the Bernese Oberland can be inspiring. Taste delightful vintages at the vineyards and wineries surrounding Lake Lucerne, or cruise any of the country's major lakes - Brienz, Thun, Lucerne, Geneva, or Lugano - while soaking in spellbinding scenery.
May is also a great time to join the nation's beloved railways, as the contrast of towering peaks clad in snow and vibrant meadows is quite dramatic. Enjoy shorter journeys, like the Jungfrau Railway that climbs to the "Top of Europe," and more extended expeditions, such as the GoldenPass Line. Combine your rail journey with a cruise on the Rhine, like Vacations By Rail does on the Glacier Express & Rhine Cruise tour, for a vacation to remember.
For a May trip to Switzerland, pack:
A light jacket
Comfortable walking shoes (and hiking boots if you desire)
A mixture of short- and long-sleeved shirts
Hat
Sunglasses
Spring in Switzerland is magical. Watch as the country simultaneously calms down and springs to life when you visit in March, April, or May next year. Vacations By Rail has numerous packages introducing the season in all its glory. Peruse our selection of Swiss rail tours, or contact a Rail Specialist for assistance in choosing your next alpine adventure.