Every once in a while, we come across a life hack that is so useful that it becomes standard practice in our lives. It may be minor, like microwaving citrus for a few seconds before juicing, or more important, such as signing up for an air filter delivery service to keep your HVAC system running smoothly without keeping track of the months. We are here to tell you that we have a life hack for reducing stress and enhancing relaxation while vacationing or during your holiday season travels: winter train trips.
You may wonder, HOW will a train trip help me travel during the winter? Sit back, my friend, and you will soon find out. Here are six reasons we believe taking a train trip at this time of year is superior.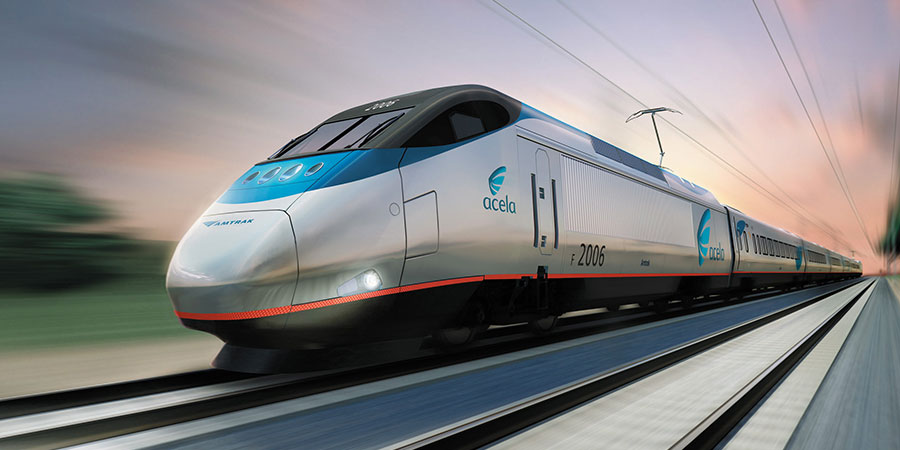 Skip the Holiday Season Traffic
Traveling during the holiday season, and during winter in general, is stressful. The weather seems to slow everything down except the crowds. Everyone is in a hurry to get to their families - or to get home from seeing their families - which is evident in every airport and interstate. For North American trains like Amtrak, though, the winter months are generally the slow season.
As you arrive at the station, there are not likely to be huge masses of people blocking the concourses or clogging up security. In fact, there is no security to have to pass through, freeing up even more of your time. Traveling through major Amtrak hubs gives you the additional benefit of complimentary Red Cap service, in which an employee will transport your luggage to your train for you. Enjoy extra time to wander the station without your baggage and easy boarding when the time comes. Now, there will be more station traffic in places like Europe where rail travel is a way of life; however, European rail lines make up for this in efficiency. And best of all, you can still skip the craziness of the airports and roadways.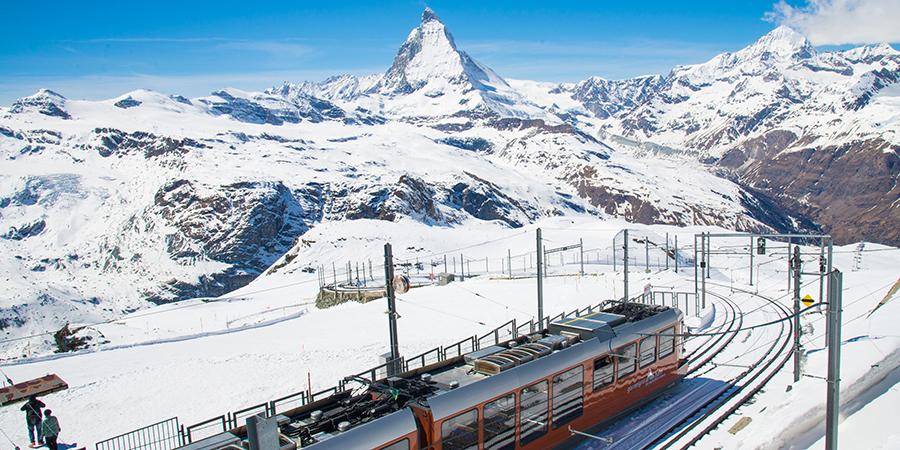 Rejoice! Winter Train Vacations Are Less Prone to Weather Disruptions
Don't let the weather warp your travel plans this winter. Snowy or ice-covered roads no longer have to slow you down, and flight cancellations are old news. Your cold-weather escapades can often run as planned, thanks to trains. Rail lines are better equipped to deal with the elements, and while delays may occur, it is much less likely that the rail line will cancel your train altogether. Even on trains like VIA Rail's Canadian or Switzerland's Bernina Express - routes that see a great deal of snow - you can rest assured that the engines are up to the task.
The regular movement of the train disperses most snow, and snow plows keep the tracks clear of significant accumulations. Further, switch points are often heated to keep the mechanisms from freezing. The only time that winter train vacations run into substantial problems is if a severe storm produces treacherous precipitation rapidly or if there are downed trees, branches, or wires. And this means…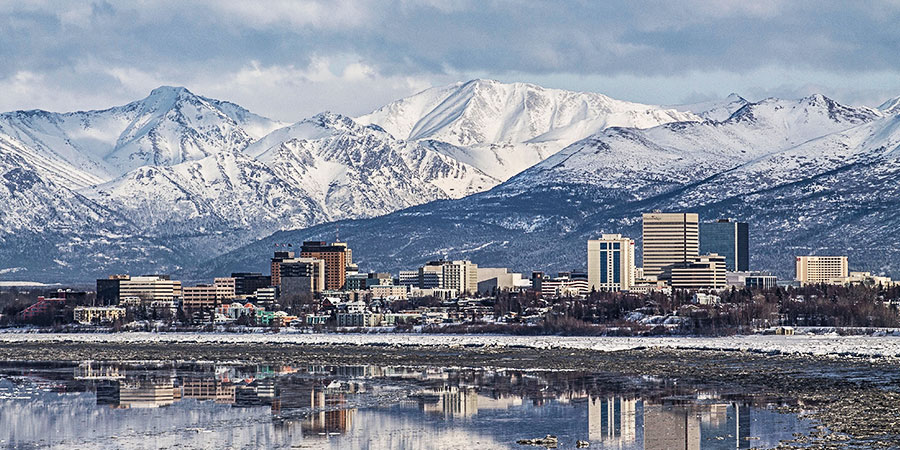 You Can Embrace the Snow and Ice For Once
While warm and cozy in your train car, admire how the winter changes your surroundings. Even the angular buildings of modern cities are softened under a layer of snow, creating a winter wonderland wherever you travel. Look upon icicles clinging to rooflines and tree branches and evergreens nestled in a nest of snow. Instead of focusing on keeping your eyes on the road, you are free to take pictures of the fluffy white landscapes or look for winter animals along the tracks. Traveling through Canada's Rocky Mountains, Alaska, or America's northern national parks brings opportunities to spot things like moose, elk, deer, and maybe even a hungry bear taking a break from hibernation!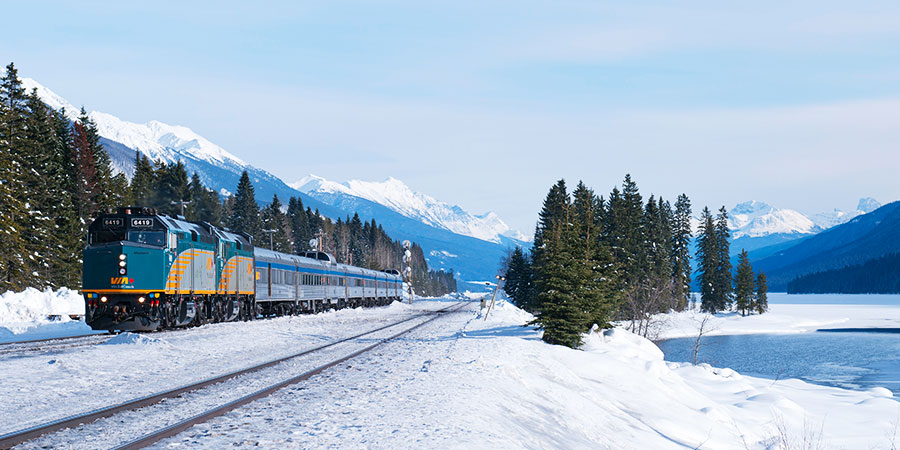 Enjoy the Slower Pace of a Train Trip
Perhaps the best part of winter train trips is the chance to relish the journey rather than just your destination. Sit with a cup of coffee or tea and recharge while the route unfolds. Whether you are on a long-distance train with many hours - or even days - ahead of you in the wintry wilderness or on an intercity course, this is your chance to relax. Make the most of your time as you venture between Points A and B by shopping for holiday gifts (if your train has Wi-Fi), researching attractions in your next destination, reading a cozy winter story, or watching your favorite (pre-downloaded) Hallmark movie. You could use your travel time to rest in preparation for the holiday festivities, sightseeing, or familial interactions that await at the other end of the tracks.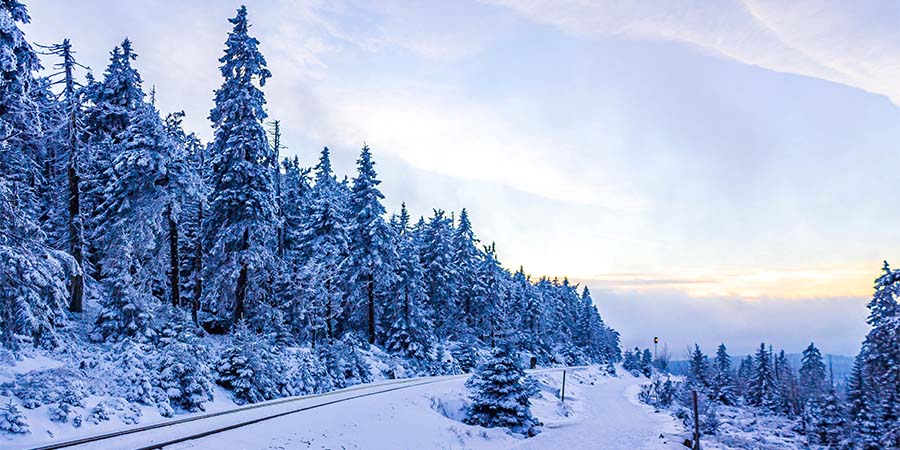 See Beloved Winter Destinations at the Most Wonderful Time of Year
Amtrak, the Alaska Railroad, the Canadian, and many trains throughout Europe provide access to places made all the more magical by the coming of winter weather. Ride the Canadian Snow Train through the incredible Rockies of British Columbia and Alberta or Switzerland's Glacier Express through the awe-inspiring Swiss Alps. The Alaska Railroad takes you to places where the northern lights dance across the sky, or you can see the aurora in Lapland. If it is holiday season wonders in romantic cities you seek, venture to Europe's timeless Christmas Markets.
Even better than seeing all these places in their full winter-weather splendors, the cold months are the off-season for many locales. That means that you can wander through villages or cities without tons of people blocking sightseeing hotspots. As long as you are dressed for the weather, nothing can stop your adventure.
Rail Vacations in the Winter Months Include Everything You Need
The holiday season rush can make it difficult to find hotel accommodations, book transportation, etc. Winter train trips include everything you need for a successful vacation with zero effort on your part. Our rail vacation packages are thoughtfully composed by travel experts and include independent tours and escorted expeditions. Both vacation types set the tone for wonderful adventures.
Enjoy hotel accommodations in locations convenient for travel and sightseeing. Train travel or motorcoach transportation is included between the destinations, though you will need to book your own flight or train trip to the beginning point. Embrace new experiences while on included excursions, highlighting the local ambiance and the wonders that only winter months can bring. Let us show you.