It's hard to imagine a train-free Switzerland. But before 1847, there were no internal train routes in the country. Switzerland's first train route, which went 16 kilometers from Zurich to Baden, opened in 1847. Nicknamed the "Spanischbrötli-Bahn," the new train made it easy for Protestant Zurichers to come to "crazy" Catholic Baden to eat sweet pastries (like Spanischbrötli, for which the train was named), sing, and let loose at Baden's thermal spas.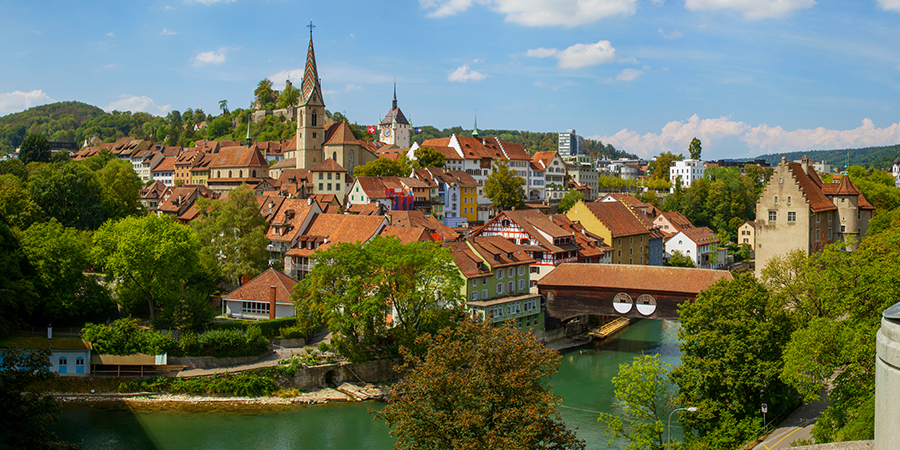 Baden, which means, "to bathe," was a popular destination even before a train connected it to Switzerland's largest city. In the Middle Ages, for example, the spas in Baden were a well-known escape for dignitaries. And during the Reformation, many Protestant Zurichers found themselves fleeing to Baden for the kind of elusive fun that only Catholics could have back then.
Today, Baden is a great day trip from Zurich-not the least because you get to ride a historic train route to get there. Granted, it's a short thrill-today the non-stop train trip takes only 16 minutes. But it's convenient; you can get to Baden non-stop twice an hour from Zurich's main station.
A delightful medieval village, Baden has everything you could want in a spa town: the semi-required clock tower, the cobblestoned old section, and the towering castle ruin. It's also perfectly sized for strolling-or for bathing in its thermal waters.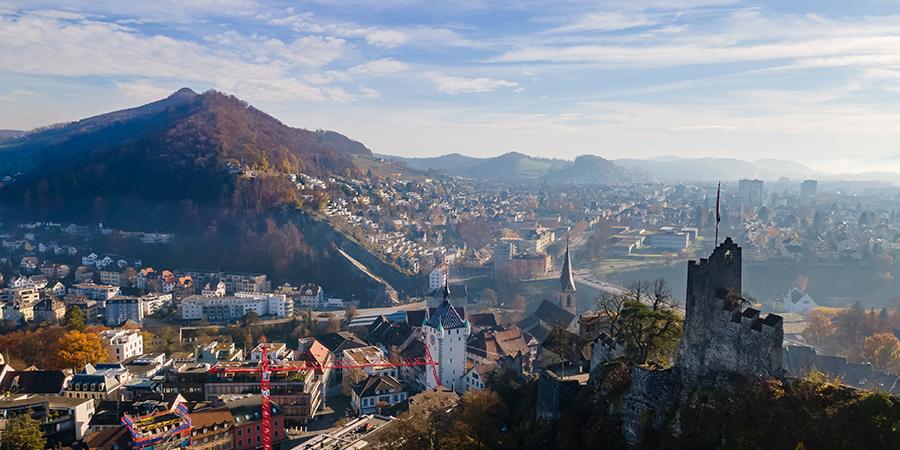 Home to eighteen sulfurous springs, Baden's spas have been used since Roman times. One way to discover them is to simply go for a walk along the Limmat River. Near the Limmathof Hotel, you'll find a steaming footbath located along the river near the original hot spring. In mid-walk, you can just take off your shoes and socks, sit on a bench, and enjoy a soothing, steaming soak.
When in Baden, be sure also to eat a Spanischbrötli pastry. After all, this is what the historic train that went from Zurich to Baden was named after. Before the train route opened, servants of well-to-do-Zurichers had to walk all night, 16 kilometers each way, to be able to get these pastries and bring them back to their masters in time for breakfast. A specialty that dates back to at least 1780, today its sweet buttery combination of hazelnut and carrot is available almost anytime at the Moser's bakery in Baden.
Another reason to come to Baden is to visit the Museum Langmatt. It's one of Baden's most beautiful turn-of-the-century mansions, built by Karl Moser in the style of an English country house. It also has gardens, a trickling fountain, and grass worth taking off your shoes for. Going on a tour of the interior is enjoyable too. While you may not recognize the names of the former owners (the Sidney Brown-Sulzer family, who founded what is now ABB), you will recognize a few other famous names amongst the French furnishings inside the house. Like Degas, Monet, Renoir, Pissarro, and Cézanne.
Vacations By Rail offers a variety of Swiss train vacations. Contact a Rail Specialist with Vacations By Rail to learn how you can make your trip to Switzerland one of a lifetime.