For a country smack in the center of Europe whose size is roughly the same as the state of Arizona, Italy has undoubtedly left a meaningful impression on the world. It is a place whose food speaks to love and tradition and whose wine should be drunk slowly, allowing all the carefully crafted flavors to blossom. It is all beautiful landscapes, influential art, and slow-burning history built on the shoulders of the Roman empire and transformed over thousands of years. Italy is meant to be savored.
Traveling by rail and exploring cities and villages from top to toe allows you to do just that. Find inspiration for your next getaway in this list of the best cities in Italy to visit on a train vacation.
Como
Located near the Swiss/Italian border among the Italian Alps, Como is a lakeside destination with some of the most stunning scenery in northern Italy. This resort town features a fortified Old Town and great historical architecture. The streets are wide and easy to explore, lined with restaurants, museums, and pretty buildings dating to the medieval age and earlier periods. And the town is just part of the appeal of this destination. The other is the water.
Whether you wander along the lakeside promenade or set out on a Lake Como cruise, the surrounding scenery is breathtaking. Enjoy the opportunity to visit beaches and look upon forested foothills and ornate lakeside architecture. The lake is surrounded by charming resort towns, all of which are accessible via the water. If you crave sightseeing further inland, Como offers easy rail access there, as well, taking you to cities like posh Milan within an hour's travel. Como is a wonderful base for explorations and a delightful destination, making it one of the best places in Italy
Venice
"The Floating City," "The City of Canals," and "The Queen of the Adriatic": Venice is a beautiful city whose nicknames are as bountiful as its allures. Venice is one of the best cities to visit in Italy to experience history. Its roots date to 800 B.C., when the first inhabitants started construction on the lagoon. Today, narrow canals connect the city's 100 islands, and pretty bridges, such as the Rialto Bridge over the Grand Canal, make it possible to explore on foot. There are gorgeous squares, including St. Mark's Square, home to St. Mark's Basilica and Doge's Palace, and plenty of museums and galleries.
Venice is a city of music and art, cuisine and culture. It is a destination whose romance can be measured in its Venetian Gothic architecture, gondolas floating down the winding waterways, and narrow streets lined with al fresco cafés and pretty buildings. Whether in pursuit of one of the one-of-a-kind painted masks or to be serenaded while you glide under bridges, there is much to love about Venice.
Sestri Levante
Enjoy a warm and colorful welcome to the Italian Riviera in coastal Sestri Levante. This small village is gaining popularity and has an idyllic setting on a peninsula between the Bay of Fairy Tales, named for Hans Christian Andersen. The Bay of Silence on the other side of the city is widely regarded as one of the most enchanting places on the Riviera, with its pristine sandy beach and waterfront promenade. Sestri Levante has a charming Old Town, where labyrinthine streets weave past pastel-hued buildings housing homes, boutique stores, and restaurants serving delicious food typical of the Genoa area, like pesto and focaccia. Outdoor lovers also appreciate that there are hiking trails to Punta Manara from Old Town, putting breathtaking panoramas within reach.
Perhaps the best thing about Sestri Levante is its proximity to other locales throughout the Italian Riviera. Travel to the Cinque Terre, a set of UNESCO World Heritage Site villages, by rail and while cruising on the Ligurian Sea. Portofino, San Fruttuoso, and Santa Margherita are other elegant port towns that are easily accessible. If your idea of dreamy scenery resembles stacked villages and brilliant blue water, look no further than Sestri Levante.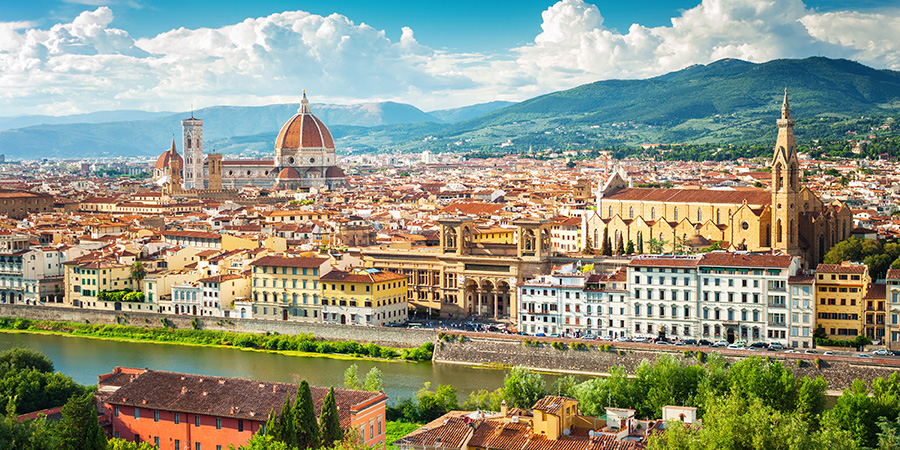 Florence
When planning a visit to Italy, adding Tuscany, particularly its capital city, to the itinerary is a must. Florence is where the Renaissance movement started and is known for its incredible art and history. The city's historic center is a UNESCO World Heritage Site, and there are so many iconic points of interest within walking distance, including the Uffizi Gallery, home to over 2,200 pieces of art; Ponte Vecchio; and the Cathedral of Santa Maria del Fiore.
Tuscany is beloved for its countryside and the fresh products produced within it. As such, Florence is surrounded by rolling hills, olive groves, and vineyards, setting a beautiful backdrop for any explorations outside the city. Italy's railway network makes traveling from Florence to nearby Tuscan destinations easy. Trains venture to Siena, whose fortified historic center is one of the best preserved in Europe, and Lucca, where old-world Italy comes to life before your eyes.
Traveling outside the Tuscan region - but still within an hour of Florence - takes you to Bologna, the undisputed culinary capital of the country. Some even go so far as to say it is the world's culinary capital. With markets presenting locally made balsamic vinegar, parmesan cheese, and parma ham and award-winning restaurants at every turn, you have endless opportunities to taste your way through Italy. There is so much within reach in Florence.
Naples
Set on the Tyrrhenian Sea's Gulf of Naples, Naples is the gateway to all the colorful scenery of the Amalfi Coast. This Italian charmer dates to the ancient Greeks and is a trove of history. Visit ancient castles like the 13th-century Castel Nuovo or waterside Castel dell'Ovo, or wander through Old Town to see its fountains, cathedrals, and well-preserved buildings. Its history extends underground to the catacombs, caves, and original underground Forum. Naples also has a fantastic culinary scene benefitting from the fresh seafood and magnificent produce grown in the region.
Perhaps Naples' greatest allure is its positioning along the Amalfi Coast. You can easily venture to the posh resort town of Sorrento, beloved for its citrus production, or to places like Pompeii and Herculaneum, whose fossilized remains are unlike anywhere you have experienced before. Taking to the water instead allows you to venture to Positano, the city of Amalfi, and the island of Capri. It is no wonder Naples is one of the best cities in Italy to visit for seaside splendors.
Rome
Italy's capital city, and a place whose influences are felt around the globe, Rome is an absolute treasure. Ancient history abounds, and explorations can take many shapes. Venture to iconic sites like the Colosseum, the Roman Forum, the Pantheon, the Spanish Steps, and the Trevi Fountain, or spend your day underground in the Catacombs. Just outside the city, Vatican City is one of Rome's most popular places to visit. This holy city is as appealing for its ties to Roman Catholicism as for its cultural significance and breathtaking artworks. From the Sistine Palace and its marvelous ceilings to the Vatican Museums and Gallery of Maps, Vatican City brims with unique experiences.
Your touring can also be based around food, as the city is renowned for its culinary offerings, such as carbonara and cacio e pepe. Sample gelato while strolling through the atmospheric squares, or sit at sidewalk cafés sipping an espresso, immersed in this life-changing destination. Rome's all-encompassing allures make it an Italian destination to remember, regardless of if it is the focus of your travels or a stop on a grand tour of many cities.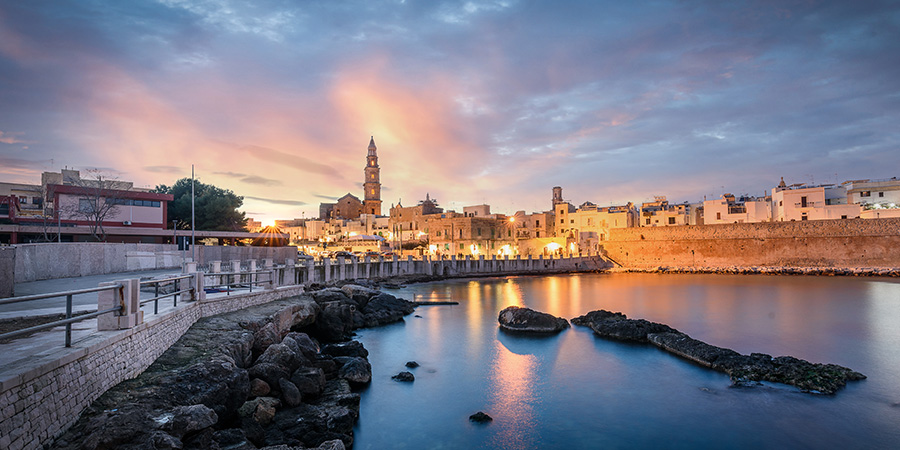 Monopoli
Venturing into the "heel" of the Boot, Monopoli is an exceptional base from which to explore the Puglia region. This small town has an ancient undertone felt in its delightful Old Town and amongst its whitewashed buildings adorned with colorful flower boxes. Small passageways and narrow streets lead to lovely piazzas and make exploring on foot a joy. The Basilica of the Madonna della Madia, an ornate Roman Catholic Cathedral, sits at the town's centerpiece. However, its colorful harbor, where boats bob in clear, turquoise water, is a close second. Monopoli astounds visitors with its pristine beaches - not just for their varied shorelines and clear water but also for the magical backdrop the layered city provides.
Nearby, Alberobello, with its prehistoric-styled Trulli homes, and Matera, home to UNESCO World Heritage Site cave dwellings, give further insight into the rich history of Puglia, dating long before the Spanish occupation and Roman Empire. Since so many travelers stay in the northern and central metropolises, Monopoli and its surrounding towns have a sleepy, serene feel that allows you to embrace what it means to explore Italy fully.
Taormina
Old-world ambiance awaits when you travel to Taormina on the island of Sicily. Often left off lists of the best places to visit in Italy, this city has been attracting visitors for hundreds of years. Taormina is a distinctly Mediterranean locale with arid landscapes and some of the country's best beaches. Taormina shines as a posh resort town overlooking the Ionian Sea yet retains its ancient streets and landmarks that speak to the region's deep history. The ancient Greek Teatro Antico di Taormina is perhaps the best-known site in the city; however, there is much to discover. Wander along Corso Umberto, the main street, for shopping, dining, and access to memorable sites. Soak in the atmosphere while meandering through the city's piazzas, including Piazza IX Aprile with its enchanting checkered tile.
Taormina also makes a wonderful base from which to explore Sicily as a whole. Set out to places like Catania, or visit Europe's largest volcano, Mount Etna. Nearby seaside villages provide oceanic delicacies and tastes synonymous with the region. Sicily is a little slice of Italian heaven, and Taormina is your key.
Italy's terrain hosts some of the most intoxicating destinations globally, from its mountainous north to the gentle hills of the interior and, finally, the dramatic coastlines. Joining an Italian rail vacation puts them within reach in the most scenic, immersive way possible. To see where we can take you or to book your dream vacation through "the Boot," contact a Rail Specialist.