With the gray skies and chilly winter temperatures still firmly grasping much of the United States, many of us already dream of the sunny days ahead. The longer daylight hours bring unending opportunities to sample cultures and see amazing places. Warmer weather means setting out on foot comfortably, witnessing the transformation as cities blossom to life once more. It is never too early to start planning your summer vacation, and Vacations By Rail is here to help you decide where your travels will take you. Here are our picks for the top places to visit in the summer.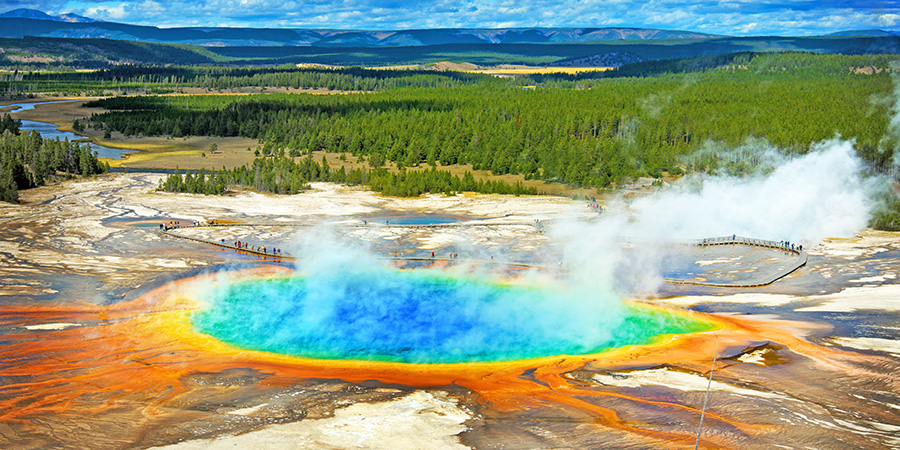 Summer Holiday Destinations in the United States
Some of the best places to visit are located right in your backyard. America's sprawling terrain speaks to the adventurous and innovative spirit of the nation. Awash in diverse landscapes, climbing and plunging time and again, and booming cities, each with a distinctive flavor, there is no shortage of incredible destinations. For your summer travels, consider setting out for:
America's Great National Parks
The United States is home to 63 national parks and countless national park sites. These protected lands are as unique as the states that house them, featuring colorful canyons, lush forests, and mountains that seem to climb into the sky. Yellowstone, the country's first national park, delights visitors with its geothermal activity. Grand Canyon National Park's iconic views make it easy to see how small we are in the grand scheme. Glacier National Park and Rocky Mountain National Park's dramatic mountain scenes and colorful lakes invite activities of all types. Join the Great Parks of the Southwest or America's Great National Parks to experience the astonishing American landscape by train as you travel this summer.
Alaska
Far in the north in the Land of the Midnight Sun, America's Last Frontier sets the tone for once-in-a-lifetime adventures. Visiting in the winter, when the landscape is adorned in its snowy blanket, is magical, but summer brings a fresh look to the untamed land. Over 1,500 species of rainbow-hued wildflowers grace the alpine meadows, and wildlife emerges from its winter slumber. Alaska's positioning near the arctic circle means that the summer months bring nearly 24 hours of daylight in some regions, which means you can keep exploring long past bedtime. Whether you want to focus your adventures in Alaska's heritage-filled cities or the outback, there is plenty to see while touring Alaska the Greatland.
Colorado
The beautiful state of Colorado is a haven for nature lovers and travelers who wish to step back in time alike. Its mighty Rocky Mountains, winding waterways, and coniferous forests set a wild backdrop for your travel this summer. Visit mining boomtowns steeped in tales of the past and cities where gastronomes and adventurers are equally enthralled. Colorado's railway system connects these locales and showcases the unique terrain as it rises and plunges throughout the state. No wonder this rugged state is one of the best places to visit in the summer. Make Colorado the focus of your trip on the Colorado Rail Experience or a stop on a longer journey while on the Colorado Rockies to Yosemite National Park. Either way, the warmer months bring so much to the table in this picture-perfect state.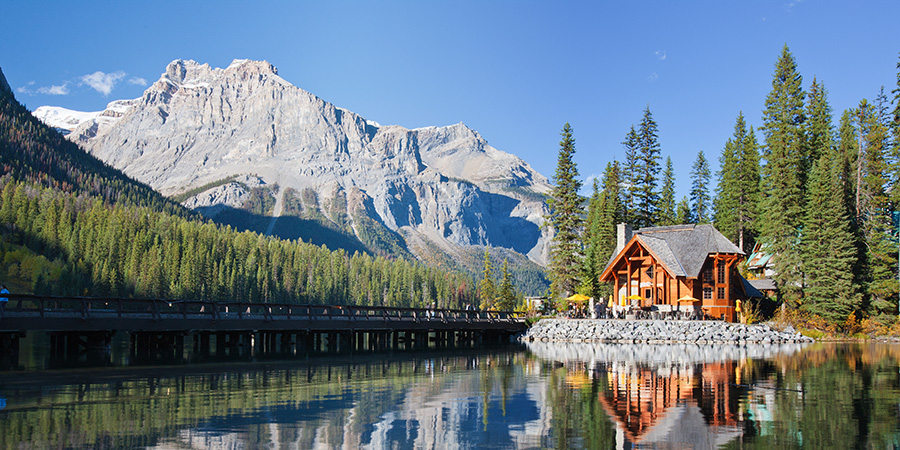 The Best Places to Visit in Canada
Amazing places lie just down the tracks in the Great White North, Canada. This vast country's gorgeous mountainscapes and wind-swept prairies sit aside cities where culture is complex - formed by an amalgamation of heritages and inspirations. VIA Rail's trains offer an invaluable connection between these locales, allowing travelers to experience as much or as little as they desire in fantastic destinations from coast to coast. Set out this summer with locations like these on your horizon:
The Canadian Rockies
As you look at vacation ideas for your June, July, or August travels, consider answering the call of the wild in the breathtaking Canadian Rockies. This mountain range sits on the border of British Columbia and Alberta, within reach of several major cities, including Vancouver and Calgary. The wild terrain of the Canadian Rockies is marked by several national parks, with the most popular being Banff, Jasper, and Yoho. While snow may linger on the highest peaks in the summer months, and Columbia Icefield remains a frozen wonder, the region's waterfalls, hiking trails, glacier-fed lakes, and lookouts make it one of the best places to visit. With the promise of great adventure, set out into the mountains with Vacations by Rail's Canadian Rockies By Rail or Best of the Canadian Rockies tours.
Churchill
When considering places to visit in the summer, only some people would think to look near the arctic circle. However, that is precisely where you should focus your attention if you hope to experience wildlife like never before. Churchill, Manitoba, is the world's polar bear capital and boasts an impressive population of whales off its shores in the Hudson Bay. Traveling to Churchill during the summer on our Belugas and Bears by Train journey presents a unique contradiction. Though this time of year brings rising temperatures and flowers overtaking the tundra, elements of winter that speak to the region's true nature remain. This small town is a trip-of-a-lifetime destination.
The Maritimes
Guided by lighthouses, stunning coastlines, and rich seafaring history, Eastern Canada's Maritime region is as charming as it is scenic. This part of the country is composed of New Brunswick, Nova Scotia, and Prince Edward Island, with each province packing a punch in extraordinary sights and activities during the summer months. An overnight journey from Montreal on VIA Rail's Ocean opens this coastal region to exploration. As its route ends in Halifax, driving through the provinces offers an up-close look at their most surprising features. There is so much to uncover, from the incredible Cabot Trail on Cape Breton Island to the Bay of Fundy's dramatic tides and Prince Edward Island's cinematic landscapes. The Eastern Canada Coastal Explorer and High Tides and Scenic Trains tours put some of the region's best offerings within reach.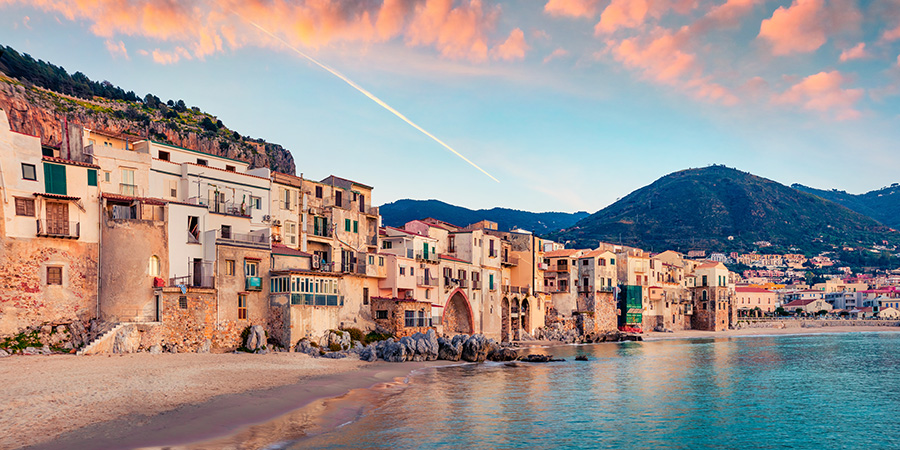 Summer Destinations in Europe
Summer holiday destinations throughout Europe speak to a different type of traveler. Vacationers who venture across the Atlantic seek culture, cuisine, and new experiences in ancient locations. The continent has much to offer in the way of natural beauty, with places like the Swiss Alps, Rhine Gorge, Danube Delta, Scottish Highlands, and Mediterranean coastlines complementing the colorful cities. Notable locations abound throughout this landmass, and as such, this is just a sampling of the best places to travel in Europe this summer:
Italy
Where else can sumptuous wine meet world-renowned cuisine and nearly 2,000 years of history than Italy? This boot-shaped country tops many a bucket list - for a good reason. Tuscany's undulating landscapes are covered in olive orchards and rolling vineyards. The Amalfi Coast presents sparkling azul waters and quaint fishing villages. Great cities like Naples, Rome, Florence, and Venice each shine a unique spotlight on Italy's culture. These things are amplified in the summer, with the landscape at the pinnacle of its glory. Explore the Highlights of Italy featuring Tuscany and Venice, or dive into the Best of Italy while exploring popular cities, Lake Como, and the Amalfi Coast.
Switzerland
If there is one thing Switzerland is known for, it is its otherworldly beauty. When its images come to mind, they are typically coated in a blanket of snow and ice; however, Switzerland is one of the best summer destinations in Europe. The mountainous landscape becomes lush and green, with a kaleidoscope of wildflowers gracing its alpine meadows. Instead of hosting snowboarders and skiers, its resort towns offer a base for adventures of many other types. Visitors can cruise the waters of Lakes Como, Geneva, or Lucerne or hike iconic mountains. Touring the car-free cities on foot or while riding beloved railways is a fantastic way to look at the architecture and terrain hidden under snow during winter. All of this makes summer a magical time to visit Switzerland. Capture its wonders as you embark on the Grand Train Tour of Switzerland or the Best of Switzerland by Rail.
The Iberian Peninsula
Sunny skies and some of the world's most vibrant cultures greet travelers on Europe's Iberian Peninsula. This little slice of heaven is composed of Spain and Portugal, and their story is told piece by piece through wine, food, music, and dance. Discover World Heritage Sites as you wander through cities wrapped in centuries of culture. As you move outside their bounds, the Mediterranean countryside bursts to life with vineyards, mountains, orchards, and colorful valleys. Because these countries are renowned for their sunny skies and brilliant blue ocean surroundings, there is no wrong time of year to visit, yet the summer offers even more sightseeing and culture to behold. Venture through Spain and Portugal on their regional trains, or connect the two by sailing along the picturesque Douro River. Embark on the Grand Tour of Spain and Portugal to get a taste of everything the countries offer or focus your summer vacation by joining a culture and cuisine tour in either Spain or Portugal.
When looking for summer vacation ideas for this season and beyond, look no further than Vacation By Rail's catalog of escorted and independent rail journeys. Our tours connect you with some of the best places around the globe and are crafted by experts with fantastic experiences in mind. Contact a Rail Specialist to find your perfect escape.