The chariot of choice for thousands of travelers each year and a train so beloved it decorates the face of Canada's $10 bill, VIA Rail's The Canadian offers a journey of epic proportions. Each stretch of the train's 2,775-mile course unveils a new piece of the puzzle, which together form the Great White North. Meander through five vast provinces whose show-stopping landscapes are composed of lakes, mountain ranges, deep forests, and wide-open prairies. Make stops in beautiful cities that expose the essence of Canada. Whether you begin this journey in Vancouver and travel inland toward Toronto or follow the course in the opposite direction, do so in comfort by selecting Prestige Class for your journey.
VIA Rail Canada offers three service levels on The Canadian: Economy, Sleeper Plus, and Prestige. While each class has distinct benefits, Prestige appeals to travelers looking for the ultimate in luxury - a rail experience steeped in amenities and more like a rolling five-star hotel than a long-distance train. If we have piqued your interest, here are the answers to your most pressing questions about why Prestige Class is the premier choice for your next rail vacation.
What Perks Come with Prestige Class on VIA Rail Canada?
From the moment you book your trip aboard The Canadian, your experience is elevated. Enjoy priority check-in at your departure station, access to exclusive lounges, and expedited baggage handling at the train stations. Once you step aboard the train, your dedicated concierge escorts you to your cabin and offers personalized service for the remainder of your expedition, including turn-down service at night.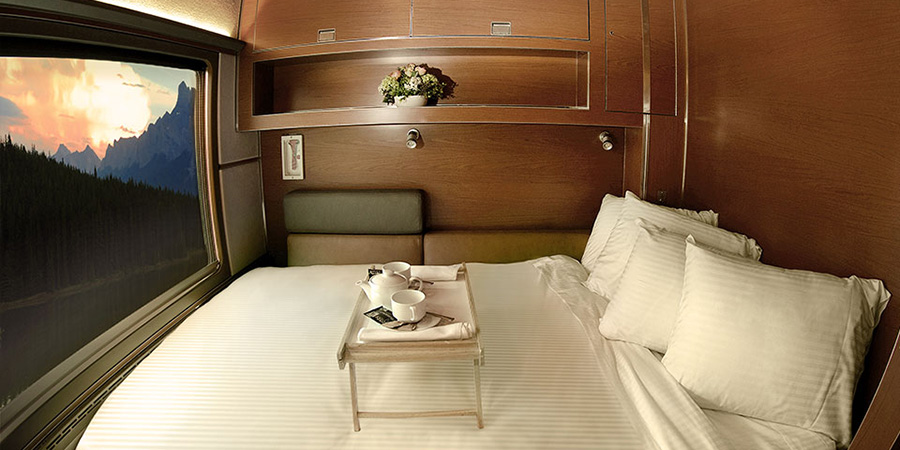 What Are the Sleeper Cabins Like?
Natural light floods the room in Prestige Sleeper Cabins. The first thing you may notice when you walk in is the sizable picture window from which unmatched views of Canada await just down the tracks. These windows are 60 percent larger than those in Sleeper Plus class. The next thing that you register is the size. Offering 50 percent more floor space than the train's cabins for two, Prestige Class cabins have enough space to move about comfortably.
Commencing your journey during the day means a modular, L-shaped leather sofa offers plenty of seating. Timeless wood paneling covers the walls, and well-placed lighting sets the tone for relaxation. At night, the rooms are transformed, and pull-down double beds, expertly made with sumptuous linens, fill the cabin. And because the bed faces the window, none of the views go unseen.
What In-cabin Amenities are Available?
Each Prestige Class cabin on VIA Rail's The Canadian includes a well-stocked minibar featuring a mixture of beverages to satisfy you during your four-night trans-Canada adventure. There is also a flat-screen TV with a selection of movies and plenty of power outlets to charge your electronics. The radiant heated walls and floors are an unexpected delight, as they ensure your cabin remains at a constant enjoyable temperature throughout the journey.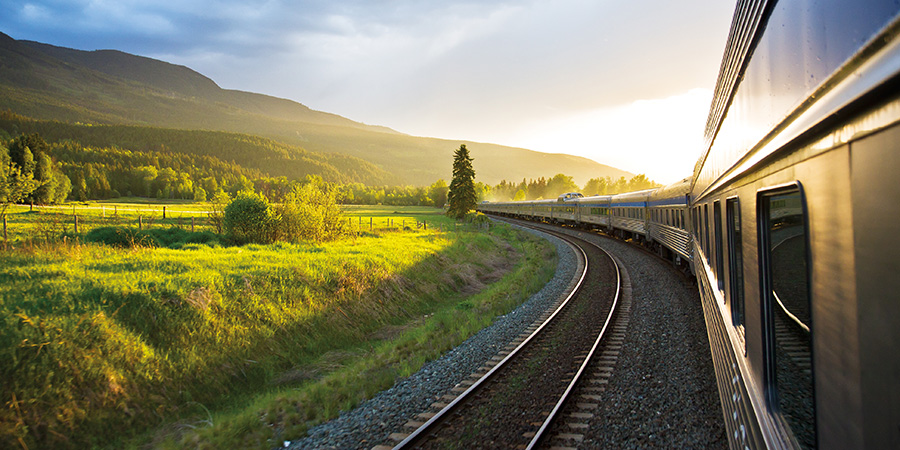 Will I Have to Share a Bathroom?
The answer is a very enthusiastic no, as each Prestige Class cabin features private en suite bathrooms. Efficiently designed to include everything you need, these compact facilities offer a toilet, washbasin with a sizable mirror above, and a glass-doored shower. Fluffy towels and high-end toiletries come standard. Additionally, efficient storage space means you can also store some of your toiletries in the en suite. No more shower caddy and flip-flops!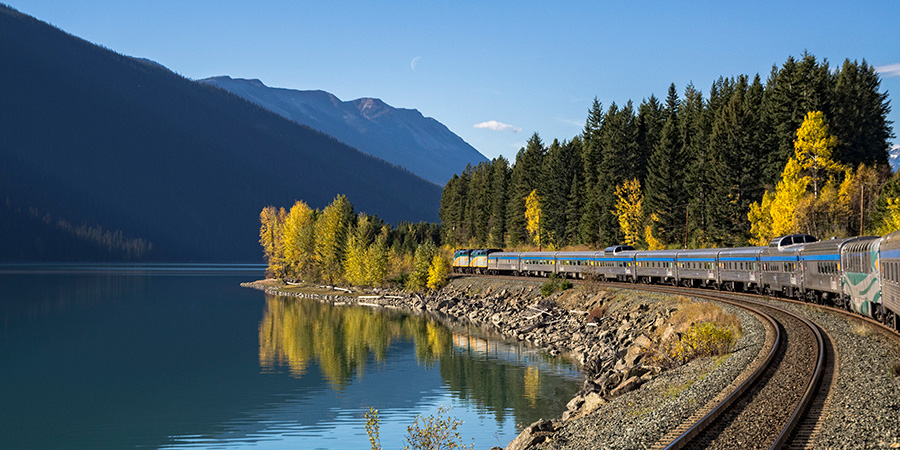 Should I Bring My Own Food?
You can, but why would you want to? Traveling in Prestige Class on The Canadian train means your meals are included in your ticket price. Revel in the freedom of first-choice reservations in the Dining Car, and at your chosen mealtime, enjoy complimentary appetizers and all-inclusive drinks, including alcohol. VIA Rail's menu covers a wide range of palates, with each dish freshly prepared by an onboard chef.

Your dining experiences are not limited to mealtimes, though. Instead, snacks and all-you-care-to-enjoy drinks are available throughout the day to Prestige passengers. Your concierge can bring them to you, or you can get them in one of the lounge cars. Coffee, tea, fruit, and cookies are readily offered to munch on as you marvel at views of Canada's interior.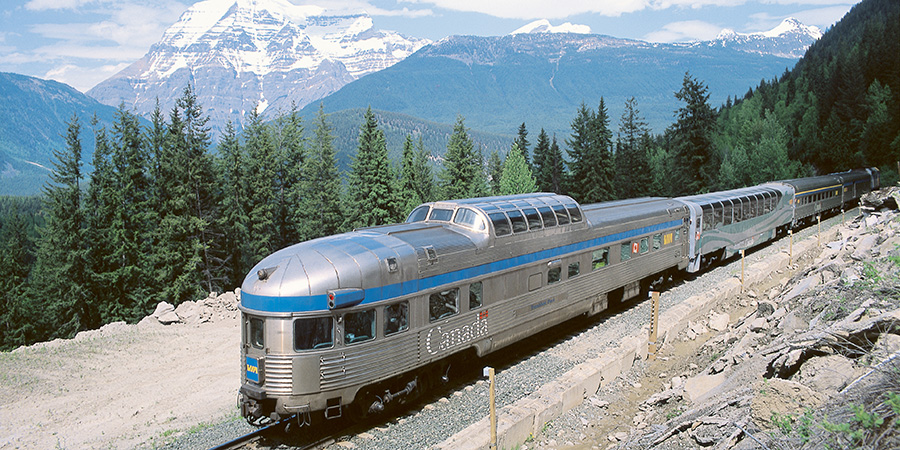 Can Prestige Class Travelers Go Anywhere Else on the Train?
One of the best things about traveling on this renowned train is its flexibility when it comes to watching the ever-changing world pass the tracks. Change your perspective by spending time in:
The Skyline Car - This is a dome car with a glass roof through which you can marvel at even the highest mountain peaks in the Canadian Rockies. Open seating in plush leather chairs ensures guests of all classes enjoy a comfortable sightseeing experience.
The Prestige Park Car - As a Prestige Class traveler, enjoy exclusive access to this signature car during select hours of the day and reserved seating at others. This lounge car is only open to Sleeper Plus and Prestige guests and includes a raised observation dome, the Bullet Lounge, and a full-service bar, which to you, is complimentary. Should you care to engage in onboard enrichment activities, this is the place to be. Wine tastings, educational presentations, and interactive talks are just a sampling of what you can expect.
The romance of the classic rail journey is not lost on The Canadian's riders. Passing through remote stretches of land inaccessible by car brings the northern landscape to life. Because there is no Wi-Fi Internet to distract you, your chances to soak it all in and form meaningful friendships with fellow travelers are limitless. Take the experience one step further by upgrading to Prestige Class. After all, Canada rail vacations are best when done in luxury.