Swiss trains are some of the cleanest and most punctual in the world. It's hard to have an unpleasant Swiss rail journey, but it's easy to learn the little things that will make a great trip even better. Follow this quick guide (and check 5 Tips for the First-Time Swiss Train Traveler Part I and Part II too) for a train ride that's as sweet as Swiss chocolate.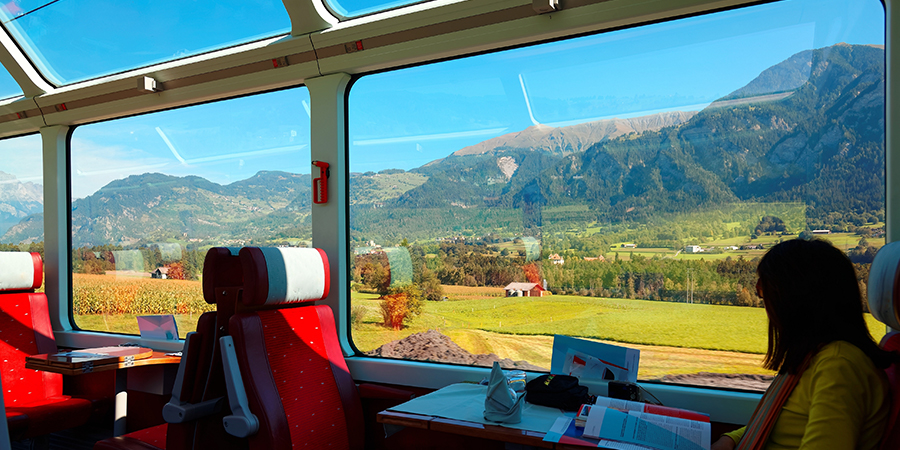 1. Open windows with caution
Ah, a nice Alpine breeze. But as you're enjoying the mountain air, an upstanding Swiss citizen comes over and slams the window you just opened shut. Don't be offended: the Swiss are known for their distaste of drafts. The train may be 100 degrees-but the Swiss local would rather sweat than feel a breeze. Consider it a cultural experience.
2. Read like a local
If you want to look like a local aboard your Swiss train, make sure to pick up a free copy of 20 Minuten/20 Minutes/20 Minuti (depending on the local language) from the Swiss train platform to read on your journey. Most likely you will be treated to a lot of American celebrity stories that don't require too many foreign language skills to understand. And bonus-the paper also works as a seat cover should you wish to put up your feet (see Part II).
3. Stop on request
"Halt auf verlangen." It's the German way to say, "This train will stop only on request." You will encounter this announcement on Swiss trains that travel through less populated areas, like Appenzell. These trains will only stop at major stations unless you request a stop. To request a stop, you push a button in the train car, which is usually located near the door. If you don't push the button before your stop, the train won't stop. And if you want to board a train from a tiny Swiss train station, check that there is no button to push to request that a train stop so you can embark.
4. Buy the night supplement
If you plan to travel late at night (typically between about 1 a.m. and 4:30 a.m.) you will be required to buy an additional ticket. It's called the night supplement and it costs about $5. Failure to have this ticket aboard required trains will mean fines of about $100-even if you have the regular ticket for your journey. When in doubt, ask. These supplemental tickets are available from ticket counters during the day or from machines or the SBB Mobile App at night.
5. Watch for reserved seats
Swiss trains don't require seat reservations. Still, every seat on a Swiss train has a number assigned to it. This number, usually found above the seat, also has a small place for a reservation card. If there's a card there, the seat is reserved for part of that train's journey. The card should show the part of the route the seat is reserved for. If it's reserved during part of your journey, don't sit there; you will probably have to move for the person who reserved it. Sometimes entire train cars are reserved for groups. If this is the case, there are usually signs on the outside of the train car. If you'd like to reserve seats ahead of time, you can go to any ticket counter or reserve them via sbb.ch. It costs about $5 per seat.