The city of Banff, located in Alberta, Canada, is the beating heart of the Canadian Rockies. With a vibrant downtown, Banff National Park and all of the mountain scenery one could hope for, Banff is a year-round hotspot for travelers. Visiting during the warmer months brings kayaking, hiking, bear tours and so much more; however, it is during the winter that the town comes to life. Whether you crave adventure or relaxation, there is something to keep you entertained during Banff's coldest days. Grab your wool socks, and check out these five things to do in Banff in the winter:
1. Find a Winter Sport
If there is one thing that Banff is known for it is winter sports. The annual 12 feet of snowfall each year in Banff makes this area perfect for outdoor activities. Banff National Park actually offers three separate resorts in which to ski and/or snowboard down the slopes of the Rockies: Lake Louise Mountain Resort, Sunshine Village and Mt. Norquay. Do not worry if going down the slopes vertically is not your thing; Mt. Norquay also offers the area's only tubing park. Ice skating is popular on Lake Louise, and every once in a while, you can join in on a pick-up hockey game, as well. There are also more adventurous sports offerings in Banff, such as ice fishing, snowshoeing tours, cross-country skiing, and even ice climbing. A sport that allows you to take a back seat while a team does the work for you, dogsledding is another favorite pastime in the region.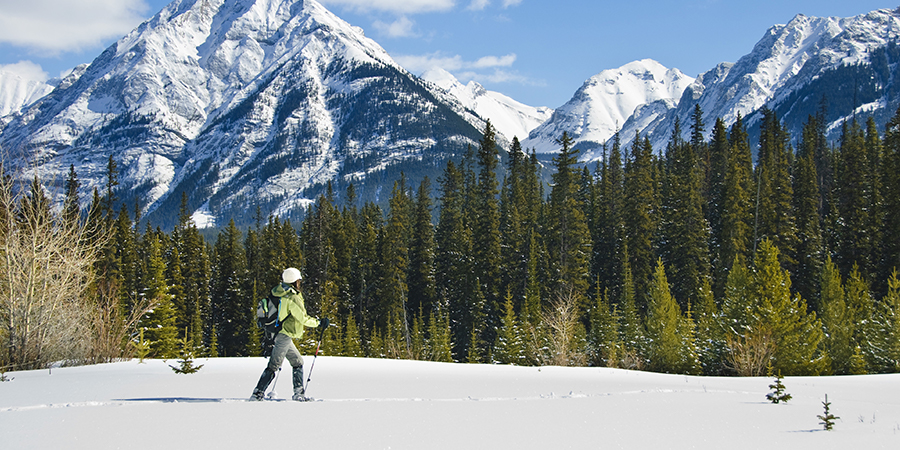 2. Take a Dip in the Hot Springs
Imagine being surrounded by snow-covered pines and gazing upon the towering peaks of surrounding mountains all the while being submerged in water that is 98-104 degrees Fahrenheit (37-40 degrees Celsius): Welcome to Banff Upper Hot Springs. Set at an elevation of approximately 5,200 feet (1,585 meters), these natural hot springs are the highest in all of Canada. For over 100 years guests have been coming to enjoy the healing powers these waters have to offer, all in a convenient swimming pool-like setting. The water that fills the pool is 100 percent natural mineral water that is only supplemented by filtered city water when the flow is too slow due to ice. The Upper Hot Springs are appropriate for all ages, and there are onsite amenities to help you recharge after your soak.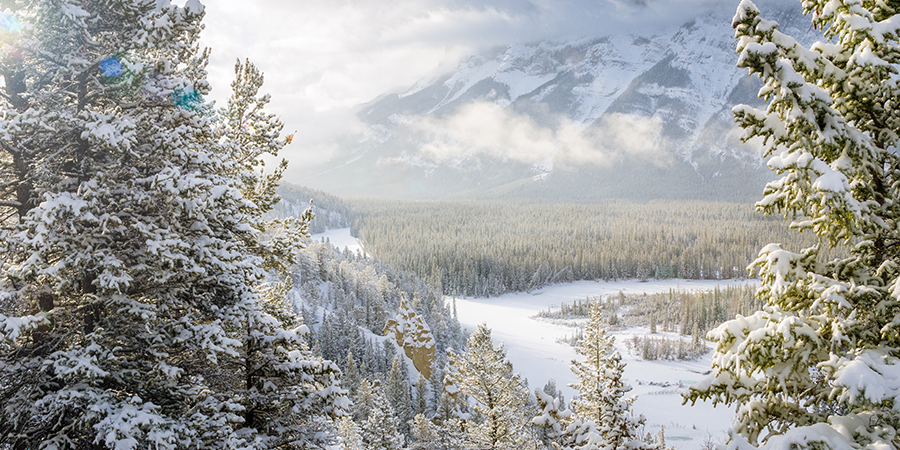 3. Shop and Dine in Downtown Banff
Even those that do not enjoy being out in nature can find plenty of things to do in Banff during the winter. The downtown vibe is excellent. A warm, welcoming community, Banff features a great art scene and exudes culture. There are a number of art galleries located throughout the town, including Canada House Art Gallery and All in the Wild Art Gallery. Museum lovers have access to the Whyte Museum of the Canadian Rockies and Banff Park Museum, Canada's oldest natural history museum. If it is shopping you seek, this lovely mountain town has it all from boutique shops to popular retails chains - and all with zero sales tax. Banff Avenue boast a wide array of retailers with offerings ranging from candy, gifts, and books to high-end apparel, winter gear, and sporting supplies. Do not forget, there is no sales tax in Alberta Province, and savings count more than spending, right? Of course, being out and about in the Canadian Rockies all day works up quite an appetite; as such, the restaurants in Banff are plentiful. There are fine dining options, fast food eateries and everything in between.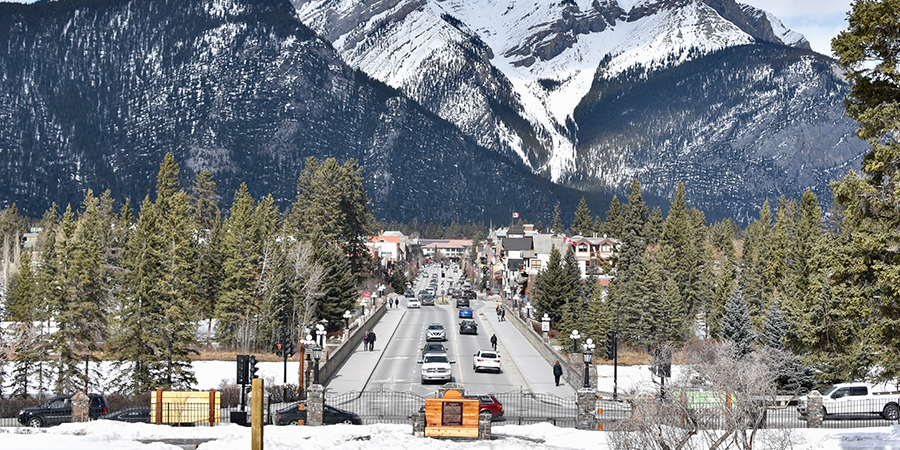 4. Enjoy a Winter Walk
One of the best ways to see all the beauty of the park and the town itself is to set out on one of the winter walking trails in Banff. There is an abundance of trails throughout the region; however, not all of them are safe for winter exploration. Your best bets for low-impact, easy trails include Stewart Canyon, Fenland Trail, Marsh Loop, and Johnson Lake. None of these trails exceed 1.8 miles (2.8 kilometers) in length and are suitable both on foot and with snowshoes. Do not forget to bring your camera along to capture incredible images of the snow-covered mountains, the stunning landscape and maybe even wildlife. For a truly spectacular display, head out just before sunrise or sunset to see the kaleidoscope of colors illuminate the sky.
A unique walking experience, the man-made trails that wind through the Lower Falls at Johnston Canyon offer easy excursions and fantastic views. The Lower Fall trail is just over a half mile in length and features a look at several of the canyon's frozen waterfalls. If you choose to continue onto the Johnston Canyon Upper Falls, the trail lengthens to approximately 1.6 miles and features even more frozen water scenery. Keep in mind that these trails can be very slippery, so wear shoes with good tread or rent some boot spikes.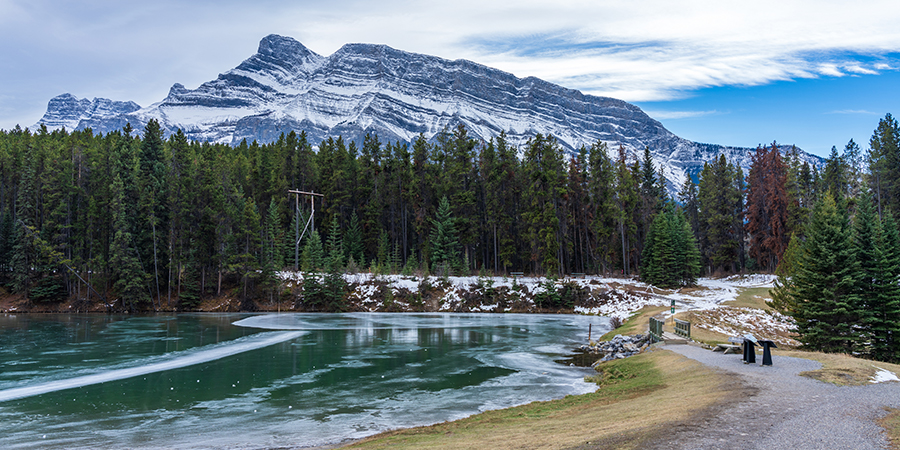 5. Take a Gondola Ride
Once you get your fill of seeing Banff from the ground (if that is possible), get a look from a new angle with a ride aboard the Banff Gondola. The journey takes approximately 8 minutes to complete, taking riders from the bottom to the peak of Sulphur Mountain. Each gondola car is fully enclosed and features 360-degree views. Four adults can fit comfortably in each car, though the gondola is suitable for all ages. Once at the top of the mountain, there are two restaurants, interactive displays, a ridgetop boardwalk, and even a rooftop observation deck.
There are several other gondola rides to choose from in Banff, as well. For another enclosed option, check out the gondola at Sunshine Village. There is an open-air gondola ride in Lake Louise that provides views over Victoria Glacier, and an open-air chairlift at Mount Norquay that looks over the Bow Valley.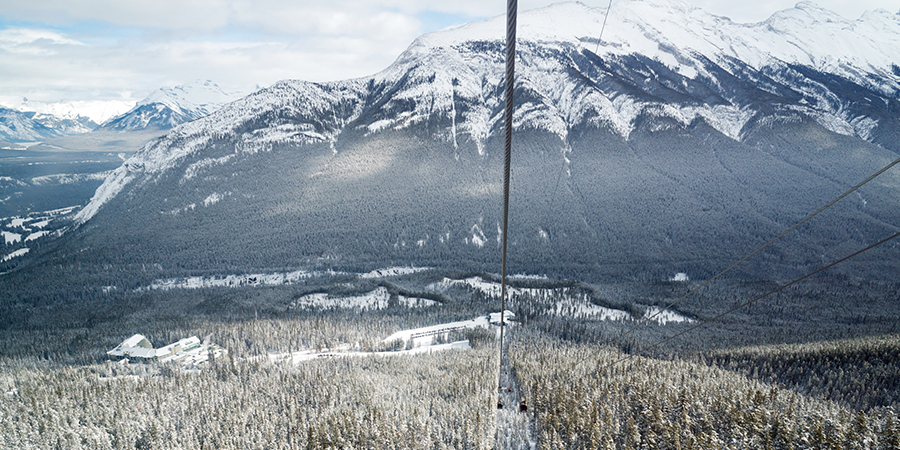 Vacations By Rail offers a variety of rail vacations to Banff. Whether you get there by train or by car, and whether you go for the sports or the sightseeing, this premier winter destination is one not to miss. Contact a Rail Specialist to learn how you can make your trip to Banff one of a lifetime.