North America's Rocky Mountains are brimming with unmatched scenery. Between the majestic mountain peaks of the Colorado Rockies to the Canadian Rockies resort towns of Jasper, Banff, and Lake Louise, there is no better way to travel to and through the heart of such unbridled natural beauty than by train. Step onboard Rocky Mountaineer for the unique all-daylight journey through nature in its rawest form.
In Western Canada select from three uniquely scenic routes traveling between Vancouver into the heart of the Canadian Rockies with its stunning national parks and charming mountain towns:
First Passage to the West
Looking for some history along with natural beauty? First Passage to the West carries history buffs on a breathtaking route past pivotal spots in Canadian history, including the Spiral Tunnels as well as the celebrated Last Spike of the Canadian Pacific Railway in Craigellachie. Rugged mountains and rushing rivers showcase the grand power of nature and stand testimony to the marvels of engineering and human will.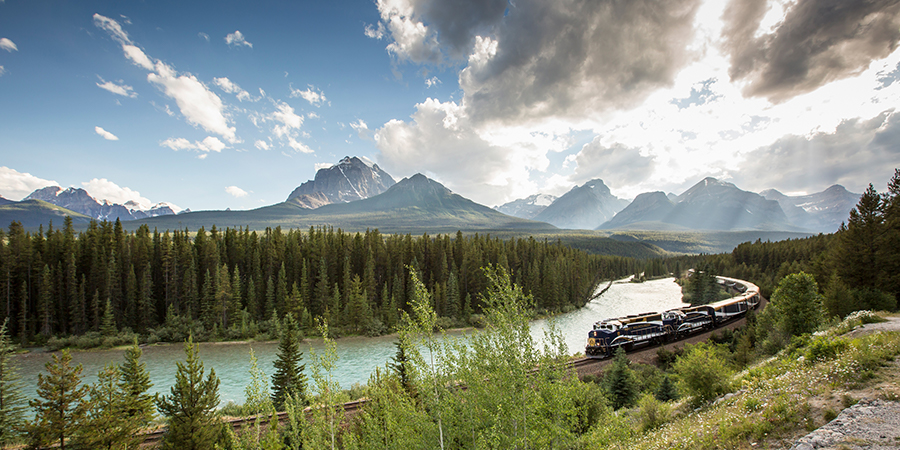 Journey Through the Clouds
Get ready for some of the most stunning views in Canada. The Journey through the Clouds route takes you past the highest peaks of the Canadian Rockies to remote vistas and scenic valleys. Visual highlights include the Fraser Canyon, the Albreda Icefields, and Pyramid Falls. Spot eagles, bears, and other wildlife on the journey from your panoramic windows or the train's outdoor viewing platform on the journey between Vancouver and Jasper via Kamloops.
Rainforest to Gold Rush
For an exciting rail adventure, hop on the Rainforest to Gold Rush route, which takes you through rugged landscapes and deep canyons between Vancouver and Jasper via the town of Quesnel. You'll pass by the largest temperate rainforest in the world, delve into the heart of Fraser Canyon, and journey through the Rocky Mountain Trench, among other highlights.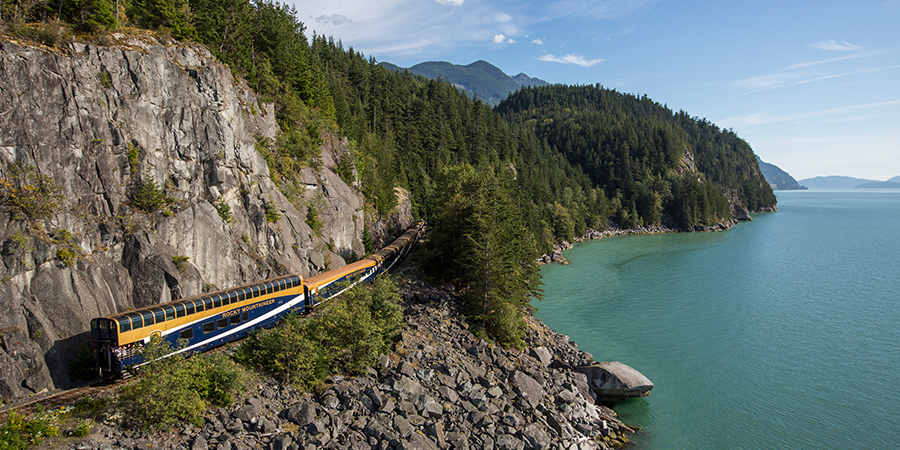 For the traveler who wants to see it all, a Circle Journey onboard Rocky Mountaineer lets guests experience 2 or 3 rail routes in one vacation. Circle Journeys provide the most rail days and are the perfect choice if "see everything" is on your list. Get ready to gasp at the blue-green waters of Lake Louise in Banff National Park and journey to Jasper's epic icefields and wildlife-packed plateaus. If you want it all, all is exactly what you'll get.
The newest Rocky Mountaineer route brings a luxurious rail journey to the United States.
Rockies to the Red Rocks
Get set to see a new side of the USA's mountain states on the ever-scenic two-day rail journey between Denver and Moab via the resort town of Glenwood Springs. Scenic highlights include Byers Canyon, the Moffat Tunnel, Mount Garfield and Ruby Canyon near the Colorado-Utah border, and Parachute Creek.