Watch as the snow-capped peaks of the Canadian Rockies pass by your windows; enjoy glimpses of mountain towns and stunning big cities; soak in the splendor of Canada all from the comfort of the rails. All aboard VIA Rail's Canadian, Canada's only cross-country rail journey. The train covers 4,466 kilometers as it makes its way between Toronto in the east all of the way to Vancouver on the west coast. Alternatively, selecting a route that begins in Vancouver takes you through the Canadian Rockies at the most optimal times of the day. The route is spectacular, with the ever-changing vistas unfolding before your eyes and the high-end amenities. Ensure your nights on the train are just as great by selecting the overnight option that is right for you.
When it comes to the sleeping accommodations on VIA Rail's Canadian, travelers can choose from three classes: Economy, Sleeper Plus, and Prestige.
Economy Accommodations
When you select Economy Class on VIA Rail's Canadian, you are assigned a comfortable seat for the duration of your time on the train. This seat serves as your window to the world, your dining table, and your bed. Each plush seat is oversized to provide you with plenty of space, features ample leg room, has a fold-down tray and reclines to ensure your overnights are as comfortable as possible. You can carry on your own pillows and blankets if you wish, or they are available for purchase on the train. During the daylight hours, Economy passengers are welcome to see the passing scenery from the domed windows of the Skyline Car. All travelers in this class share access to public restrooms at the ends of the cars; however, there is no shower available for the duration of the trip. While this option is open to all travelers, Vacations By Rail suggests Sleeper Plus accommodations for the utmost comfort during this four-night journey.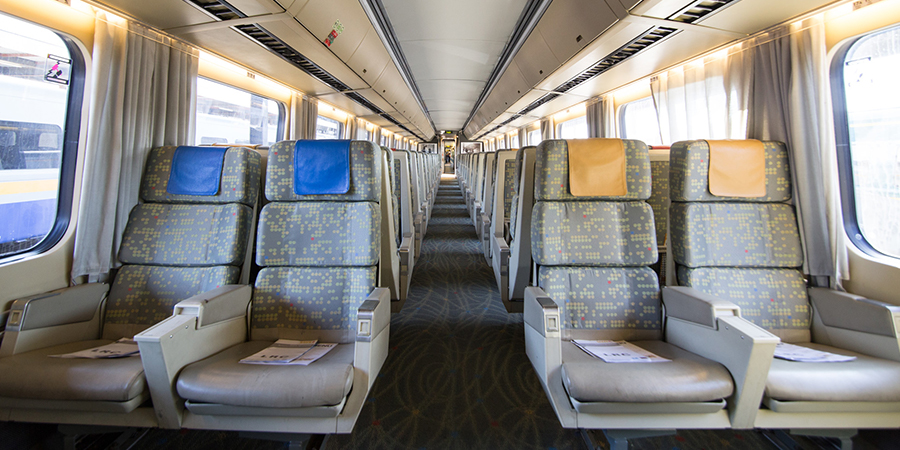 Sleeper Plus Sleeping Accommodations
Traveling in Sleeper Plus Class on VIA Rail's Canadian opens you up to a whole new world of options. During the daylight hours, you can enjoy some private time in your sleeper cabin or mingle with your fellow travelers in one of the two window-clad sightseeing cars - the Skyline and the Panorama. At meal times, there is no need to worry about purchasing food; all your onboard meals are included with Sleeper Plus accommodations. In the dining room, enjoy delicious offerings, such as Canadian trout and lamb chops for dinner. If you prefer lighter fare, snacks are available in the lounges. Of course, you can always nibble on any food you carry on, as well. And when night rolls around, there is a Sleeper Plus option to suit your needs whether you are traveling alone or with the entire family.
Semi-Private Berth - Suited for a single traveler, berths offer the most public of the sleeping accommodations of this class. During the day, berth passengers lounge on comfortable couch-like seats, which face each other, and share views out an impressive picture window. When evening rolls around, the train's attendants convert the two couches into a lower berth bed and pull down the upper berth bed, as well as a sturdy metal ladder, from above. All sheets, blankets, pillows and other bedding is provided. Thick curtains shield each berth from the noise of passersby in the aisle and create private spaces for each traveler. Berth guests have access to public restrooms and showers at the end of both the Chateau and Manor Sleeping Cars.
Sleeper Cabin for One - Also perfect for someone traveling alone, Sleeper Cabins for One offer more private space in a compact package. The cabins feature a comfortable single bed with all of the sheets, pillows, and blankets you could require. There is a small storage space in the cabin, as well a private toilet, sink, and mirror. At night, the sofa chair is removed, and lower-level beds extend out from the wall over the toilet, or upper-level beds pull down from the wall. Shared restroom and shower facilities are also convenient to these cabins.
Sleeper Cabin for Two - Suitable for two guests, two-person sleeper cabins offer nearly 40 square feet of personal space for those traveling on VIA Rail's Canadian. Take in the breathtaking views through your private picture window as you lounge in your two chairs. When evening rolls around, a staff member pulls out a lower berth bed and pulls down an upper, then dresses each bed in crisp linens. Storage space for carry-on luggage is provided in the cabin, and individual climate controls ensure each cabin is a comfortable temperature. Further, each Sleeper Cabin for Two features a private washroom with a toilet, sink, mirror, and outlet. Travelers in these cabins have exclusive access to the train car's shared shower room.
Sleeper Cabin Suite - Measuring 14 1/2 feet by 5 feet, Sleeper Cabin Suites are the largest of the Sleeper Plus cabins on the Canadian. Essentially, these cabins are two combined two-person sleeper cabins with the wall removed. This means guests have access to four folding chairs during the day, two private restrooms and four beds at night - two upper-berth beds and two lower-berth beds. Groups traveling in this sleeper train option also have access to the train's shared shower room.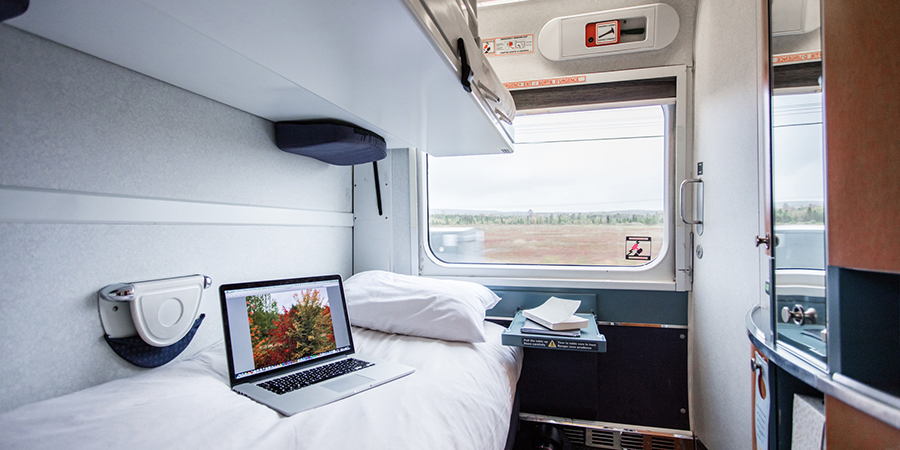 Prestige Class Sleeping Accommodations
As the newest addition to the sleeper cars on VIA Rail's Canadian, Prestige Class takes luxury to the next level. During the day, travelers of this class have access to all of the amenities they could desire, plus some, as the train chuffs along the tracks from one destination to the next. Leather L-shaped couches provide plenty of space for two people, and there is a flat-screen T.V. with a video selection, a fully stocked mini bar and a private restroom with a shower. No matter what you need, around-the-clock concierge has you covered. Prestige travelers also enjoy priority reservations in the Dining Car, the option to reserve sightseeing chairs in the Panorama Car, complimentary appetizers before meals and so much more.
At night, Prestige cabins transform from stylish lounge spaces into comfortable sleeping arrangements for two. A Murphy bed extends down from the wall and provides approximately the same amount of space as a full-size bed. High-quality sheets, pillows, and blankets dress the bed to ensure a comfortable night's rest.
So, which of the sleeping arrangements on VIA Rail's Canadian is right for you? Consider the amount of privacy you require, how much space you need to yourself and the amenities you would like to enjoy while making your way through Canada. When you are ready to make your Canadian travel dreams a reality, contact a Rail Specialist with Vacations By Rail.