Canada's massive land coverage and ever-changing terrain make the country the ideal playground for vacationers from around the globe. Do you dream of beautiful coastlines? Choose between those on the west coast, complemented by temperate rainforests, and the shorelines in the East, dotted with charming lighthouses. Craving fresh mountain air? The Canadian Rockies are a treasure trove of glistening lakes, glaciers, and incredible hikes. In between, wine-producing regions, far-reaching plains, and even arctic tundra invite visitors to explore.
While there are plenty of well-known destinations throughout the country, seasoned travelers may crave a little more inspiration. If you plan to travel to Canada, here are ten fantastic places to whet your appetite for adventure.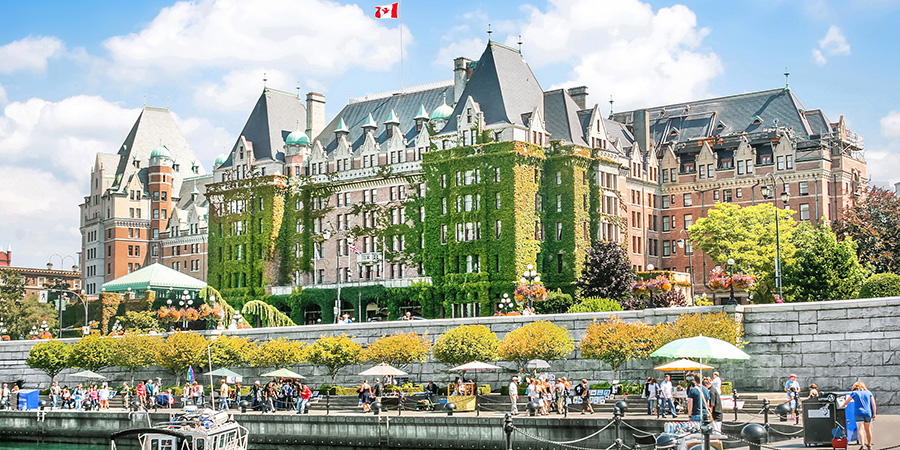 1. Victoria on Vancouver Island
The capital of British Columbia, Victoria is teeming with history and charm. Look upon 150-year-old buildings and the beautiful Inner Harbor. The Royal BC Museum and Craigdarroch Castle are popular attractions, and if you venture outside the city, Vancouver Island has much to uncover. The Butchart Gardens are simply spectacular. Best of all, mainland Vancouver is set just 90 minutes away by ferry, so all its attractions, like beautiful Stanley Park, are an easy day trip from the island.
Ask a Vacations By Rail specialist about adding a visit to Victoria to your Western Canada vacation.
2. Okanagan Valley
Wine connoisseurs and lovers of fresh produce revel in the offerings of British Columbia's Okanagan Valley. This beautiful region is anchored by Okanagan Lake and nestled between the Columbia and Cascade Mountains, creating an ideal agricultural climate. The Okanagan Valley is the province's top wine-producing region, offering whites and reds in several different varietals. The area is also rich in orchards, lavender fields, and forests to explore. Consider spending time in Kelowna, where golf and skiing are favorite pastimes, and fruit wineries are a fantastic place to bask in the lovely weather.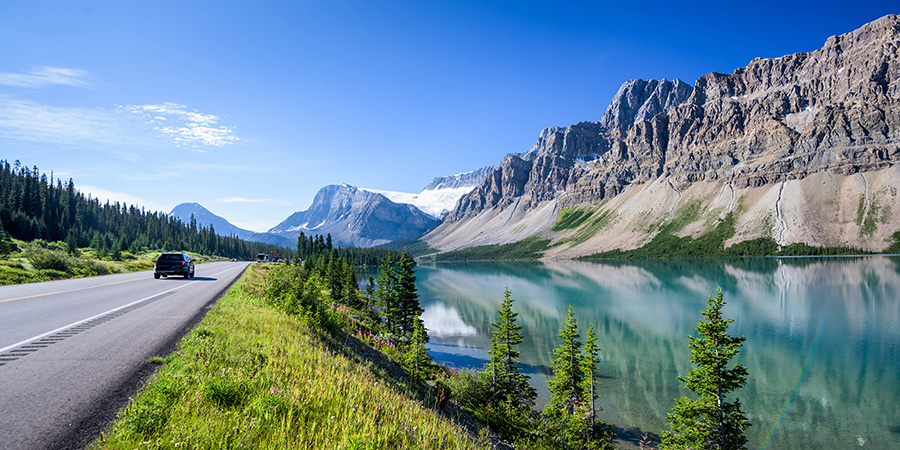 3. Banff National Park
Banff National Park in the Canadian Rockies is simply breathtaking, a year-round destination that is just as appealing in the summer months as in the winter. Banff was established as Canada's first national park in 1887 and has attracted many visitors since then. Banff's Upper Hot Springs are the perfect place to relax after a day of hiking on well-kept trails or watching animals, like bears, wolves, and Dall sheep, mosey through the valleys. Check out the views from the Banff Gondola, cruise Moraine Lake, or go canyoning in Johnston Canyon.
Venture along Icefields Parkway to extend your time in the Canadian Rockies. The byway is one of the most scenic drives in the region and connects Banff with Lake Louise and Jasper National Park. You can also stop at the Columbia Icefields to walk on Athabasca Glacier. The opportunities in Banff and the Rockies are endless. Travel to Canada and check them out for yourself with our Canadian Rockies by Rail trip.
4. Winnipeg
Winnipeg is not as large as some of Canada's other big cities; however, its culture and love of the arts give even seasoned travelers plenty to do. Visit world-class museums, like the Museum of Human Rights, or peruse art galleries filled with works by local and national artists. Winnipeg's culinary scene is booming and attracts foodies that appreciate niche eateries and gourmet restaurants alike. In fact, Winnipeg has the most restaurants per capita in Canada.
Winnipeg's welcoming spirit can be found on many nature and wildlife vacations, including Belugas & Bears by Train.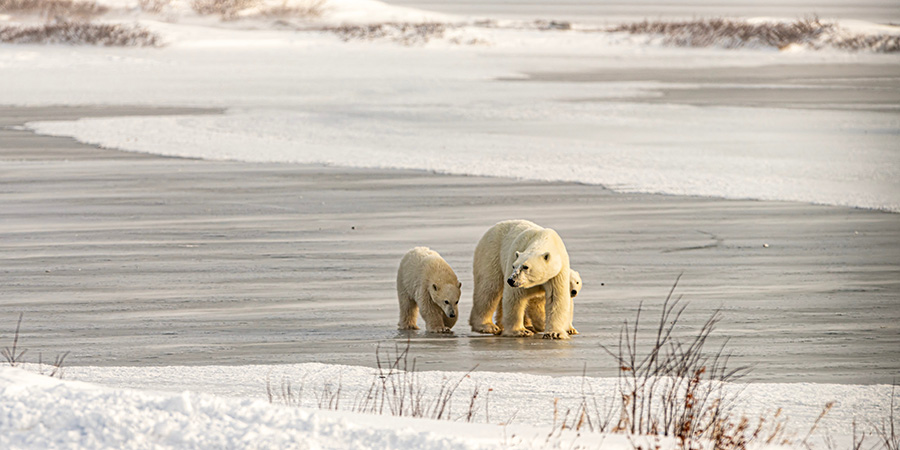 5. Churchill
A wonderland welcomes you to northern Manitoba when you visit Churchill. This town is located on Hudson Bay and has a long and storied past. Churchill first saw humans about 4,000 years ago, and its story continued with the whalers of the 1600s and the fur traders of the 1700s. However, one thing has remained constant throughout the centuries, and that is Churchill's unrestricted wilderness.
Churchill, at the cusp of the arctic, sees the northern lights approximately 300 days of the year. Hundreds of polar bears occupy the region, and thousands of beluga whales migrate through the frigid waters yearly. Because the only way to get here is by train or small plane, there is a distinct lack of travelers and a serene environment that encompasses the spirit of adventure in Canada. Discover it for yourself this winter with the Polar Bear & Churchill Adventure.
6. Montreal
Montreal is the largest municipality in Quebec province and one of the best cities to visit when you travel to Canada. Whether traveling with family, friends, or solo, visitors find plenty to occupy themselves in Canada's second-largest city.
Culinary enthusiasts are delighted by the selection of eateries, and art lovers are spoiled for choice regarding galleries and public art installations. Further, Montreal boasts an active festival calendar, making it the world's festival capital. The Montreal Jazz Festival, for example, is the largest globally and has been a highly anticipated annual event for over 40 years.
Discover the history of the city on one of Vacation By Rail's fantastic Montreal tours, including Montreal & Quebec City By Rail.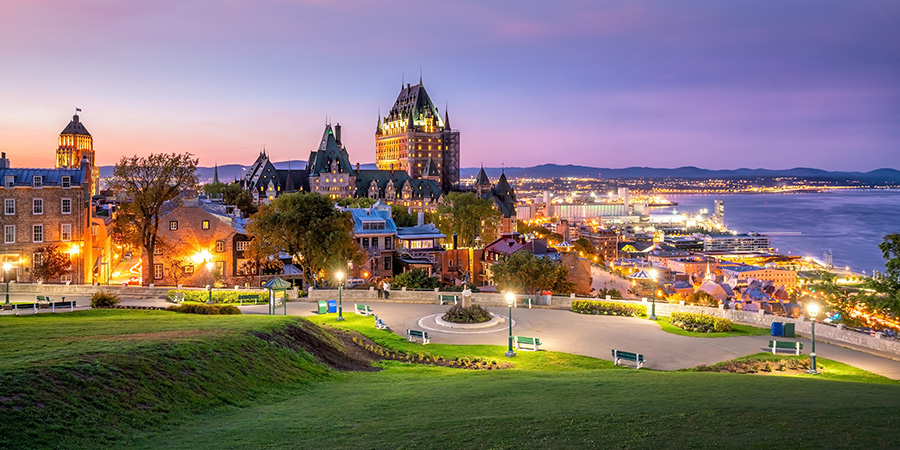 7. Quebec City
An ambiance reminiscent of old-world Europe greets you in Quebec City. This locale is ideal for experiencing French Canada and appeals to historians, gastronomes, and sightseers alike.
Wind through the narrow, cobbled streets of Old Quebec in search of boutique shops and historical sites, or tour one of the fascinating museums, like the Museum of Civilization. Just outside the city sits Montmorency Falls, which stands nearly 100 feet higher than Niagara Falls. Montmorency Falls is located within Parc de la Chute-Montmorency, which also features a cable car, zipline, a suspension bridge, and well-kept hiking trails. Consider getting A Taste of Quebec this year.
8. Halifax
A charming fishing city and the capital of Nova Scotia, Halifax is a gem of the Maritimes region. This seaside destination is beloved for its massive harbor and rich maritime history. Seafood lovers can access all the freshly caught lobster, mussels, oysters, and fish they could ever desire. Beer enthusiasts are thrilled by the region's selection of craft and microbreweries.
Visitors love Peggy's Cove, the Citadel, and the Maritime Museum of the Atlantic. An easy day trip from the city, the Annapolis Valley is a natural haven that produces some of Eastern Canada's best wine. All the best of Halifax and the surrounding region awaits on the Eastern Canada Coastal Explorer rail vacation.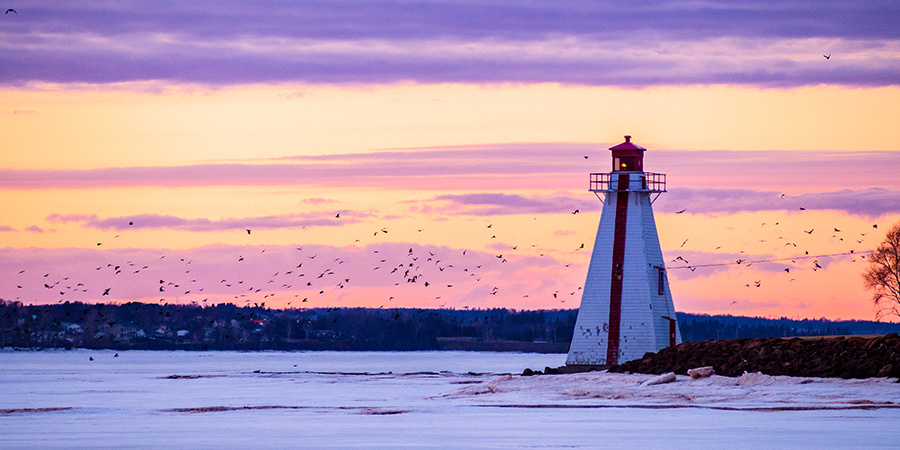 9. Charlottetown
Stunning landscapes that inspired "Anne of Green Gables" make every angle beautiful on Prince Edward Island. Charlottetown, the capital city, is no exception. This cozy destination brims with maritime charm and coastal ambiance and has a little something for everyone.
Do not go in expecting the fast pace of a big city; this is a place where historic homes and beautiful religious structures make up the bulk of the skyline. Discover the "Birthplace of Canada" at the Province House or walk the waterfront at Confederation Landing. Scenic drives through the surrounding small towns and venturing into the nearby provincial parks, like Cabot Beach Provincial Park, are wonderful ways to pass the time. Our Quebec City, Nova Scotia & Prince Edward Island tour is the best way to experience its delights firsthand.
10. Moncton
New Brunswick's largest city, Moncton, is particularly enchanting. Moncton is one of Atlantic Canada's best cities for street art and has a fantastic array of works that tourists can discover on foot. There are plenty of laid-back restaurants, and seafood spots throughout the town, and even more are within easy reach.
Moncton makes the perfect base for your adventures, with many incredible sites and natural attractions within a short drive. Magnetic Hill is eerie in the best possible way, while the Bay of Fundy and Hopewell Rocks truly make you appreciate the power of the ocean. Witness it for yourself on the High Tides & Scenic Trains expedition.
Fresh inspiration is always a good thing, especially when it comes to travel. Once you have picked the perfect destination for your next Canadian vacation, contact Vacations By Rail, and let us make your trip dreams a reality.