For more than 25 years, Rocky Mountaineer has offered acclaimed rail service into the heart of the captivating Canadian Rockies. A journey aboard this award-winning train is considered one of the world's great rail journeys, and there's little wonder why. Spectacular all-dome rail cars, pampering onboard service and close enough to touch scenery combine to make this train journey "the long way around" a memorable way to experience the Canadian wilderness firsthand.
Travelers can choose from two classes of service onboard Rocky Mountaineer: SilverLeaf Service and GoldLeaf Service. The service level purchased determines both a guest's train and hotel accommodations during the trip. So how do you know which service level is right for you? Discover the classes of service and find the perfect fit for your vacation style.
SilverLeaf Service
SilverLeaf Service offers travel in a single-level dome coach. Guests can select from a choice of delicious hot entrée items for both breakfast and lunch, served at their seat where they can enjoy their meals while admiring the passing scenery from large picture windows. Complimentary beverages, including wine, beer, spirits and non-alcoholic drinks, are available throughout the duration of the journey as are gourmet house-made snacks.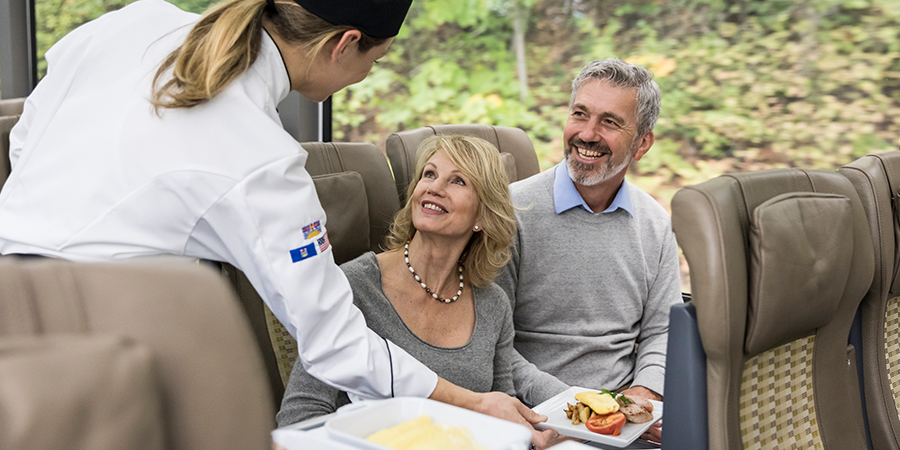 GoldLeaf Service
GoldLeaf Service is the crème de la crème of rail travel through the Canadian Rockies. This luxurious class of service offers gourmet meals and deluxe hotel accommodations to ensure guests feel absolutely indulged. GoldLeaf train accommodations are designed for guests to make the most of their all-daylight journey. The bi-level glass-domed rail coach immerses guests in the forests and mountain peaks. Admire the changing backdrops from a seat alongside full-length windows on the top level of the dome coach. To get even closer to nature, step out onto the outdoor vestibule, perfect for some fresh air or to snap some pictures as the train rolls on. A selection of gourmet a la carte meals is served in the exclusive dining room located on the lower level of the GoldLeaf dome rail car. Complimentary beverages (alcoholic and non-alcoholic) and snacks are included throughout the journey.
Those looking for true indulgence on their vacation may opt for GoldLeaf Deluxe Service. This travel option provides guests with all the fabulous amenities of GoldLeaf Service plus upgraded hotel accommodations at deluxe properties.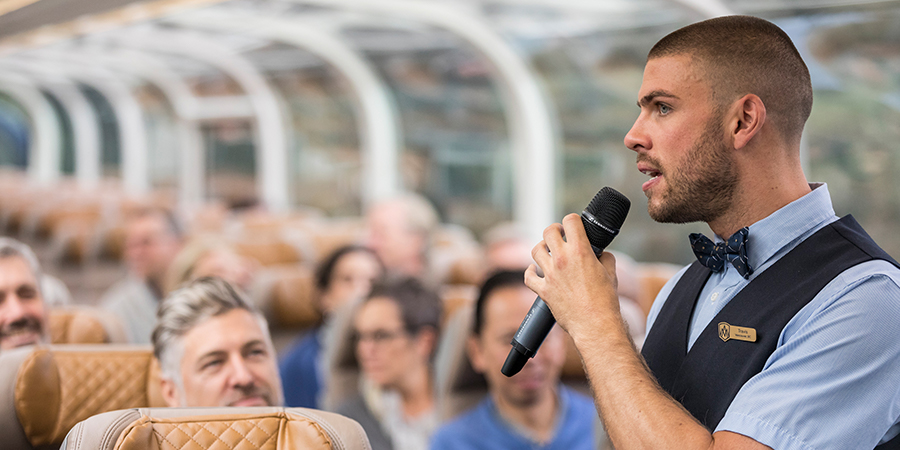 No matter the level of service, a trip onboard Rocky Mountaineer is sure to be a life-changing experience-one that makes memories to last a lifetime.