The United States is a vast land full of varied landscapes and magnificent sights to behold. From the foggy coastline in San Francisco to the vast expanses of the Great Plains, and from the jagged peaks of the various mountain ranges to dynamic look of the nation's major cities, there is so much to see. Everyone knows the quickest way to get from Point A to Point B is a straight line, but what if you took the path less traveled? In a world full of highways, expressways and direct flights, choose to explore the backroads - the true essence of the U.S.A. - with a cross-country train trip.
Cross country train travel is coming back in style, thanks to Amtrak's exciting routes. More and more people are choosing to unplug and smell the roses as they soak in the changing terrain across the country. Are you ready to immerse yourself in the railway romance of yesteryear, all while enjoying the comfort of today? Learn the facts to ensure your cross-country train ride is one of the best experiences of your life.
Choose a Cross Country Route
A variety of cross-country train trips are available, taking passengers to over 500 destinations all around the United States. These rail vacations offer routes through national parks, landmark sites, and impressive cities, both big and small.
California Zephyr- Taking riders from the Midwestern city of Chicago all the way to San Francisco (Emeryville), the California Zephyr offers one of the most scenic rides through North America. As the train chugs through 7 states in 2 1/2 days, riders get backroads' glimpses at some of the nation's most fantastic sites: the Rocky Mountains, the Sierra Nevadas, Glenwood Canyon and more.
Empire Builder - Also departing from Chicago's Union Station is the renowned Empire Builder. This train embarks on a 2-night journey through the northernmost United States - Wisconsin, Minnesota, North Dakota, Montana, Idaho, and Washington. The final leg of the route splits, offering riders the choice of continuing to Seattle, Washington or Portland, Oregon. Along the way, magnificent scenery abounds in Montana's Big Sky Country, in Glacier National Park and throughout the Rockies.
Texas Eagle- A unique train that offers half- and full-route options, the Texas Eagle takes passengers from Chicago, Illinois to San Antonio, Texas, then after a layover continues onto Los Angeles, California. This train's route takes passengers south through Illinois, Missouri, Arkansas and finally Texas, then gives a real glimpse of the Southwest with a journey through New Mexico, Arizona, and Southern California. Colorful desert scenery abounds on this journey, which lasts nearly three days for those traveling to Los Angeles.
The Crescent - The Crescent follows a unique coast-to-coast route that takes passengers from New York City on the upper East Coast to New Orleans in the Gulf of Mexico. This coastal journey travels down the Eastern Seaboard through New York, New Jersey, Delaware, Maryland, past the Blue Ridge Mountains in Virginia, through the Appalachians in the North and South Carolinas and finally across Georgia, Alabama and Mississippi before arriving in New Orleans. Travelers can expect to be on the train for right about 30 hours.
Southwest Chief - Following a route that takes riders from Chicago, Illinois to Los Angeles, California, the Southwest Chief is a cross-country gem, as well. This train takes its passengers through the heart of the country - Illinois, Iowa, Missouri, Kansas and Colorado - before making a southwestern turn and continuing through New Mexico and Arizona before arriving in California. Along the way, heartland scenery combines with the rugged beauty of the southern desert for a truly incredible 2-day journey.
While none of these trains offer a cross-country train trip that takes riders from the East Coast to the West, train routes can be combined for a true cross-country experience. For example, combining the California Zephyr with a ride upon the Lake Shore Limited or the Cardinal will take riders from San Francisco to New York City.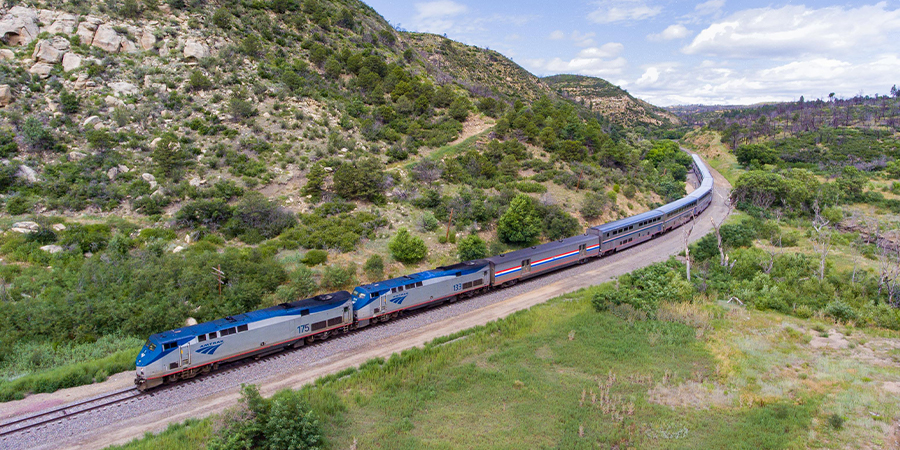 Know Your Onboard Options
While embarking on your journey across the country, you will have the choice of Coach seating or Private Sleeper Cabins, though you are also free to move about the train(s).
Coach Seating - In Coach, riders settle into a spacious seat for the duration of the trip. These seats recline to make sleeping comfortable and also include foot and leg rests. During the day, extra legroom allows you to stretch out, and a fold-down tray makes it easy to work or snack at your seat. A limited amount of 120-volt outlets are available to charge all of your electronics. Coach passengers share access to a bathroom.
Private Sleeper Cabin - If you desire a little more privacy, Private Sleeper Cabins are the way to go. These cabins come in a variety of sizes, accommodating as few as two passengers or as many as four. Designed with upper and lower berth sleeping arrangements, these cabins offer privacy, storage space, outlets and even private windows. Some of the private cabins offer private showers and toilets, but this varies by room and train.
Throughout the Train - Tiring of the same ol' seat and scenery? Move throughout the train! Amtrak's long-distance trains are equipped with fully equipped dining cars. Tables seating up to four guests are available, as a wide-range of meal offerings for breakfast, lunch, and dinner. If it is not mealtime, your train's lounge car is a great place to be for amazing sights. The lounge cars feature floor-to-ceiling windows, which curve up onto the roof, so sky panoramas are available, as well as a great opportunity to socialize with your fellow travelers. Snacks, light fare, wine, beer, water and soft drinks are all offered in the lounge during certain times of the day. Entertaining and informational speakers are also brought onboard the train during certain times of the year to enthrall the lounge car's passengers.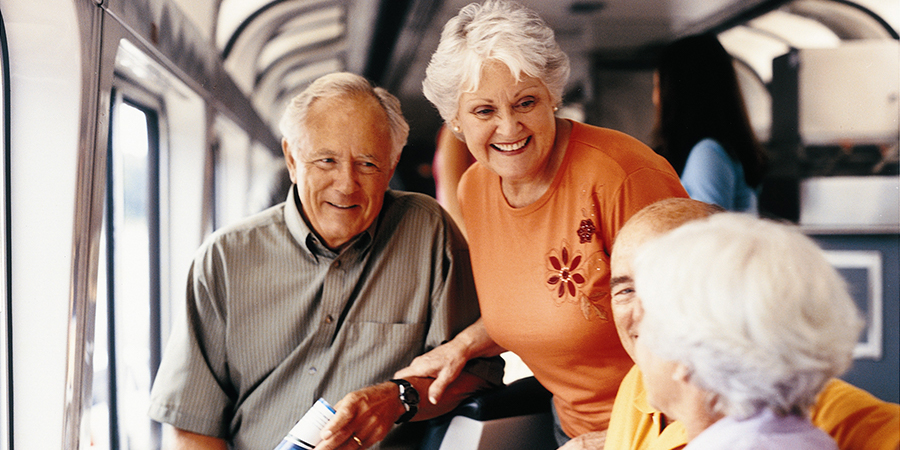 What to Expect During Your Long Distance Train Ride
Cross country train trips can be exciting, and relaxing. There is so much to see and take in. Surprisingly, the hum of the rails is mostly quiet, so sleep comes easily to many passengers. According to Future Travel, It can get chilly on the train if you are sitting still for long periods, so dressing in layers is a smart choice. Layers are also a good idea if you plan to disembark the train briefly to stretch your legs during one of the regularly scheduled stops.
The routes of Amtrak trains are timed to put the most scenic stretches during daylight hours. If you are taking a rail vacation for the ride, not the destination, this is especially reassuring.
For mealtimes, passengers must make reservations in the train car for their meals. The tables fill quickly, and because often parties are less than four, passengers are seated together randomly to fill the tables completely. For Coach passengers, all meals (and any drinks other than water) are at an additional cost. Riders that reserve a Roomette, or Bedroom, have all of their meals included in the price of their ticket.
In all, you can expect a once-in-a-lifetime experience while taking a cross-country train trip offered by Vacations By Rail. From the intimate look at little-seen America to the sense of friendship that comes with the shared travel experience, long-distance rail vacations create memories to last a lifetime.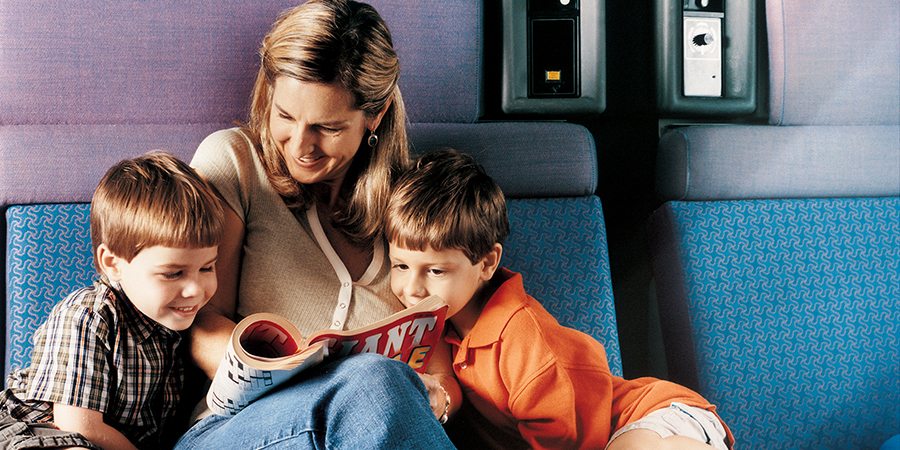 Our Signature Tours
Vacations By Rail provides several preplanned itineraries across the country by Amtrak.