This is the year to hop on the rails and embark on a much-anticipated rail vacation. With the help of this summer vacation planning guide, choose from destinations near and far to complete your travel goals. Maybe your journey will take you to the national parks of the United States or deep into the Canadian Rockies. Perhaps you desire an expedition across the pond to places like Scotland or Switzerland, or an exotic adventure to Australia or South Africa. Vacations By Rail offers well-planned tours around the globe, so where will your summer trip take you?
United States
In the United States, the best places to go in the summer are as varied as the states themselves. There are plenty of destinations that personify the warm months - coastal delights where beaches, seafood and cold drinks are the hallmarks of day-to-day life. The U.S. is also home to locales that provide a reprieve from the heat, even during the peak of August. Places like the national parks of the north, the Colorado Rockies and the Pacific Northwest all offer a welcoming retreat to beat the heat.
If you are looking for a coast-to-coast vacation…
Consider an epic journey across the United States by train, such as that provided by America Coast to Coast With the Grand Canyon. This 2-week expedition recalls the traditional summer road trip, but without all the planning, crowded back seats, and frequent stops to refuel along the way. Enjoy travel on several of Amtrak's trains, including the high-speed Acela Express and classic overnight rail journeys on the Capital Limited and Southwest Chief. Experience some of America's great cities with sightseeing tours in New York City, Chicago, and Washington, D.C. Soak in the natural grandeur of America's crowning jewel, the Grand Canyon, both on the Grand Canyon Railway and during your independent exploration time. Cap off this coast-to-coast adventure with a visit to Universal Studios in Los Angeles with a front-of-the-line attractions pass to give you priority boarding privileges. This vacation is what summer travel dreams are made of.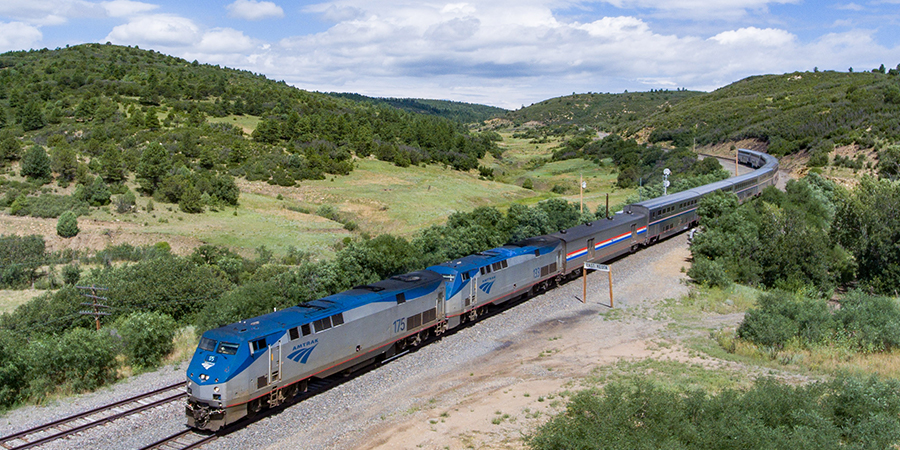 If America's national parks call to you…
Join a tour that captures the country's untouched beauty, such as America's Great National Parks, which features time in Glacier, Yellowstone, Grand Teton, Arches, and Canyonlands National Parks. This 14-day journey puts you in the passenger seat while traveling by train and deluxe motorcoach, and this gives you a chance to soak in all the glory of America while passing from state to state. It is ideal for the traveler that cannot decide which is the best national park to visit in summer.
For a more pointed look at a singular park, select something like the Lodges of Glacier National Park tour. This journey puts the focus on a single shining star, Glacier National Park. As you travel between three historic lodges within the park, enjoy a look at the unique characteristics of each region of Glacier.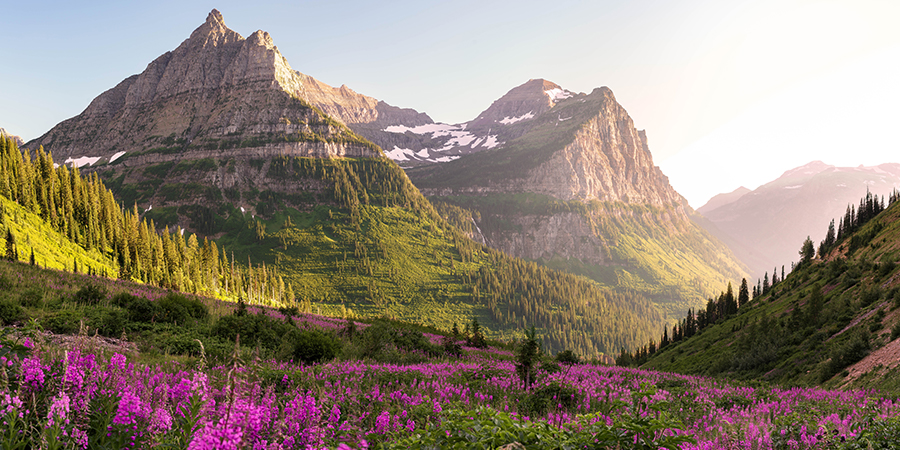 If you want to see dramatic mountainscapes…
Escape to the Colorado Rockies in the heart of the country with a thoughtfully planned summer mountain vacation, such as the Colorado Rail Experience. This tour offers everything you could want in a Colorado adventure: heritage rail excursions, incredible views, and excursions to iconic Rocky Mountain locales. Ride aboard five exceptional railways during your time in the mountains, including the Durango & Silverton Narrow Gauge Railroad, which is hailed as one of America's best train journeys by USA Today Travel and is well-known for its breathtaking route.
If you are hoping for a taste of luxury…
Welcome high-end train travel to the United States by joining the Rocky Mountaineer & Canyonlands National Park. This brand-new experience highlights the impactful scenery of the Colorado Rocky Mountains and Canyonlands National Park through intimate touring experiences and a daylight-only journey aboard Canada's premier luxury train - now in the U.S. - Rocky Mountaineer. This rail line is synonymous with comfort and indulgence. Enjoy locally sourced, chef-prepared on the train, and soak in the passing scenery from the domed windows of the rail car as you travel between Denver and Moab.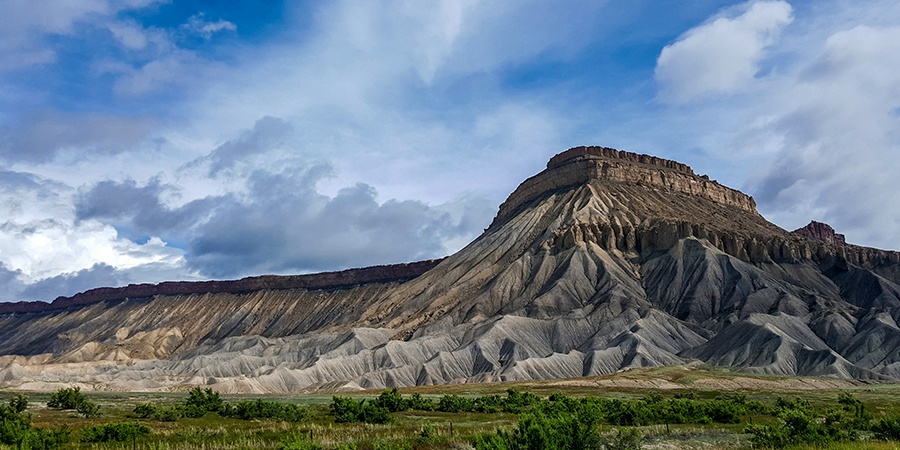 Canada
Canadian summer vacations are ideal for nature lovers and city slickers alike. While the Canadian Rockies are truly majestic and a highlight of any visit, they are just part of the equation of what makes travel in this great country so memorable. Diverse cities dot the landscape, from Vancouver on the West Coast to Calgary, Toronto and Winnipeg on the interior. And, of course, the Maritime region in the East - home to Nova Scotia and Halifax - is a picture-perfect representation of coastal Canada. Best of all, no matter where you choose, you are never too far from the pristine nature Canadians treasure. A summer getaway is a perfect way to see it all.
If you desire a cross-country exploration…
Watch as the best of Canada unfolds before your eyes on the Canada Coast to Coast itinerary. Spend 17 days traversing the country by train, joining trains like Rocky Mountaineer and VIA Rail's Canadian, Corridor Service and Ocean for the expedition. Spend time in cities from West to East, beginning in Vancouver and then working your way through Banff, Jasper, Toronto, Montreal and Halifax. Tours of several major cities are included, as is a once-in-a-lifetime excursion to climb upon the Athabasca Glacier in the Canadian Rockies. Of course, no cross-country trip in Canada would be complete without a visit to Niagara Falls and a ride on the Hornblower.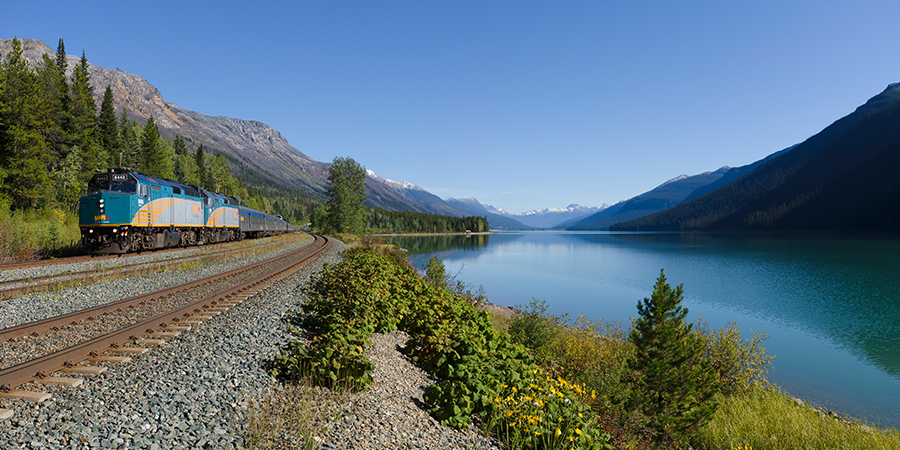 If your summer getaway dreams include soaring mountain peaks…
There is no mountain range in North America more impressive than the Canadian Rockies. Luckily, there are many ways to see this majestic mountain range, allowing you to choose the best fit for your 2021 travel goals. Come along for the Canadian Rockies by Rail vacation and spend time in iconic mountain retreats, including Banff, Jasper, and Lake Louise. This journey begins in Vancouver and travels inland on an overnight train ride onboard VIA Rail's Canadian.
If you don't want to miss a minute of the mountain scenery as it unfolds, Beautiful Banff Rail & Drive is a great fit for your summer vacation. This itinerary includes a daylight-only journey into the Canadian Rockies aboard the luxurious Rocky Mountaineer. On arrival in the mountains, pick up your rental car, and enjoy the freedom to explore Banff, Lake Louise, and Calgary at your own pace.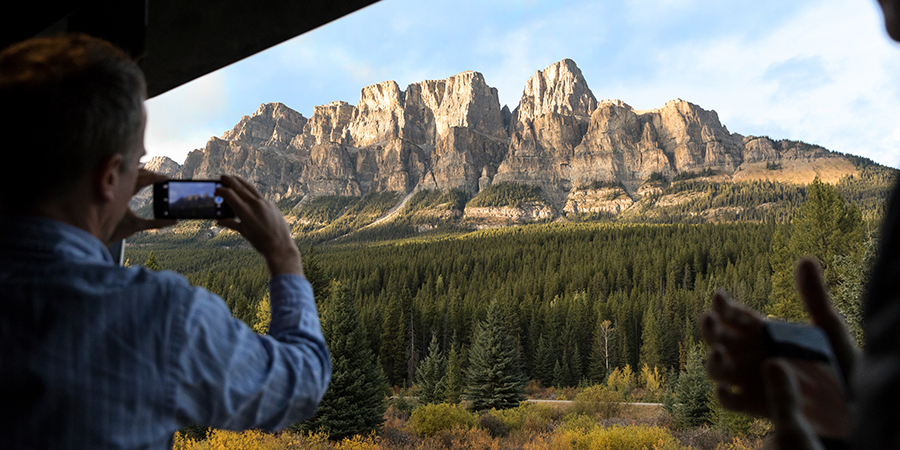 If you desire seaside sunrises…
Several of the best East Coast summer vacation spots in Canada merge in the Quebec City, Nova Scotia & Prince Edward Island itinerary. This expedition through Canada's Maritimes region begins with guided touring in beautiful, historic Quebec City ahead of an overnight journey on VIA Rail's Ocean to Halifax. Arrival on the coastline brings stunning ocean views - and even better sunrises, as the Maritimes offer some of the first peeks at daylight in North America. Immerse yourself in the region's culture with a lobstering cruise and enjoy plenty of time to explore destinations like Cape Breton and Prince Edward Island independently. Equipped with a rental car for the duration of your time on the coast, you can see as much or as little as you please.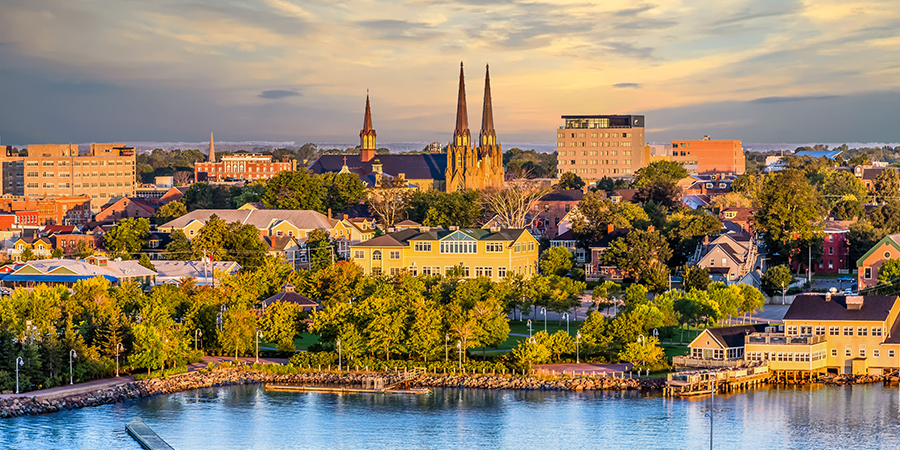 If high-end accommodations and amenities are essential…
Come along for a luxury tour in summer in the vast country of Canada. These journeys are thoughtfully composed with stays in deluxe hotels, train travel in the highest class available and select private touring options. Travelers hoping to experience Canada's beauty and the lavish amenities these luxury vacations have to offer can choose from popular favorites: Canadian Rockies Grand Getaway and Trans Canada by Rail Featuring VIA Rail's Prestige Class.
The Canadian Rockies trip is made aboard the acclaimed Rocky Mountaineer in GoldLeaf Service. Begin in Vancouver, with private touring of the city and of Victoria and Butchart Gardens. Because Rocky Mountaineer travels during the day exclusively, incredible views of the mountains, forests, and valleys of Western Canada are presented as you travel between Whistler, Quesnel, and Jasper. The cuisine and attentive service on the train are worth the journey alone. Arrive in the Canadian Rockies with plenty of adventure ahead, including a private visit and boat cruise in Maligne Canyon and Jasper National Park sightseeing while traveling to Lake Louise.
The Trans Canada adventure is a cross-country voyage aboard VIA Rail's Canadian. Vancouver is the starting point for this journey, and you have two days to explore it on your own via a Hop-on Hop-off tour. Upon boarding the train, the luxury of this tour is immediately apparent. Settle into your Prestige Class cabin, which comes complete with a private washroom and shower, a TV, a modular leather sofa and a personal concierge for the journey's duration. The train travels across the provinces over the course of four nights as it approaches Toronto in the East. On arrival, take time to sightsee independently and with the help of a Hop-on Hop-off tour, and discover why this city is one of the best summer vacation spots.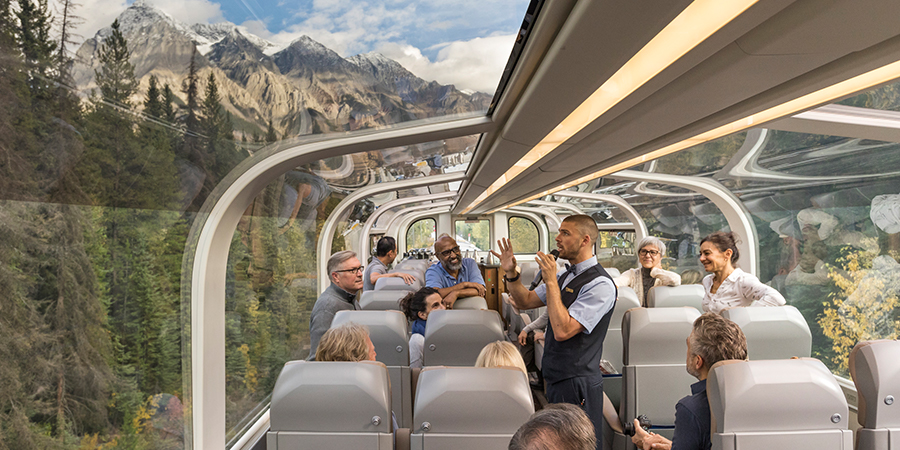 Europe
Is there a seasonal vision more romantic than a summer in Europe? Filled with fascinating countries and history that spans the ages, there are plenty of places to discover during the warmer months. Even with the coming of June, July and August, many European locales don't suffer under heat or high humidity, thanks to their altitudes and coastal proximities.
If you want to take a deep dive into history…
A visit to the island of Scotland presents some of the most impressive castles and coastlines in the world. This small country is composed of nearly 800 islands, and on the Edinburgh, the Highlands & Islands tour, you are treated to a sampling of them. Scotland is one of the best places to visit in the summer as it's ideal for escaping the heat, with average temperatures rarely breaking 65 degrees F. During your time here, explore the incredibly scenic Scottish Highlands aboard several famous rail lines, including the West Highland Line, the Kyle Line, and the Jacobite Steam Train. Enjoy time in the capital, Edinburgh as well as visits to the Isle of Mull, Glencoe, and Inverness. Try authentic Scotch whisky, cruise Loch Ness, and visit several castles, including Eilean Donan Castle, located on its own tiny island.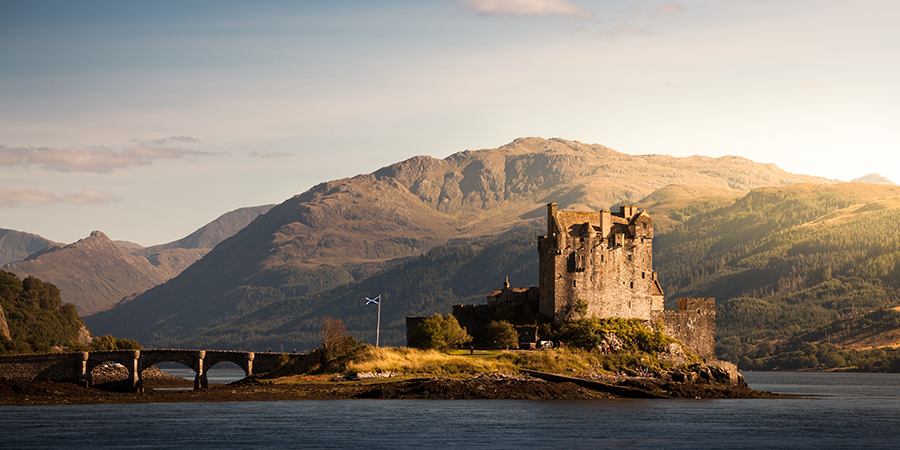 If summering amongst a world-famous mountain range excites you…
Few places offer more dramatic scenes than Switzerland. On the Grand Train Tour of Switzerland, amazing vistas of the Swiss Alps; visits to sparkling cities and charming villages; and rides aboard five beloved scenic rail lines come together over the course of 11 days. The tour begins in Zurich and proceeds to Grindelwald, Montreux, Zermatt, Chur, Lugano and Lucerne for a comprehensive look at the country. Between destinations, travel aboard rail lines that highlight the astounding beauty of the Alps. Such railways include the GoldenPass Panoramic Express and the Glacier Express. Combined with a cruise on Lake Lucerne and mountain excursions, you will never forget this summer in the Swiss Alps.
If you yearn for fine wine and distinctive cuisine…
A trip to Italy brings culinary delights, fantastic history and memorable experiences. On the 15-day Top to Toe of Italy tour, see the country's best from Venice in the north to Sicily in the south. Exploring this Mediterranean country makes it easy to see why it is such a popular summer destination. Your time here is filled with sightseeing in Venice, Florence, Siena, Rome and Taormina, as well as guided touring in Pisa and Pompeii. Taste freshly made limoncello in Sorrento and explore the breathtaking scenes of the Amalfi Coast. Soak in the grandeur of Mt. Etna in Sicily aboard the Circumetnea train. Stays in 4- and 5-star hotels and plenty of authentic Italian meals round out this memorable expedition.
If lavish vacations are your preferred method of travel…
Selecting a luxury train tour or an amenity-filled rail and cruise journey through Europe puts a new spin on favorite locales. Vacations By Rail offers an abundance of these experiences all over the continent, including the Imperial Cities & Danube Cruise tour. This vacation connects stays in Berlin, Prague, and Budapest by train with a 7-night cruise on the blue Danube aboard the luxurious Amadeus Queen or Amadeus Silver II. Traveling down the river at a leisurely pace, enjoy ports of call in Bratislava, Vienna, the Wachau Valley, Salzburg, and Regensburg. Each city brings fantastic touring opportunities and immersive experiences into the local culture.
For a rail-only experience, Europe is brimming with luxury trains. Ride through the Scottish Highlands on the Belmond Royal Scotsman or join the Golden Eagle Danube Express for one of its itineraries through Central and Eastern Europe. Routes aboard the Venice Simplon Orient Express also promise endless luxury and opulent destination.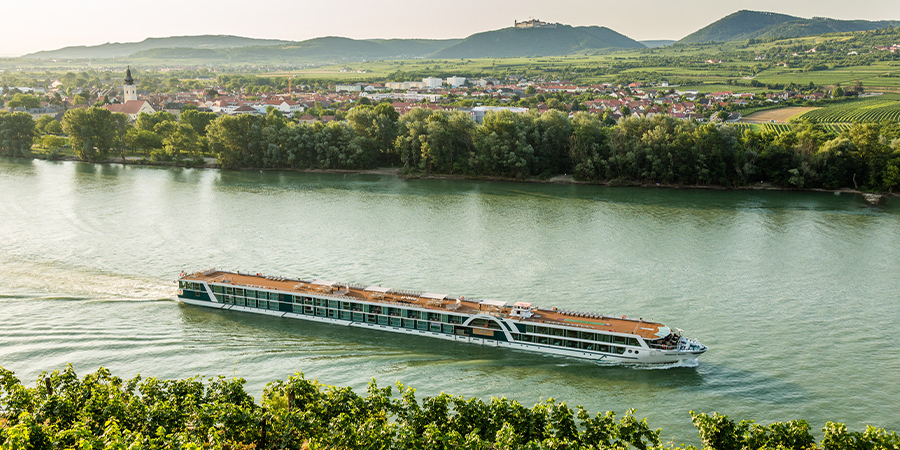 Beyond
There are so many fascinating places around the globe - many of which are prime summer vacation destinations, even if they do not coincide with our summer months. Maybe your travels will take you down under to Australia, where you can ride aboard the beloved Ghan and explore coastal cities and the tranquility of the Outback. Perhaps you envision a vacation to South America, where Machu Picchu and the Andes shine in all their glory high above the landscape. The wild landscapes of South Africa shine as you ride aboard the Blue Train and explore the nature preserves and beautiful cities.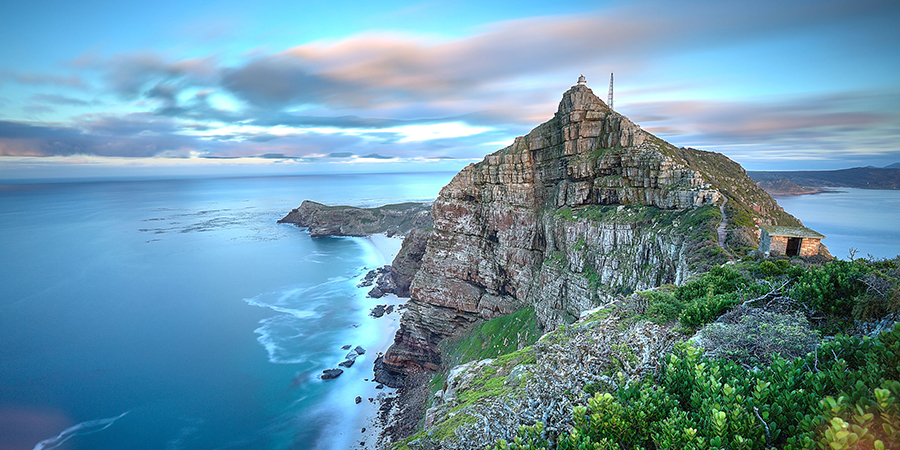 There is no question that travel has changed, and it's now more important than ever to plan ahead, so you can relax and enjoy the fruits of your efforts while you travel. Planning a summer trip with Vacations By Rail makes this process even easier. Simply select the location and itinerary that most appeals to you and leave everything else to us.