Spanning over 3.8 million square miles and split between ten provinces and three territories, Canada is a sprawling country with fascinating places to discover. Its terrain varies greatly, ranging from rocky coastlines and rolling foothills to dramatic mountain ranges and arctic tundra. There are diverse cities that appeal to lovers of fine cuisine, art, and culture and sleepy little towns that revel in a slower pace of life surrounded by the serenity of nature. For first-time visitors, it can be challenging to find a starting point in the Great White North. While you may be spoiled for choice, here are our top picks for the best places to go when visiting Canada for the first time.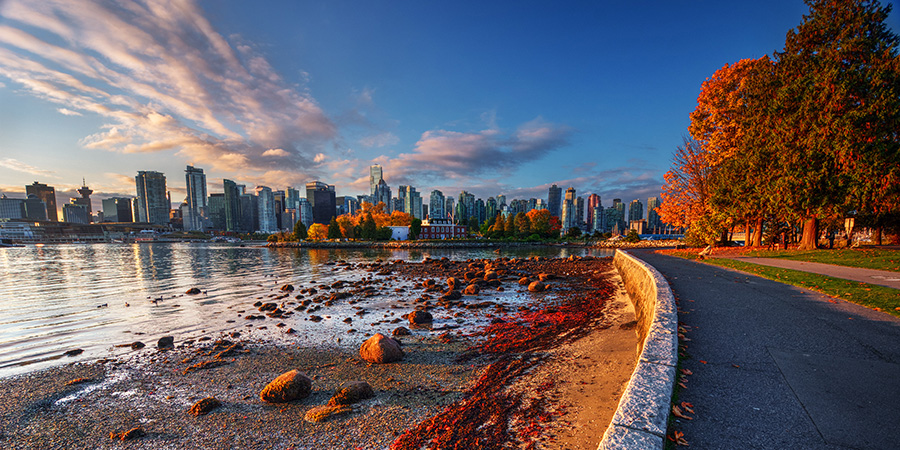 Vancouver - British Columbia
Vancouver is a powerhouse of the West Coast, sitting as a fantastic starting point for many rail or cruise tour itineraries and a fabulous vacation destination in its own right. This city sits at the cusp of the Pacific Ocean and the North Shore Mountains, allowing fantastic views from all angles. Coastal rainforests surround and add a distinct lushness to the terrain, making for even more scenic panoramas.
This city is a haven for outdoor enthusiasts, with excellent water sports, biking, and hiking. British Columbia's premier skiing and snowboarding destinations, including Grouse Mountain and Whistler, are easily accessible from the city. But urbanites have plenty to keep them busy, as well. While in Vancouver, check out places like:
Stanley Park
Vancouver Island
Granville Island
Capilano Suspension Bridge
Eclectic neighborhoods, including Gastown and Chinatown
Vancouver Aquarium
Experience Whistler, Vancouver & the Rockies on this independent tour, or combine time in the United States and Vancouver, Canada, with our Portland, Seattle & Vancouver with Victoria expedition.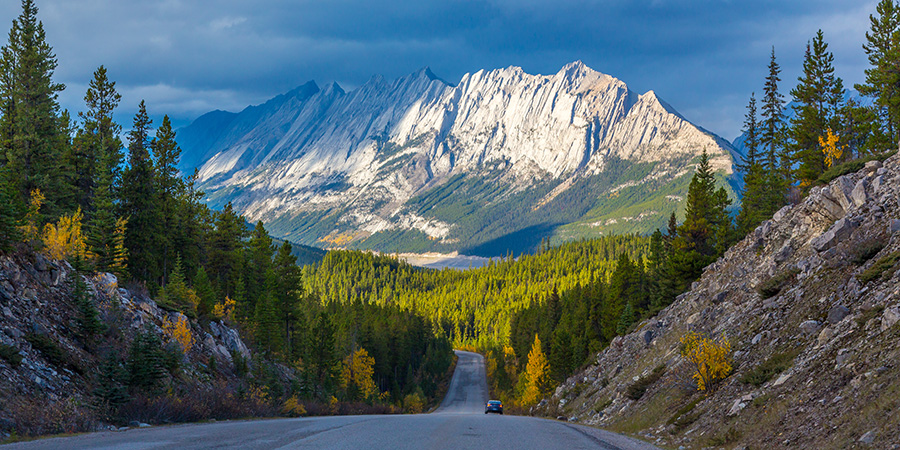 The Canadian Rockies - Jasper, Banff, Lake Louise - Alberta
Snow-capped peaks, glacier-fed lakes, and some of the most unbelievable landscapes on this side of the Atlantic await in Canada's Rocky Mountains. This mountain range spans almost 75,000 square miles and straddles the border of the British Columbia and Alberta provinces. While plenty of mountain towns are scattered amongst the valleys, several big hitters attract visitors from near and far: Jasper, Banff, and Lake Louise.
Jasper sits within Jasper National Park. Your time here could include a ride aboard the Jasper SkyTram, gazing at Maligne Lake, hiking in Maligne Canyon, or setting out on one of the hiking trails to Athabasca Falls.
Venturing from Jasper National Park to Banff National Park could not be easier, thanks to Icefields Parkway, an incredibly scenic roadway with a must-see stop-off: the Columbia Icefield. You can board an Ice Explorer and ride out onto Athabasca Glacier. The Glacier Skywalk is also accessible from the byway and allows you to walk out on a glass-bottomed walkway to overlook the Sunwapta Valley.
Continuing along Icefields Parkway, Lake Louise is spectacular with its turquoise water and idyllic chateau. This hamlet is set within Banff National Park and is just one of the best things to do and places to visit while in the protected land. Consider hiking on one of the nearly 1,000 miles of hiking trails or go skiing. Animal spotting is fantastic in both national parks and includes big mammals like Dall Sheep, mountain goats, bears, wolves, and moose. Banff itself is a wonderful place to shop and dine in gourmet eateries.
Consider visiting the Canadian Rockies by train with the Lakes, Mountains & the Rockies vacation or the Canadian Rockies By Rail tour.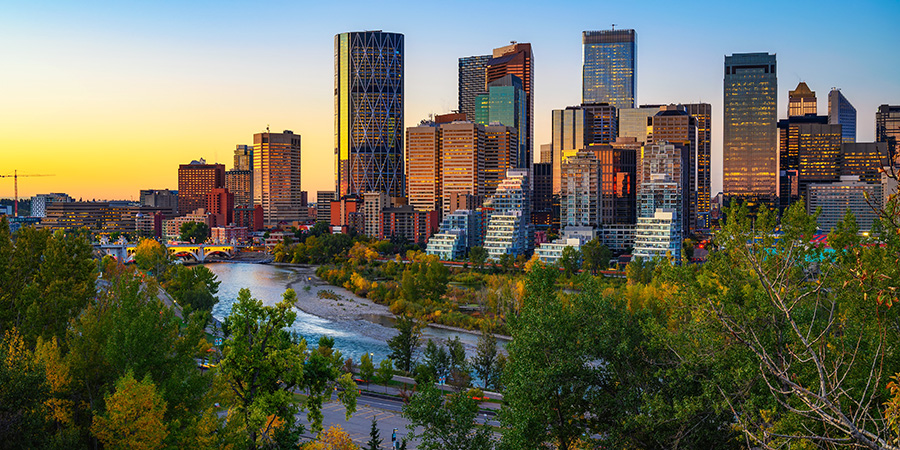 Calgary - Alberta
The Rocky Mountains form the backdrop for beautiful Calgary, the largest city in Alberta. Calgary is Western Canada's financial epicenter and a cultural hub, filled with museums, art galleries, and fantastic restaurants to explore. Over 7 million visitors flock to this city each year - many of which come for the region's favorite annual festival, the Calgary Stampede.
The Stampede takes place every July and features the world's largest outdoor rodeo, live music, exhibitions, shopping, and more. Besides the Calgary Stampede, other popular attractions in the city include:
Olympic Plaza
Calgary Tower
Heritage Park Historical Village
Head-Smashed-In Buffalo Jump
Visit Calgary and soak in its eclectic atmosphere with the Calgary Stampede, Canadian Rockies & Glacier journey.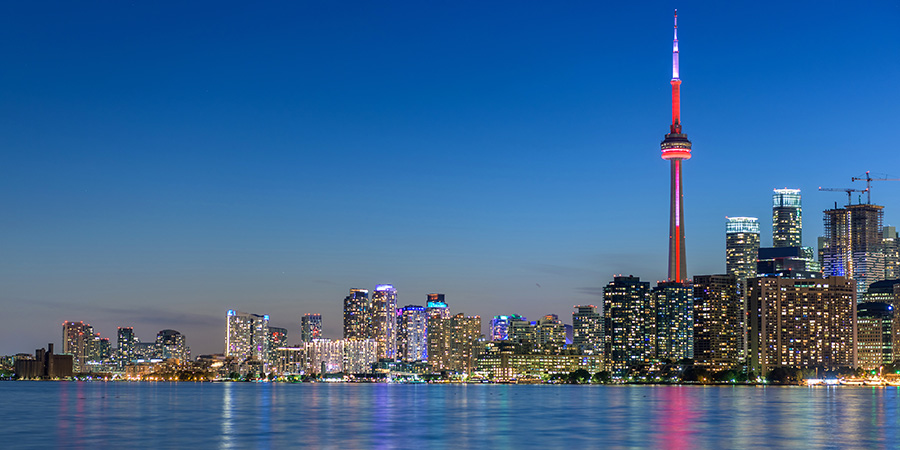 Toronto - Ontario
The largest city in Canada and Ontario's capital city, Toronto, is the ideal vacation destination
for travelers who crave the endless opportunity a big city brings. Approximately 6.5 million people call the greater Toronto area home, and another 27.5 million tourists from around the globe head to this Canadian mecca annually. Thanks to its draws, Toronto makes Ontario the most traveled province in the country. Just one day there, and you will see why.
Toronto enjoys a prime position on Lake Ontario, just miles from the United States' border. Its accessibility has allowed it to become a melting pot of cultures and backgrounds throughout the years, and Toronto now includes over 200 distinctive ethnic origins. That means you do not have to look hard to seek eclectic neighborhoods and authentic cultural experiences.
This great city boasts the tallest freestanding tower in the Western Hemisphere (the CN Tower), one of the longest streets in the world (Yonge Street), and the largest zoo in Canada (the Toronto Zoo). World-class museums, award-winning eateries, and various art galleries abound. But this is just the urban side of the city.
First-time visitors also appreciate the abundance of trees and the city's dedication to green spaces. Surprisingly, there are sandy beaches along Lake Ontario's shores. Venturing outside Toronto's boundaries offers access to Niagara Falls, one of the world's great wonders. Other things to do include:
Explore the 20 miles of PATH trails and shops under the Financial District
Tour the Art Gallery of Ontario or the Royal Ontario Museum
Explore Casa Loma and its gardens
Peruse the St. Lawrence Market
Toronto is a popular stop on many Vacations By Rail train journeys, including the epic Canada Coast to Coast Experience.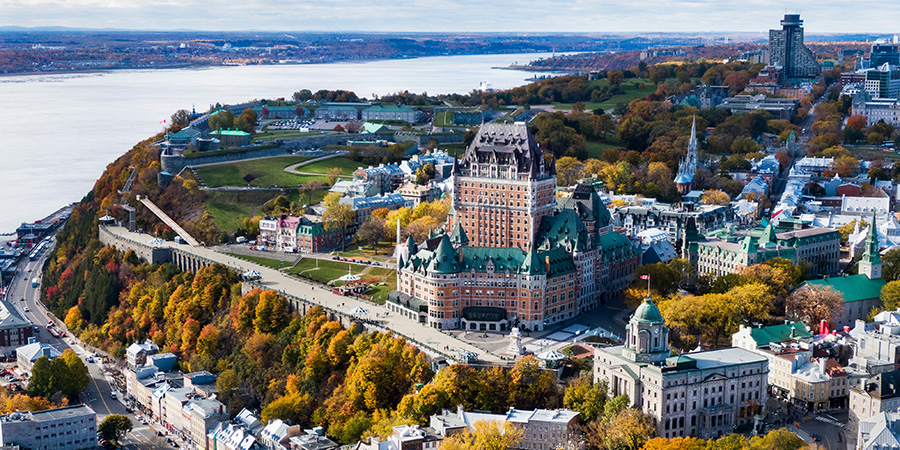 Quebec City - Quebec
Atmospheric Quebec City is one of the unique cities in Quebec Province, with its distinct French ambiance and abundant history. This locale is set on the banks of the St. Lawrence River in Eastern Canada and is the only remaining walled city in North America north of Mexico. Over 400 years of history surround Quebec City, and its well-preserved Old Quebec district, split into Upper and Lower Towns, has even earned UNESCO World Heritage status.
French is the common language here, and Old Quebec's narrow, winding roads make you feel as though you are wandering through a village on the other side of the Atlantic. Historic sites abound, and there is plenty to do downtown and beyond to keep modern travelers occupied. A trip during winter brings the opportunity to join Quebec's beloved Winter Carnival, and at other times of the year, you may consider:
Visiting Montmorency Falls, a spectacular waterfall just outside the city
Touring the Museum of Civilization
Walking the grounds of the Citadel
Seeking out sites like the Plains of Abraham or the Cathedral-Basilica of Notre-Dame de Québec
Enjoying the ambiance of Place Royale
Joining a whale-watching cruise on the St. Lawrence
Use Quebec City as the starting point for a grand adventure, like on our Quebec City, Nova Scotia & Prince Edward Island tour, or time your vacation during the peak of winter and join the Quebecois Holiday with Carnival.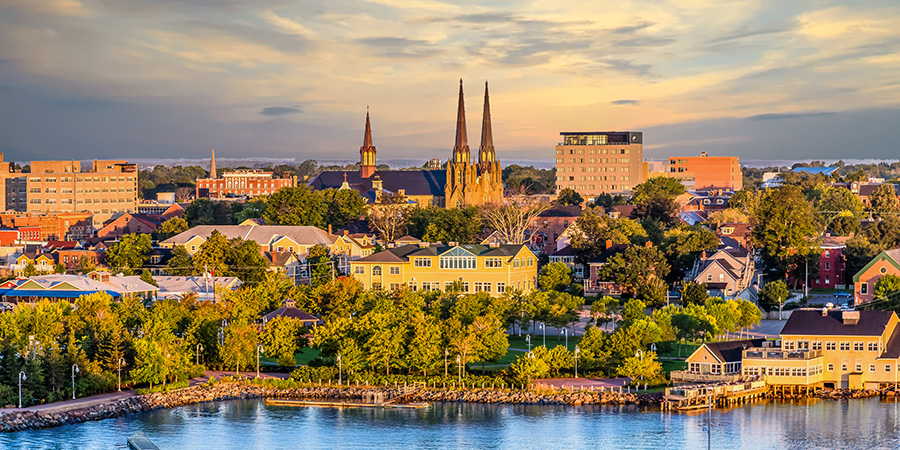 The Maritimes - Prince Edward Island, Nova Scotia, New Brunswick
Canada's Maritime Provinces are places like no other in the country. This was the first portion of Canada to be settled by Europeans and, as such, boasts a rich cultural heritage that is palpable in all three provinces that make up this charming region. Prince Edward Island, Nova Scotia, and New Brunswick are all small provinces and are so close together you could technically venture between them all in one day. But why would you want to when there is so much to behold?
From picturesque fishing villages to lighthouses, beautiful harbors, and heritage sites that speak to Scottish, Irish, and Aboriginal cultures, the Maritimes have plenty to discover. Halifax, Nova Scotia, is the largest city east of Montreal, and places like Saint John and St. Andrews-by-the-Sea in New Brunswick offer abundant seaside charm. Charlottetown on Prince Edward Island is an idyllic harbor town.
Further, the Maritimes features five national parks in their quaint footprint, including Cape Breton National Park, home to the famous Cabot Trail, and Fundy National Park, overlooking the awe-inspiring Bay of Fundy. Prince Edward Island National Park is truly magnificent with its red sandstone cliffs.
Visit Canada's wonderful little corner on the Quebec to the Maritimes featuring VIA Rail's Ocean, or use the Maritimes as an end cap for an adventure of a lifetime on our Across Canada by Train journey.
Whether you spend just a few days exploring one incredible city or take a couple of weeks to meander from place to place by train, a visit to Canada stays with you for years to come. Let these suggestions serve as inspiration for your expedition, or contact a Rail Specialist to find the perfect destination for your first time in the country.