Across the vast landscape of the Great White North, fascinating cities punctuate breathtaking natural landscapes. Deep blue oceans cradle the coastlines on either side of Canada, and between them, the dramatic Canadian Rockies form a gorgeous backdrop for outdoor adventures. The mountains eventually fade into foothills and plains, gaining more elevation as you approach the Eastern Seaboard. The diverse cities sprinkled throughout these ever-changing lands seamlessly meld modern amenities with great history. Luxury train trips across Canada are the most comfortable way to see it all.
Sure, standard rail journeys are exciting and feature all the comfortable hotel accommodations and excursions you could desire to make your vacation a success, but luxury train tours take these things one step further. From the moment your trip begins, enjoy an extra dose of opulence and a sprinkling of Canadian charm that sets your vacation apart from the rest. Here is how you can enjoy luxury on the rails in Canada.
High-end Service During Your Rail Journey
Long-distance train trips in Canada, specifically to the Canadian Rockies, utilize one of two trains: VIA Rail's Canadian or Rocky Mountaineer. These two trains are beloved for their incredibly scenic routes through idyllic mountain surroundings, yet they come with distinct offerings that set them apart.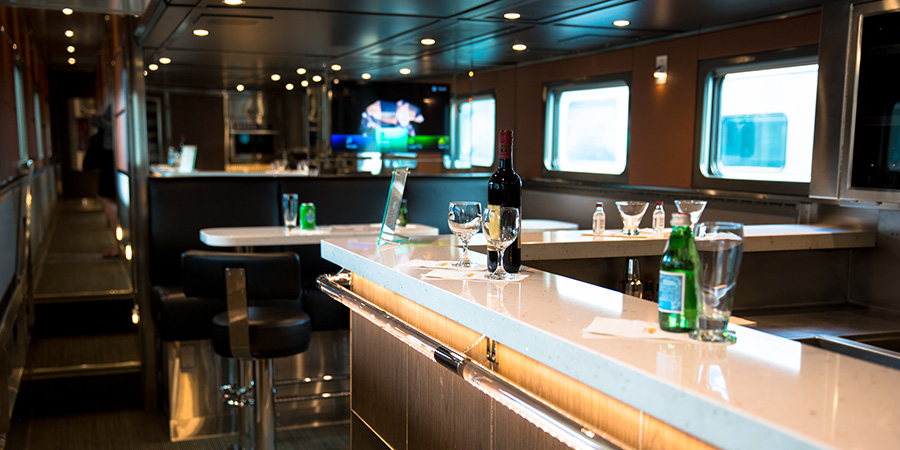 VIA Rail's Canadian
The Canadian features an overnight route from Vancouver to Toronto, making a stop in Jasper within the Canadian Rockies along the way. This route is ideal for travelers seeking a classic overnight rail experience. Enjoy picturesque scenes of the shoreline, rainforests, and the Coast Mountains before the sun goes down, and the route proceeds through the wilderness during the night hours. Passengers do not witness all the passing glory; however, there is something magical about going to sleep surrounded by one type of scenery and waking in a world anew. There are several service classes from which to choose on the train; however, Prestige Class is the superior choice for luxury train trips in Canada.
VIA Rail Prestige Class cabins liken themselves to five-star hotels on the tracks. Large picture windows, modular leather sofas, and timeless details like wood paneling and sumptuous linens add an air of elegance. Each cabin has radiant heating in the floors and walls to ensure your comfort no matter the season and comes equipped with a flat-screen television and well-stocked mini-bar. En suite bathrooms, complete with private showers, are an additional perk that sets these cabins apart from others aboard the train. Prestige guests are treated to round-the-clock service by a dedicated concierge and complimentary drinks (including alcohol), snacks, and meals throughout their journey.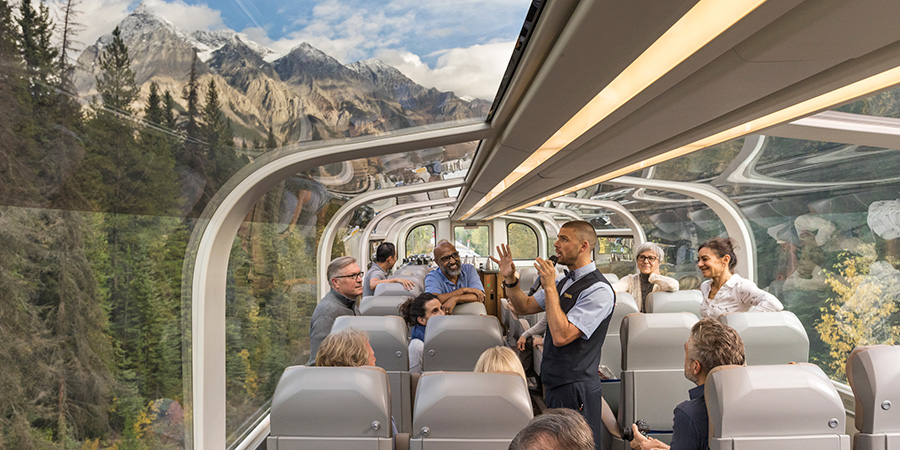 Rocky Mountaineer
On the other hand, riding the Rocky Mountaineer puts all the fantastic scenery on display as the train follows a daylight-only course on the original Canadian Pacific Railway tracks. Riders have a front-row seat to the winding waterways, deep forests, and soaring mountain peaks only found in the Rocky Mountains. Enjoy all-inclusive access to these panoramas from a bi-level train car, gourmet meals, and some of the most impressive service on Canada's railways while riding in GoldLeaf Service.
While SilverLeaf Service travelers take their meals in their plush window-side seats and enjoy the views from oversized windows, GoldLeaf passengers enjoy even more luxury. The bi-level GoldLeaf cars feature glass dome carriages with windows wrapping up onto the ceiling. Comfortable seating on the upper level is complemented by an outdoor viewing platform allowing open-air viewing of the impressive landscapes. On the lower level, a beautiful dining room is surrounded by picture windows, so none of the views go unnoticed. Other amenities riders can look forward to include all-inclusive snacks and drinks, onboard entertainment, commentary, and exceptional service by the onboard attendant ensures each moment of the journey is wrapped in comfort.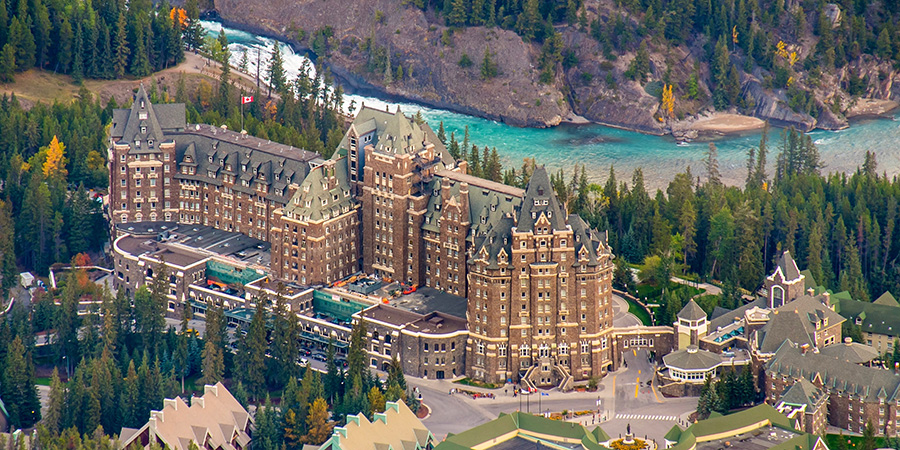 Five-star Hotels to Complement the Train Vacations
On high-end rail journeys, your time on the train is just a small piece of the equation. As you travel through Canada's lively cities and stunning national parklands, your overnight accommodations are just as crucial to your bucket list-worthy experience. Luckily, Vacations By Rail's luxury packages utilize Fairmont hotels throughout the country where possible. This upscale brand of hotels is beloved for lavish accommodations and fantastic culinary offerings in impeccable locations.
Before setting out into the Canadian Rockies aboard your train, enjoy accommodations in the Fairmont Hotel Vancouver, in the heart of downtown. Cozy rooms with gorgeous views await your discovery at iconic Fairmont hotels throughout Banff and Jasper National Parks, like Fairmont Banff Springs, Fairmont Jasper Park Lodge, and Fairmont Chateau Lake Louise. Toronto, where select tours through Western Canada and the Rockies conclude, also boasts a gorgeous Fairmont hotel, the Fairmont Royal York.
Private Transfers Through Canadian Cities Elevate Your Experience
Waiting to flag down a taxi while juggling baggage or squeezing in next to strangers on a hotel shuttle bus is a thing of the past when your luxury train trip through Canada includes private transfers. This upgrade offers exclusive transportation to and from airports and train stations in a comfortable private car. A driver greets you, assists you with your luggage, and provides a personal introduction to your new location.
The Private Tours During Your Luxury Train Trip in Canada are Second to None
Perhaps the most exciting aspects of Canada rail vacations are excursions. These thoughtfully coordinated adventures allow for an intimate look at destinations and a deep dive into their heritages. Your journey may include guided tours, culinary adventures, or visits to beloved sights that allow you to experience the best of your new locale. The opportunity to soak in these wonders with just your travel party is another way that luxury train vacations are a step above the rest.
In addition to fantastic train amenities, glitzy hotels, and private transfers, many packages offer personal touring options or the option to upgrade group tours to private excursions. In the Rockies, you can enjoy a private cruise of Lake Maligne or an exclusive tour alongside a knowledgeable guide through Banff National Park. You can even experience Canada's Niagara Falls on a private tour if your trip takes you to Toronto
Finding luxury on the rails in Canada has never been easier. Our assortment of luxury holiday packages combines adventure with opulence to make your time away something you cherish for years to come. For more information or help upgrading an existing independent vacation into a high-end travel experience, contact a Rail Specialist. Travel often and travel in style with Vacations By Rail.