How Can I See the Northern Lights in Alaska?
Alaska vacations offer wild adventures - experiences unlike any other. Cities full of modern conveniences lay just beyond vast expanses of wilderness. Intimate villages steeped in indigenous history present the heart of Alaskan culture. Endless coastlines meet an even more impressive interior, much of which has remained untouched by the hands of man. Every journey presents a new look at the Last Frontier, and whether you visit Alaska for wildlife viewing or to soak in the glory of the Northern Lights in person, you are sure to be surprised. Make the most of your next vacation with this Alaskan travel guide, which provides the answers to your pressing questions about this wild land.
Watching the vibrant hues of the Aurora Borealis, or the Northern Lights, burst across the night sky is a bucket list item for so many travelers. One place in the United States where it is possible to see this amazing display is in Alaska. The nighttime show begins as summer wanes and the brief fall shoulder season springs forth. The first hints of the Northern Lights start to make their appearance in upper Alaska in late August; by September, the show intensifies. The northern lights can be spotted in all their glory throughout the winter until approximately April.
You can catch a glimpse of the Aurora Borealis in many beloved locales throughout Alaska, including Anchorage, Juneau and Denali National Park. The further north you go, the more intense the show becomes. Fairbanks is known to be one of the best places in the world, thanks to its location inside the Auroral Oval approximately 150 miles south of the Arctic Circle. Continuing north, there are plenty of other Northern Light hotspots, including Coldfoot, which is 60 miles north of the Arctic Circle and Barrow, the northernmost town in Alaska. Vacation By Rail's Alaskan tours featuring this amazing natural performance include Aurora Viewing at Chena Hot Springs, Aurora Viewing at Bettles Lodge and Alaska Winterland.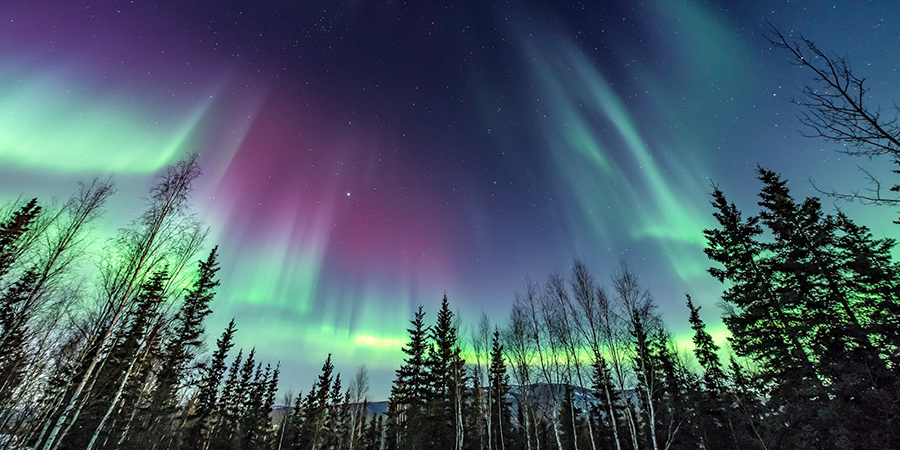 What is Alaska's Weather Like?
The weather in Alaska is not all frigid temperatures and snowfall; instead, this great state enjoys two distinct seasons and two shorter shoulder seasons. No matter what time of year you visit, there are myriad ways to get an authentic Alaskan experience.
Winter
The temperatures in Alaska begin to drop and the days begin to shorten in October, and by November, winter is in full swing. Winter in Alaska lasts from November to March and features a wide range of temperatures, depending on your location. In Juneau, winter temperatures hover in the 20s and 30s during the day. Coastal towns and cities often record lower temperatures than the inland, and in the Arctic, it is not uncommon to stay below zero, even during the day. January is typically the coldest month of winter, whereas February is often the iciest. Of course, with the winter also comes shorter days - in some cases, much shorter. During the dead of winter, Juneau has six hours of daylight, Anchorage has around five and Fairbanks has almost four. The further north you go, the less sunlight there is. In Barrow, there are over 65 days of darkness before the sun rises. Alaskans make the most of their winter with activities like skiing, dog sledding, snowshoeing, snowmobile racing, ice carving competitions and Northern Lights viewing.
Spring
Alaska in March is beginning its annual transition into spring. The thaw is slow and steady, with April being the driest month and May bringing the peak of the spring season. Alaska in May is simply beautiful, with wildflowers blooming and wildlife emerging from its winter hibernation. Even as the landscape transforms once again, snow may still linger in some parts until June and skiing and snowboarding remain popular. Spring temperatures often fall below freezing at night; however, daytime temperatures may range from 30 to 60 degrees Fahrenheit during the day, depending on what part of the state you visit.
Summer
Alaska vacations that take place during the summer enjoy the warmest temperatures and the most daylight. Summer temperatures hover between 60 and 80 degrees Fahrenheit at daytime and often drop into the 40s at night. The state's interior enjoys the warmest summer days, with temperatures sometimes reaching as high as 100 degrees Fahrenheit. And the days of summer - they come with endless sunlight and fantastic things to do. In Juneau, travelers enjoy 18 hours of sunlight, whereas guests in Anchorage can see up to 19 hours. Incredibly, there are approximately 22 hours of daylight in Fairbanks, and Barrow at the top of the state gives a new meaning to "the land of the midnight sun," with over nearly 80 days when the sun does not set. Between mid-May and mid-September, all these extra hours of light leave plenty of time for hiking, horseback riding, fishing and boat trips along Alaska's coastline, including through the Inside Passage. The end of summer brings Alaska's wet season, with August and September seeing more rain than other months.
Fall
The shortest of Alaska's seasons is autumn. This shoulder phase lasts only a month or so before the first snow falls in October. The crowds dissipate during the fall, and the days begin to shorten once more. Alaska's fall colors are short-lived, but they are simply spectacular. There is no lengthy transition from green to brown; the colors burst to life seemingly overnight. The fall foliage season, while only a few weeks, is incredible. The temperatures at this time of year can range drastically from the teens to the 40s.
How is Whale Watching in Alaska?
Whale watching is a favorite pastime for residents and visitors alike. The best time of year to see these majestic marine animals conveniently coincides with peak tourism season: May through September. While you may be able to see whales at random during these months, knowing the whales' migration patterns dramatically increases your chances. If it is humpback whales you are hoping to see, the best times to see them are June and July. Orcas come slightly sooner, arriving in Alaska's cold coastal waters between May and June. Visit Juneau, Ketchikan or Sitka for the best views of the passing whales. A cruise to Icy Strait Point or through Prince William Sound or Kenai Fjords National Park offers excellent viewing points, as well. Join the Rocky Mountaineer & Alaska By Sea tour for whale watching in Alaska's Inside Passage or embark on an Alaska Wildlife Adventure to see the best of Alaska's land and sea mammals.
Is There a Rail Line in Alaska?
Whether you visit Alaska for wildlife or to gaze upon beautiful untouched vistas, there are few better ways to experience the natural wonder of Alaska than by train. The Alaska Railroad is the flagship rail line in the state and covers over 480 miles of track between Seward in the south and Fairbanks further north. The train runs year-round, with the summer offering a busier schedule than the winter. One of the most popular routes on the railroad is the Denali Star, which travels from Anchorage to Fairbanks on a more than 12-hour journey. The train passes through Denali National park on its route and offers unmatched views of Mt. Denali. The Coastal Classic has a round-trip route from Anchorage and travels along Turnagain Arm, through the Kenai Peninsula and makes a stop alongside Resurrection Bay. The Glacier Discovery presents another memorable journey, traveling south from Anchorage to Grandview. Step aboard these iconic trains for yourself with one of Vacation By Rail's tours, including Deluxe Alaska Highlights; Alaska the Greatland; Glaciers, Trains & Trails of Alaska; and Alaska By Day.
What are the Must-see Sights in Alaska?
Much like the fact that the best time to visit Alaska is subjective to what you are hoping to do, the must-see sights in Alaska are also up to personal preference. The state is filled with delights, from manmade attractions to beautiful natural points of interest. Some highlights of any visit to Alaska include:
Mt. Denali - The highest peak in North America, Mt. Denali, is located in Alaska's own Denali National Park. The mountain rises 20, 310 feet above sea level and is absolutely impressive.
Kenai Fjords National Park - Located outside of Seward on the Kenai Peninsula, Kenai Fjords National Park is a wonderful place to see coastal rainforests, expansive glaciers, marine life, sea birds and remote islands.
Tracy Arm - This fjord is set near Juneau and offers breathtaking views of waterfalls and the twin Sawyer Glaciers. Tracy Arm is also a great place to spot bears, wolves and other wildlife.
Mendenhall Glacier - Explore a massive glacier, both from above and below, just minutes outside Juneau at Mendenhall. Enjoy tours on the surface or dip into the Mendenhall Ice Caves for an otherworldly experience.
The Inside Passage - An area of immense beauty and wildlife, the Inside Passage is one of Alaska's most popular cruising destinations. Gaze upon whales and seals; look upon glaciers, mountains and lush forests; and dock in cities and villages that weave the story of Alaska.
Alaska Native Heritage Center - Discover over 10,000 years of the history and culture of Alaska's indigenous people while in Anchorage. This enthralling center tells their stories through music, dancing, interactive displays and demonstrations.
Totem Bight State Historical Park - Even more native history awaits your discovery at Totem Bight State Historical Park. Spread over 22 acres, this impressive site features beautiful, authentic totem poles spread amongst the Tongass National Rainforest in Ketchikan.
Chena Hot Springs Resort - This resort just outside Fairbanks is best-known for its natural hot springs and relaxing atmosphere. There are year-round activities onsite, including an ice museum.
Prince William Sound - Find yourself surrounded by 3,800 miles of insanely beautiful marine scenery on the east side of the Kenai Peninsula. In addition to being a prime area to view marine life, a cruise through this area offers fantastic views of the Chugach Mountains.
Trail Breaker Kennel - Mingle with authentic sled dogs or set out on a dog sledding adventure of your own at this kennel in Fairbanks.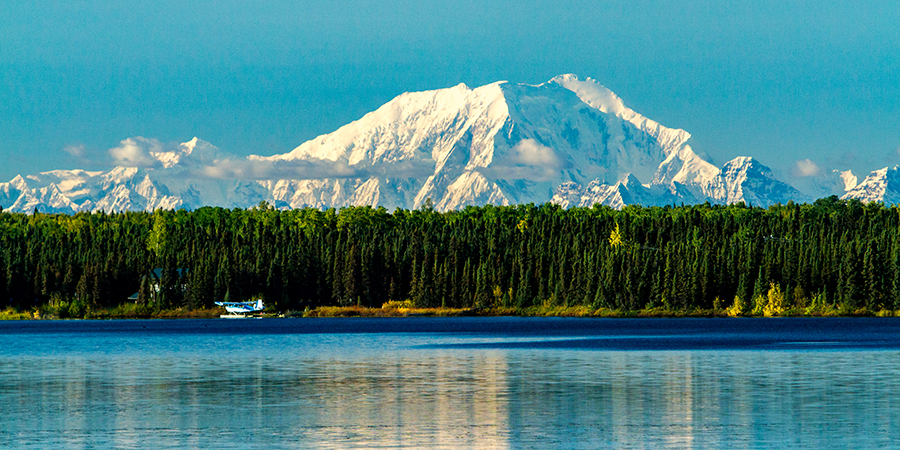 Whether you hope to visit Alaska in December or July, there is no shortage of awe-inspiring sights and memorable experiences to guide you through this untamed state. Vacations By Rail makes it easy to enjoy the best of Alaska with well-planned rail journeys that highlight impeccable destinations, while offering comfortable accommodations and unique excursions that allow for a deeper understanding of this great land. For an even more impressive adventure, select an Alaska cruise and train vacation that combines time in charming port towns and popular cities with a luxurious cruise through the idyllic waterways surrounding Alaska.